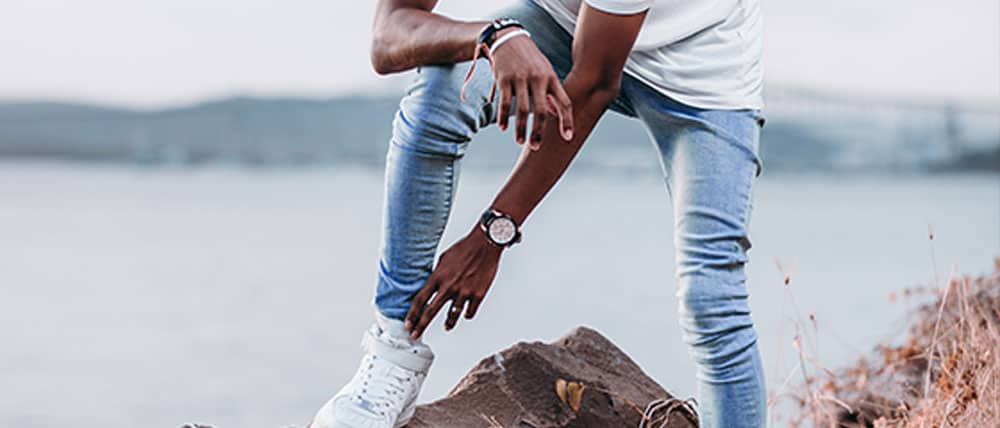 Photo by Luis Quintero
For many men, having a tall figure is the ultimate. But, making style choices like buying jeans with the right fit. This can be quite difficult when you're skinny and have long legs. If you fall in this category and need comfortable jeans, we've got you covered with some of the best jeans for tall skinny guys.
What Jeans Should Skinny Guys Wear?
As a general rule, what you want are straight cut jeans that prevent you from looking too skinny. Slim fit jeans are also perfect, provided they don't hug your frame too tightly. Stay away from skinny fit jeans, as they will only pronounce your skinny frame and make you look even skinnier.
It's not enough to decide what type of jeans to go for as a tall skinny guy. You still have to make conscious efforts to find options that satisfy your requirements while shopping. In a market saturated with unending jeans options, finding the right jeans can be overwhelming. To make the process less stressful for you, we have selected and reviewed 8 best jeans for tall skinny guys.
 Whenever you make a purchase through links on this page we make a small commission from our affiliate partners. Learn more
1. Best Jeans for Tall Athletic Man
Lee Men's Athletic Fit Tapered Jeans
You could still be athletic with a skinny frame. The perfect jeans for this body type should have a tapered finish at the legs, a mid-rise, and sit at the natural waist. This allows some breathing room for those muscular built thighs.

The LEE Men's Modern Series Extreme Motion Athletic Jean has all these features and more. It's one of the best jeans for tall, athletic men. The extreme motion design, made possible by a flexible waistband. This ensures that the jeans adapt to your athletic frame. While allowing the wearer total freedom to movements.
The five-pocket design and zipper with button closure are reminiscent of classic jean styling. It has a straight-cut accent, skinny athletic frames, but not too tight that it hinders free movement. An interesting thing to note. It's available in several length options (up to 34" inseams) that are perfect for tall guys.
What's better? The combination of cotton, polyester, and elastane makes for a high-quality fabric that's durable and long-lasting. Also, it's available in a variety of colors and washes.
Buy on Amazon
2. Best Jeans for Tall Skinny Guys
Levi's 512 Men's Slim Fit Tapered Leg Jeans
The Levi clothing company is popular for its line of Levi's denim jeans, and they make some of the best slim cut jeans, perfect for skinny men. If you're a tall skinny guy who appreciates fashionable and versatile denim trousers, you should check out Levi's Men's 512 Slim Taper-Fit Jeans.
The jeans have the perfect fit to drape over skinny figures and follow the frames closely. They are slim from the hip to the knee and narrow from the knee downwards. The narrow leg design gives the jeans a somewhat tailored look.
Furthermore, it features Levi's advanced stretch technology that makes for improved flex and gives more allowance for maximum comfort. As slim as the fit of the jeans is, there's still some allowance for the calves, the waist, and the thighs.
The Levi's Men's 512 Jean has the usual 5-pocket style and zipper closures. For tall dudes, it's available in several length options up to 36″ inseams. Also, there are quite a number of color options available.
3. Best Jeans for Tall Thin Guys
Lucky Brand 221 Mens Straight Jean
Do you need the perfect pair of jeans to complement your style as a tall thin man? Then you should have a preference for straight and slim fit denim trousers. With its mid-rise waistband that sits just below the natural waist, a stunning straight cut, and 30″ – 34″ inseam options, the Lucky Brand Men's 221 Straight Jean is perfect for tall thin guys.
The fabric is a perfect blend of 92 percent cotton, 6 percent polyester, and 2 percent elastane composition. There's very little to worry about concerning its durability, and it's perfect for everyday wear.
The straight fit from waist to ankle conforms nicely to tall thin frames, not too tightly and with sufficient room for comfortable movement. The slim tapered legs make them quite fashionable and stylish.
Like you would expect, they are available in a variety of color and length options. The Lucky Brand Men's 221 jeans come with the classic zip fly with button closure and a 5 pocket construction.
Buy on Amazon
4. Best Pants for Tall Skinny Guys
Wrangler Mens Slim Straight Leg Jean
You could talk about different types of pants for men, but jeans have always been the most versatile and fashionable choice. Are you a tall skinny guy looking for the best pants to style with? We recommend the Wrangler Men's Retro Slim Straight Leg Jean.
The Wrangler jean pants are highlighted by a fashion-forward and versatile theme. However, it bears shades of a somewhat classic retro style. The slim straight leg design conforms well to skinny frames, but not so much that they make the wearer look skinnier.
Like many of the other jean offerings from Wrangler, it features the classic five-pocket design: 2 front pockets, 2 embroidered hip pockets, and 1 watch pocket. On the back pocket, you get Wrangler's iconic "W" stitching and a 1947 rivet on the front pocket for a touch of authenticity.
Another interesting detail is that it comes in a variety of length options up to 38″, making it a perfect option for the tallest of men. With its durable cotton construction, you can rest assured of its longevity.
Buy on Amazon
5. Best Fitting Jeans for Tall Skinny Guys
Buffalo David Mens Slim Straight Jean
Slim and straight fit jeans are the essential pant options for tall skinny guys. They hug the frame so closely for a fashionable look without leaving much-unwanted space around the waist, thighs, and legs. More than that, the tall height requires commensurately long jeans as well.
The Buffalo David Bitton Men's Six Slim Straight Leg Jean has all the right features for a fashionable skinny guy outlook. It differs from many other jean options on our list with its 41 percent lyocell, 30 percent cotton, 18 percent polyester, 9 percent viscose, and 2 percent elastane fabric.
Nevertheless, it is reasonably durable for long-lasting use. You also get to choose between a variety of color and wash options. Thankfully, it is safe for machine wash. The Buffalo David Bitton Men's Six features heavy sanding and creasing for a striking aesthetic effect.
With length options up to 34″ inseams, it is one of the best jean options for tall guys who need long jeans. We should add that it is relatively breathable and slightly stretchy for improved comfort and easy movement. 
Buy on Amazon
6. Jeans for Very Skinny Guys
Calvin Klein Mens Skinny Fit Jeans
Skinny jeans may not be the best fashion choice for skinny guys, but with a very skinny body type and the right style accessories, you can still rock nice-looking slim fit jeans. Check out the Calvin Klein Men's Skinny Fit Jeans. It's the perfect jean trousers for very skinny guys.
As it is designed to sit below the waist, the reimagined jeans remain very comfortable to wear and move around in, regardless of the skinny fit. To further improve comfort and easy movement, it has just a bit of stretchiness, thanks to the 2 percent elastane fabric content. Also, it's available in multiple inseam options.
When it comes to well-fitting denim wear, Calvin Klein is one of the most dependable jean brands out there. The careful detailing on these denim pants makes them very elegant to style with.
Furthermore, it features updated log hardware in a light nickel uniform finish and a leather logo tag on the back for a signature look. They are safe for machine wash, and you won't have to worry about the color fading out.
Buy on Amazon
7. Jeans for Skinny Guys With Long Legs
Goodthreads Mens Slim-fit Tapered Jean
While there is an abundance of denim trouser offerings from Goodthreads, the Goodthreads Men's Slim Tapered Selvedge Jean is the perfect choice for you if you have a skinny figure with long legs.
With a slim cut that's tapered down to a 14″ opening, what you get is a pair of jeans that adorn skinny figures without excess fabric that billows as you move. Neither is it so skinny that it further draws attention to skinny figures.
Getting the right jean length can be hard for tall men. However, with this Goodthreads Jeans, you have the option to select inseam lengths up to 36″. The fabric is very durable and majorly cotton with about 2 percent elastane for improved comfort, as they break in with wear.
Furthermore, the selvage denim is made on traditional looms for a tighter weave and improved durability. Like most other jeans on our list, it comes with the classic five-pocket design and a zip fly with button closure. It is safe for machine wash and quite easy to launder.
Buy on Amazon
8. Best Men's Jeans for Big Belly and Skinny Legs
Izod Men's Comfort Stretch Denim Jeans
Buying the right jean pants a big-bellied and skinny-legged body type can be a bit of a paradox. The perfect pants should have enough give, to accommodate the belly without necessarily drawing attention to it.
Simultaneously, the jeans' overall fit should not be so big that it doesn't frame the skinny legs perfectly. Are you looking for the best jeans for skinny legs and a big tummy? Search no further. IZOD has got you with the Men's Comfort Stretch Denim Jeans.

It has a relaxed fit with extra fabric in the seat that makes for a comfortable feel, even with a large tummy. Quite interestingly, form is not compromised for the relaxed fit.
It does come with an expanded leg opening.

While this is not typically the best leg opening for skinny legs, a large tummy will do just enough to draw attention away from that. The blue stretchy fabric is 98 percent cotton for the classic jean durability and 2 percent spandex for a bit of stretchability.
Buy on Amazon
What Type of Jeans Should Tall Skinny Guys Wear?
The most important style tip for skinny guys is to stick to fitted clothing. Sure, they are style essentials in specific cases, but overly baggy apparels tend not to complement the human frame well.
In choosing the right jean fit, a consideration of fashionable contemporary trends is important. These days, baggy jeans just don't cut it. Baggy jeans tend to make skinny body types more noticeable due to the large expanse of space they leave around the thighs and legs.
While avoiding large fit jeans that may billow as you move around, skinny guys should stray from excessively tight jeans. Tight fit jeans conform too tightly to skinny frames and make them look scrawny.
Your jeans should drape over your structure, conforming to your frame but still allowing a bit of space without being too roomy. So, how do you strike the perfect balance? Wear straight-fit or slim fit jeans.
It all sounds easy in theory, but getting the right length when buying jeans as a tall skinny guy can be tasking. The market is saturated with average and short length jeans. The idea is to find suitable tall-specific jean brands and stick to them.
Do Skinny Jeans Look Good on Skinny Guys?
Over time, skinny jeans have repeatedly gained and lost popularity as a fashionable style trend. Today, they are popular and widely accepted as a staple of men's fashion. However, it can be pretty hard to pull off an appealing style in skinny jeans if you don't have the right body type.
For most skinny guys, wearing skinny jeans is a huge mistake. There's a difference between a frame-hugging fit and a fit that's just too tight. When too tight, jeans can make a skinny frame look frailer.
Emphasizing your frame with clothing, regardless of the body type and size, is a great style tip. However, not everyone has a naturally appealing body type. What you want to do is use style elements that complement your look and improve your aesthetics.

This is not to say that skinny guys can't pull off skinny jeans. With the right styling and fitting accessories, skinny jeans can still look decent. More importantly, attention to detail is much needed in the upper body when wearing skinny jeans. Slightly large upper body wear can take some attention away from the legs when you wear skinny wear.
Best Place to Buy Jeans for Tall Skinny Guys
Shopping for items today has almost totally become a function of ease and convenience. People need to have the most pleasant shopping experiences with the least physical stress possible. Hence the popularity of online shopping.
Buying jeans as a tall skinny guy presents a different type of challenge because you have to be length-specific. It is significantly easier to buy short and medium length jeans as those are the options that dominate the market.
Buying online is less stressful and presents you with more options than you can get at your local fashion stores. Amazon is a very good place to check for tall skinny guy jeans.
In addition to the access to a variety of options, you can filter through the numerous options for jeans that fit your budget. Nevertheless, there are some other great online stores you can buy from.
 
What Skinny Guys Should Wear? Tip on What to Wear if You Are Skinny
The key to improving your style as a skinny guy does not necessarily lie in working out and buffing up. Don't get it wrong. Working out is cool, but you can make wrong style choices with a muscular figure just like you can with a skinny frame.
The most important factor is styling with apparel and fashion accessories that complement your figure and improve your overall aesthetics. While a skinny figure doesn't typically exude high confidence or a strong personality, you can create a better impression with the right style choice.
Here are some style tips that can give you a more striking outlook and help you make better visual impressions as a skinny guy.
Stick to Fitted Clothing
One would think baggy clothes would make skinny bodies look bigger, but that's not the reality of it. Baggy clothes leave so much extra space when you are skinny, so much that it looks awkward when you move.
From shirts down to pants, you want to avoid clothes that are too roomy. Contrary to what some people believe, they won't hide skinny frames. Instead, the skinny nature of the wearer is further highlighted by contrast.
When you move in baggy clothing, your frame cannot carry the entirety of the clothing along. This leads to a revelation of the skinny frame behind whatever baggy shirt or pants you have on. To keep it simple, avoid excessively large clothes that may billow when you walk in them.
Wear Colors and Patterns That Give a Bigger Illusion
You may or may not know this already, but there is a way to style with colors and patterns that can give a skinny frame the illusion of being bigger than it really is.
Dark colors have a rather slimming effect on the wearer, and they'll only serve to make the skinny body look even skinnier. On the other hand, light colors can make you look slightly bigger than you are.
Light colors tend to highlight whatever little muscle definition a skinny person has. You may not have a large build to show off, but wearing light colors in place of dark ones will significantly improve the appearance of a skinny body.
Furthermore, you can achieve a bulkier illusion by choosing horizontal patterns and letting go of the vertical line designs. Check, and box patterns also tend to add some visual buff to skinny frames.
Avoid Excessively Skinny Fits
In as much as you should stay away from baggy clothing, you should also stay away from excessively tight clothes if you have a skinny build. Pay attention to this! Fitted clothing makes for a perfect style, but they shouldn't be so tight that they have no little space whatever along the thighs and legs.
Apart from the fact that they are not so comfortable to wear, they tend to draw much attention to your skinny build and make you appear even slimmer than you are.
With shirts, you should pay attention to the shoulder seams and ensure that they fit right at the edge of your shoulders. Pants should fit right below your waist, have a snug fit above the knees, and taper to a fitter angle below the knees right down to the ankles.
Bulky Fabrics
It would help if you considered other things in addition to durability when choosing fabrics. While sticking with straight and slim fits. You can add a bulkier effect to your skinny build by choosing a fabric that has a somewhat heavy appearance.
Denim, chinos, and flannel are all characterized by a high level of thickness. They'll give the appearance of a bulkier frame, even if the effect is minimal.
It is still very important to pay attention to the fit. Whether tailored or not, these fabrics will only give the desired effect when they have a fit that rightly complements your body build.
Adopt Layered Styles
Layering up the right articles of clothing can also give the desired bulkier effect to a skinny frame. In addition to making you look buffed up, wearing layered clothes makes for great style when done rightly.
Layering involves a combination of different items of clothing and clothing accessories. Usually with more attention paid to the upper body. A great way to do this for skinny guys is wearing t-shirts and shirts with an extra layer of jacket or sweater on top.
Remember, a light clothing layer underneath, with a heavier fabric layer above. Thick knit fabrics like denim, corduroy, tweed are more suitable to give the desired effect. Layered styles work best for winter and fall fashion as there's the need to put on as much clothing as possible without causing heat discomfort.
More Men's Jeans Fashion Insight
Best Men's Slim Fit Black Jeans
How Should Men's Jeans Fit In the Crotch?
Best Running Shoes to Wear with Jeans
Best Jeans For Men With No Butt
Jeans to Wear with Chukka Boots
RELATED POST