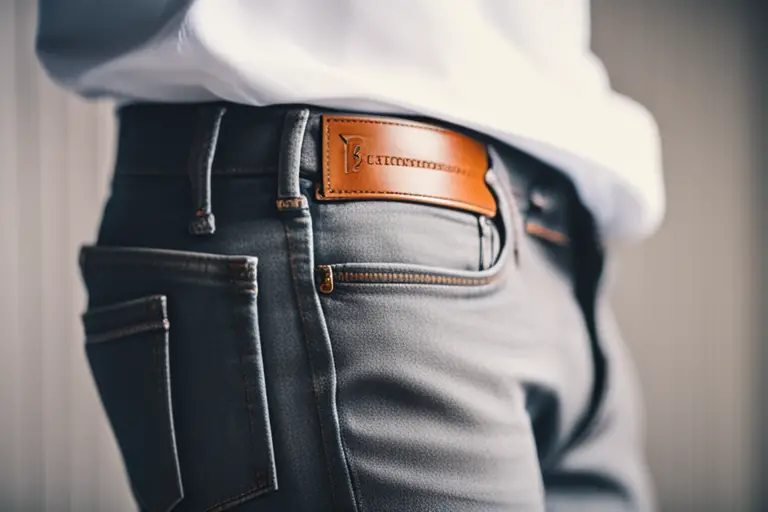 Finding the right pair of jeans can be challenging for a short guy. However, once you find the perfect fit, it's easy to fall in love with them. The best jeans for short men should complement your height and provide comfort and flexibility when you're on the move. They should also be durable enough to withstand everyday use's inevitable wear and tear.
So, what kind of jeans should a short man wear?
For short men, slim-fit or straight-leg jeans are the most flattering as they create an illusion of longer legs. While choosing the type of jeans, it's important to consider your preference. As a rule of thumb, going for a cut that fits closely to your legs without being too tight is recommended.
At Mens Top Spot, we understand the difficulties that come with finding shorter inseam jeans. Therefore, we have compiled a list of 7 jeans that are perfect for short-frame men.
Best Jeans For Short Guys
Men's Straight Leg Jeans: Lee Straight Taper Jean
The Lee makes a lot of stuff for many folks, and the Men's Extreme Motion Straight Taper Jean is an excellent choice for shorter men who seek a comfortable and fashionable pair of jeans. These jeans come in over a dozen washes and have inseams ranging from 28 to 34 inches. They are made with stretch denim material, which provides unrestricted mobility, making them ideal for active people who want to look good while on the move.

These jeans have a slight stretch to them, providing flexibility without sacrificing their shape even after extended wear. They're also very affordable, so it might be worth grabbing a few pairs in different colors.
Size Range: 28W-42W | Inseam: 28-36 inches | Style: Straight Taper Jean | Material: 97% Cotton, 3% Spandex
Buy on Amazon
Prime
eligible
Best Jeans On Amazon: Amazon Essentials Slim-Fit Stretch Jean
The soft texture and available colors of the Amazon Essentials jeans have been receiving high praise. These jeans are a great addition to any wardrobe as they are designed with a bit of stretch for all-day comfort. For the short frame, they sit below the waist, are fitted through the hips and thighs, and taper down through the legs.
With 99% soft cotton, these jeans will wear comfortably on your body, making them the ideal choice for daily wear. If you're searching for affordable, good-quality jeans, this pair from Amazon Essentials would be, well, essential for your wardrobe.
Size Range: 28W-42W | Inseam: 28-33 inches | Style: Slim Fit | Material: 99% Cotton, 1% Elastane
Buy on Amazon
Prime
eligible
Best Affordable Mens Jeans: Buffalo David Bitton 5 Pocket Denim
Buffalo David Bitton is a popular brand that focuses on creating top-notch denim jeans. Their remarkable collection features jeans in diverse styles, like slim, straight, and tapered jeans, in a broad array of washes and finishes.
These premium jeans are crafted from high-quality fabrics and are tailored to offer a slim fit with just the right amount of elasticity. With distinctive detailing and distressing available in various washes, these straight-cut jeans are an excellent choice for anyone seeking a fashionable and cozy denim option.
Size Range: 34W-40W | Inseam: 29-34 inches | Style: Slim Fit | Material: 72% Cotton, 22% Polyester, 2% Elastane, 4% Other Fiber
Buy on Amazon
Prime
eligible
Best Slim Fit Jeans For Men: Kenneth Cole Jeans Slim Fit and Athletic Fit
For shorter men, it's not just about finding the right size and fit of jeans but also the right color to divert attention from a stocky lower body. Instead of just focusing on the jeans, consider your entire outfit to give the impression of being taller than you are.
If you're on a tighter budget, these slim-fit jeans from Kenneth Cole are a great option for workwear. Available in three shades, they are both versatile and flattering, with a slim fit in the thigh and a tapered leg that narrows below the knee and fits close to the ankle. These jeans not only look good but are also easy on the wallet.
Size Range: 28W-40W | Inseam: 28-34 inches | Style: Slim Fit | Material: 65% Cotton,30% Repreve Polyester,3% Viscose,2% Spandex
Buy on Amazon
Prime
eligible
Best Tapered Jeans: Mavi Men's Relaxed Tapered Leg Jeans
Blue jeans are a timeless fashion staple that never goes out of style. Whether you're out and about in the city or catching up with friends over coffee, a pair of well-fitting denim will keep you looking sharp and polished.
Since 1959, Mavi has produced more than one million pairs of jeans every year, with their Zach jeans becoming an iconic product of the brand. These versatile jeans can be worn with a variety of outfits, whether dressed up with a shirt and boots or dressed down with a tee and sneakers. Featuring a comfortable stretch, Mavi's Zach jeans come in a range of styles that are sure to complement any wardrobe.
Size Range: 28W-40W | Inseam: 29-31 inches | Style: Tapered Leg | Material: 50% Organic Cotton, 36% Cotton, 12% Recycled Polyester, 2% Elastane
Buy on Amazon
Best High Quality Jeans: DL1961 Performance Nick Slim Jean
Finding the right jeans can be a challenge for short guys as the inseam length tends to be too long and the overall fit can be less than ideal. Fortunately, DL1961 has come up with a solution in the form of their Nick Slim Jean that caters specifically to short men. They are tailored with a streamlined leg that leans through the thigh towards the ankle. It's a great starting point for most guys and they offer a wide variety of colors.
These performance jeans would be the perfect fit for the active short guy running regular errands, commuting, or traveling due to the slight stretch blend of Lycra, which also gives you mobility without taking away what makes denim, well, denim.
Size Range: 30W-34W | Inseam: 28-42 inches | Style: Slim | Material: 58% Cotton, 28% Tencel™ Lyocell, 13% Polyester, 1% Lycra
Buy on Amazon
Prime
eligible
Best Jeans Brand For Men: Calvin Klein Mens Slim Straight Fit Jean
Calvin-Klein has been outfitting guys with good jeans from before some of us could tie our shoelaces, which was time enough to learn that men come in all shapes and sizes. It's a common problem for shorter guys to struggle with finding a pair of jeans that flatter their figure. Fortunately, Calvin Klein offers the best jeans for shorter guys. With Calvin Klein, you won't have to worry about certain styles of jeans looking better on taller guys or finding a pair that fits you perfectly without having to visit a tailor.
One of their best options is the Calvin Klein Men's slim straight-fit Jeans, which come in inseams ranging from 29 to 30, making these popular for short-frame men. These jeans are made from 100% cotton fabric and are perfect for you if you are shopping for a simple straight fit to explore more sophisticated denim.
Size Range: 30W and 36W | Inseam: 29-30 inches | Style: Straight Fit | Material: 100% Cotton
Buy on Amazon
Prime
eligible
Best Stretch Jeans: DKNY  Soft Slim Fit Jeans
For those with shorter frames, DKNY jeans are a reliable choice. With a 29-inch inseam, they're also a great option for short men. These jeans have a classic, simple style that sits comfortably below the waist and has a slimmer fit through the seat and thigh. They're a versatile wardrobe staple that offers a modern, tailored look suitable for any occasion.
DKNY offers this style in up to three different inseam lengths depending on your waist size, making it easier to find the perfect fit. If you want an easy closet staple that's not too trendy, these DKNY jeans are an excellent choice. And if you find that they're your new go-to jeans, try them out in one of their other seven available colors.
Size Range: 30W-38W | Inseam: 29-32 inches | Style: Slim Fit | Material: 65% Cotton / 33% Lyocell / 2% Spandex
Buy on Amazon
Prime
eligible
Best Types of Jeans for Short Men
Small differences between sizes, fabrics, measurements, treatment and many other factors can make big differences in how two pairs of jeans look on you if you or short. Let's talk about the best types of jeans for short guys.
Slim Tapered Jeans
Slim tapered jeans are a popular style designed to fit snugly around the waist and hips, gradually tapering down to a narrower leg opening. They are often made from stretch denim fabric, providing a comfortable fit while maintaining a sleek and stylish look. 
Straight-fit Jeans
Straight-leg jeans are a type of jeans that have a straight cut from the hip down to the hem. They do not taper or flare out at the bottom like some other styles of jeans.
Tapered Jeans
Tapered jeans are a style of jeans that gradually become narrower towards the ankle, as opposed to straight-fit jeans, which have a consistent width from the thigh to the ankle. The tapered cut gives a slimmer and more modern look, making it a popular style choice for short men with large thighs.
Jeans For Short Guys FAQs
How to Wear Jeans for Short Guys
For shorter men seeking the perfect pair of jeans, we suggest opting for a mid-rise fit. This will create the illusion of added height and provide a more balanced appearance for your legs in relation to your body. Avoiding a high-rise style, which may elongate your legs too much, or a low-rise design, which can make you appear even shorter, is key. Ultimately, the decision is yours to make.
How Long Should Jeans Be for Short Men?
For shorter men, it's best to avoid full break jeans, although many still wear them. The problem is that most jeans come with a 30+ inch inseam, which can further accentuate our height. To counter this, it's recommended to either cuff the jeans or have them hemmed to a shorter length.
Should Short Guys Cuff Their Jeans?
When it comes to cuffing your jeans, it's important to do so intentionally and not just because your jeans are too long. This style choice tends to look best on men who are wearing slim-cut jeans.
Explore More In Jeans
What To Wear With Black Jeans When You're A Guy
9 Best Mens Boots to Wear with Jeans
10 Best Mens Jeans with Stretch
5 Fresh Ways to Wear Men's Grey Jeans
How to Wear a Suit Jacket with Jeans for Different Occasions
How To Tell Jeans Are High Quality In 7 Steps