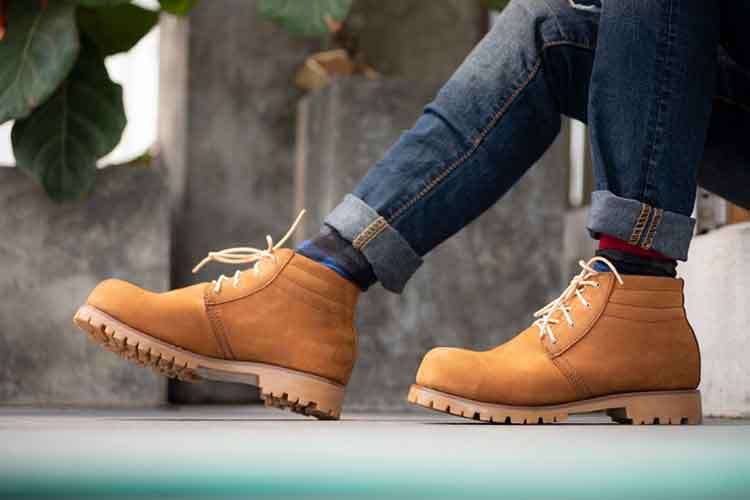 A wide variety of men's boots are available in different styles, and there are countless cuts of jeans to choose from. With so many options, you could create new combinations for months. 
Many guys wonder how to wear men's jeans with boots? The key to making them work together is to ensure that the proportion of your boots and jeans look good. It's usually a safe bet to go for slim leg jeans, but if you're wearing chunkier boot shapes, consider opting for straight or relaxed fit jeans instead.
Let's narrow our focus and talk about a specific fashion combination: mens boot with jeans. In this article, we'll help you choose the best boots to wear with jeans, and show you how to pull off the look flawlessly every time.
Wear Chelsea Boots with Jeans
Buy on Amazon Primeeligible
One of the reasons Chelsea boots are great is that they can be worn with almost any outfit. Pairing your Chelsea boots with jeans is a classic, laid-back look that is easy to put together, making it perfect for drinks or dinner after work. Choose a pair of dark brown or black Chelsea boots with slim-cut indigo jeans and a casual shirt to elevate your outfit.
Ensure that the boot's top section sits comfortably under the hem without getting squashed. For a stylish and elegant outfit, you can pair this look with a lighter indigo denim shirt from Joe's USA or Victorious  and a matching belt.
Chukka Boots With Jeans
Buy on Amazon Primeeligible
Chukka boots are versatile and can be paired with almost any outfit. They are perfect for casual wear and make a great complement to jeans and T-shirts. Dark chukka boots look particularly good with black jeans, as the contrast can enhance your appearance. If you want to look stylish, opt for a pair of tan or camel suede chukka boots to match black jeans.
Even in the winter, you can wear warm chukka boots to elevate your outfit. For a chic, smart-casual look, pair blue denim jeans and a T-shirt with dark-colored chukka boots. To add sophistication, throw in a blazer. Alternatively, you can switch the T-shirt for a button-down shirt, sweater, or polo, depending on the desired look and weather conditions.
Chukka boots are suitable for spring, summer, and fall, but they do not provide much protection from the elements in winter.
Desert Boots with Jeans
Buy on Amazon Primeeligible
The Desert boot is a versatile option that pairs well with denim. Opt for a pair of slim, tailored jeans to complement your boots. If you're aiming for a more formal look, dark indigo denim and a well-fitted button-up shirt are a great choice. Consider pairing cuffed Selvedge denim with suede or Nubuck Desert boots for a striking look. The combination of clashing colors and textures can draw the eye. Finish off the outfit with a plain tee, open shirt, and casual jacket. Feel free to layer different fabrics, colors, and textures, as Desert boots work well with multiple layers.
It's worth noting that, like Chukka boots, Desert boots are considered casual footwear. While some brands offer Chukkas that can be worn with a suit, finding a Desert boot appropriate for more formal occasions is challenging.
Derby Boots with Jeans
Buy on Amazon Primeeligible
Derby shoes and Oxfords are often confused, but there's an important distinction. The Derby boasts an open-lacing system, with eyelets stitched into the front of the shoe. This makes it much easier to put on than other types of boots.
Derby shoes come in several styles, ranging from casual to dressy. While their open lacing system keeps them in the casual realm, they can add a touch of sophistication to your everyday look. 
If you're wearing Derby shoes, steer clear of distressed jeans. 
The main issue with pairing Derby shoes with jeans is mixing a dress shoe with casual pants. Opt for a slimmer, more tapered fit and avoid baggy jeans with wide-leg or flared cuts. Darker jeans will always look more formal than lighter ones. 
To complete your Derby shoe outfit, opt for a well-fitted collared button-down or dress shirt instead of throwing on a T-shirt or sweatshirt. If you're unsure what top to wear, consider going for a polo shirt, oxford shirt, or sports jacket. This will help balance out your overall look. Check out this post: how to wear a polo shirt if you're a larger guy.
Oxford Boots with Jeans
Buy on Amazon Primeeligible
When it comes to boots, Oxford boots have a closed lacing system, unlike Derby boots. Although they can be a bit difficult to put on, they are considered one of the best types of boots that go well with jeans. It's best to pair them up with jeans that fit snugly around your waist and taper off at the bottom.
To add a bit of contrast between the dress shoes and jeans, you can choose between dark blue jeans with brown shoes, dark black jeans with light black shoes, or dark blue jeans with black shoes. For a simple, smart-casual look, you can team up dark indigo denim with a black pair of Oxford boots, dark knitwear, and a tonal jacket. A suede bomber jacket or wool overshirt would work well.
Oxford boots are a great option for a smart-casual outfit or to pair with a suit during the fall and winter. Although their boot-style counterpart is not as popular as the traditional Oxford shoes commonly seen in the business world, they can still be a stylish and practical choice.
Cowboy boots with Jeans
Buy on Amazon
Prime
eligible
Cowboy boots have gained popularity among cow-pokes and wranglers in the western regions. In my hometown, California, it's common to spot people dressed in their best cowboy boots attending Sunday service. These boots are as sturdy as work boots, making them a durable choice. 
For daytime events, medium blue jeans are a great option, while darker hues like blue and black washed jeans are popular for evening wear. Boot-cut jeans fit snugly around the hip and waist and flare out at the leg to accommodate your favorite pair of boots. They are a must-have for any boot-wearer. 
If you have a job requiring some physical work, then cowboy boots could be a perfect choice. Although some people prefer a more rugged workwear appearance, you can still dress up the shorter versions of cowboy boots if you pair them with clean-cut jeans and a button-down shirt tucked in. Early morning farm work is where cowboy boots can really come in handy and prove to be useful.
Moc Toe Boots with Jeans
Moc toe boots offer the best of both worlds, combining the water-resistant and durable features of a mocassin with the support and functionality of a work boot. These boots have gained popularity in recent years as a sleek alternative to traditional work boots. 
With a style that sits between fashion and function, moc toe boots are versatile enough to pair with various outfits. For a rugged look, take inspiration from the character Wolverine and pair them with black or fitted jeans. You could even try them with skinny jeans. 
Rolling up the ankle cuffs of your boot-cut jeans is a great way to show off your footwear and add a touch of cool to your outfit. Moc toe boots are an excellent choice for fall and winter and work well with jeans and chinos. They are perfect for a smart casual look and can be paired with a leather jacket for a trendy style.
Combat Boots with Jeans
Buy on Amazon
Prime
eligible
Combat boots have come a long way from their original purpose for military combat. They have grown in popularity since the '80s and '90s, becoming an essential item in punk-rock fashion and now making their way into mainstream fashion. Combat boots are a great alternative to work boots and can be found in more fashionable styles. However, you may want to look elsewhere if you're not into rugged, workwear style. 
Rothco offers some cool styles for those who want to push the boundaries of fashion. Combat boots are timeless and can be paired with jeans or pants. Just keep in mind the length and fit of the jeans, as wearing too long or flared ones may not look right with combat boots. For the best look, opt for ankle-high combat boots that allow you to tuck in your jeans, giving you a cleaner and more streamlined appearance.
Hiking Boots with Jeans
Buy on Amazon Primeeligible
When pairing hiking boots with jeans, it's important to prioritize comfort and functionality for the trail. While jeans may add to your fashion sense, hiking boots are designed with support, durability, and water resistance in mind. Although there may be some consideration for aesthetics, the main focus is on practicality. 
However, hiking boots can still make a fashion statement and be worn on various occasions with the right styling. They offer a tough yet laid-back vibe, making them versatile footwear. It's important to remember that these shoes are made to withstand rough terrain, so it's best to keep them looking practical when incorporating them into your outfit. 
If you wear jeans while hiking, opting for straight-leg jeans can provide comfort and style. As for color, it's up to personal preference, but choosing a shade that won't easily show dirt, such as blue, is recommended.
How should men's jeans fit with boots?
Generally, tapered men's jeans look better with boots. It should cover the shaft of your boots while resting just above the heel (between ¼" and ½")
How Do You Pick Boots To Wear With Jeans
It's generally a good idea to avoid matching your boots too closely with your pants, unless they're both black. Try pairing lighter denim with lighter-colored boots for a more casual look to create contrast. Keep in mind that stonewashed jeans and dark-brown boots may clash. When it comes to dark or raw denim, make sure to choose boots that fit well and provide support and comfort.
Explore More Options
What To Wear With Black Jeans When You're A Guy
10 Best Mens Jeans with Stretch
5 Fresh Ways to Wear Men's Grey Jeans
How to Wear a Suit Jacket with Jeans for Different Occasions