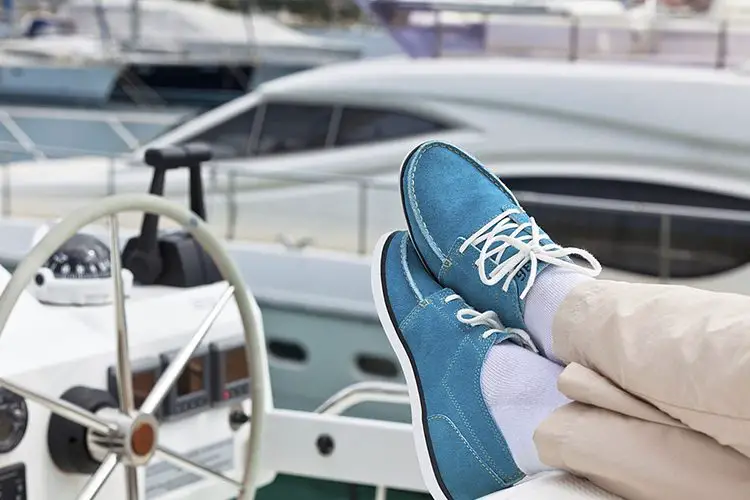 From the boat's deck to the feet of land-loving-shoe-wearing men, boat shoes have been a wardrobe staple for gents for years. Now, it's hard to think of smart casual clothing and not think of boat shoes. Not only that, but their practical non-slip soles and distinct upper design have also caught the eyes of many.
So if you're wondering, "are boat shoes worth it?" The answer is yes, boat shoes are worth the investment. For one, they're stylish and comfortable. They also give off a smart yet laid-back, appealing vibe. And they are very functional, which is what they were designed for in the first place.
These are just a few reasons why boat shoes are worth your buck. Now while there are some criticisms about boat shoes, it hasn't stopped them from being a classic go-to summertime footwear. Even more so as these criticisms don't hold much water, so here, we'll show you why boat shoes have proved again and again why we simply can't do without them.
Whenever you make a purchase through links on this page we make a small commission from our affiliate partners. Learn more
Are Boat Shoes Worth It?
Boat shoes are smart-casual summertime everyday wear, so they're definitely worth it.
As the name implies, boat shoes were actually made to be used on boats by a former Navy sailor, Paul Sperry, in the early 1930s. Like other fishermen, Paul also faced the problem of how slippery the boat's deck was. Trying to increase the boat's friction by using sand just didn't cut it. And so he had to invent shoes that could get the job done.
Rubber soles were the closest solution, but it didn't end there. One winter, he noticed how good his dog's grip on ice was, and he had a 'Eureka' moment.
He went on to design non-slip rubber soles using the same herringbone-like patterns underneath his dog's paws. Then in 2935, boat shoes came into the limelight with "Sperry Top-sider". The shoes also caught the attention of the US Navy, which contracted Sperry to make shoes for its sailors.
After that, Sperry sold his shoes to the U.S rubber Company, spreading Sperry Top-siders across the USA.
And that's how the boat shoes came to be. These shoes, with time, left the sea to the feet of land dwellers, adding style to its practicality.
You can know boat shoes by their leather or canvas uppers. However, traditionally, the uppers were made of only black or brown leather. These days, you can get boat shoes in different stylish colors and patterns.
Boat shoes feature unique handsewn uppers that are stain and water repellant, with moc-toe construction. They also come with two or three eyelets for leather or canvas lace, depending on the upper's material. And of course, they're signature 360-degree lacing system made to provide a snug fit.
Traditionally, boat shoes featured non-marking white rubber soles with a herringbone pattern. However, you can now get them in different colors.
How To Wear Boat Shoes
If you don't want to end up looking straight out of college, here are the dos and don'ts of wearing boat shoes. First, the dos:
Wear them in warmer temperatures: Boat shoes pair nicely with light clothing made by summer. Also, since part of your foot is exposed in boat shoes, you will not do well in winter.
Pair them with nice casual clothing: Like sneakers, boat shoes are great for casual clothing, although they take it up a notch a bit. You can pair them with jeans or brightly colored chinos.
You can wear it with a form-fitting shirt like a polo shirt. You can also wear it with a buttoned-down shirt and a pair of nice jeans. You can even add a blazer to it. But when a tie is involved, that's where it ends. So if you're looking to dress in a smart casual get-up, you can rock a pair of boat shoes nicely.
Get the right style of pants: When wearing boat shoes, go for pants with a tailored, straight, or slim fit. Also, let the shoes be a darker shade of your pants, but if you're wearing dark jeans, there's a bit more flexibility.
Boat shoes are best styled with shorter-length pants. A stylish way to get by with slightly long trousers is to roll them up a bit.
Wear them with jeans: Jeans are versatile, and boat shoes are versatile. So they go well together to create really cool looks.
When you're wearing them with blue jeans, cuff the bottom of your pants to show off your boat shoes even more. Then add a nice flannel or printed shirt on top for a casual and laid-back look.
For black skinny jeans, you can either stick with black boat shoes or go for a pair of colorful boat shoes to add color to your outfit.
Wear them with shorts:
Wear them to casual events like a date, a boat trip, the beach, when traveling, a night out with friends, etc. They
Now to the don'ts:
Don't wear socks with your boat shoes. It's an absolute no-no to wear long socks with boat shoes and shorts especially. You might escape with the no-show socks to help your shoes not stink.
Do not wear them to the office all the time. Boat shoes are not fit for all office settings. This is because they have a more "leisurely" feel which is not suitable most times.
Wearing boat shoes to the office also depends on how you wear them. You can look professional or business casual in it or not. To achieve a professional look, wear traditional black boat shoes and pair them with a nice Oxford shirt and straight-cut pants.
Do not wear them to a formal event. Boat shoes are not for black and white tie events; keep them for casual or smart casual.
What Can I Wear Instead Of Boat Shoes?
Boat shoes are great for smart casual and are very comfortable. So there is the temptation to wear them very often. One of the don'ts of boat shoes is not to wear them too often, so they don't stink. This is because you're most likely not wearing socks with your boat shoes. So what other shoes can you wear instead of boat shoes? Let's consider a few options:
Sneakers: Every guy needs a pair of white or brown sneakers. These shoes can substitute for boat shoes any day in the casual or smart casual category. Also, they are a better alternative to boat shoes for smart-casual workwear.
Slip Ons: Another classic summer footwear is the slip-on. They're super comfortable, easy to wear and take off. They're also cool, sharp, and casual.
Moccasins: Moccasins are like a combination of boat shoes and loafers. The camp moc especially even has a similar lacing system to that of a boat shoe.
Flip flops: These basic summer footwear never go out of style. They're very easy to wear and ideal for a casual getup. They're best with shorts and for the beach.
Espadrilles: If you think flip flops are too casual, then espadrilles are your best option. These shoes are comfortable, lightweight, and perfect for the beach.
Loafers: Loafers are the perfect complement to your summer outfit, adding a sweet, smart touch to your overall look. Even though they are usually worn with formal clothing, you can wear them with casual clothing to help dress it up a bit. So they're perfect for a business casual
 Sandals: Sandals are versatile and add a little sophistication to your summer outfit.
Like the boat shoes, these shoes are hot for summer. So if you want your boat shoes to last longer or you want to go for a different look, try any of them.
How Long Do Boat Shoes Last?
You can get a good two years off your boats. Of course, this depends on how often you wear them, which is why wearing alternatives here and there helps.
Boat shoes are quite sturdy and do well in wet areas, especially Sperrys. The rawhide laces won't break easily, although, after a while, you might have to change the heel.
However, if you purchase a Sperry boat shoe, you get a lifetime warranty. So, in the end, getting a boat shoe is a good investment.
Are Sperrys The Best Boat Shoes?
Sperrys are great boat shoes. It's a known fact that boat shoes began with Sperry, so it's normal to assume them to be the best. Sure they're great, and the most traditional is all boat shoes. However, some pretty awesome brands are in the business of making boat shoes.
These brands have developed such amazing variety and styles of boat shoes in line with what's trending. And this, in turn, helps boat shoes stay trending.
However, with or without other brands, Sperrys has held its own for a very long time. And many boat shoe purists will rather stick with Sperrys than any other brand.
So what makes Sperry so great?
The traditional moc toe construction and nonmarking white rubber soles
Rugged leather laces.
It's all about the grip. Sperrys offer great grip and traction over wet surfaces, which is why they were made in the first place.
They're comfortable thanks to padded foot beds, which make it easy on your feet. They also feature a water repellent finish for wet areas.
Sperry boat shoes are made from durable leather that's sure to last a while.
Lifetime warranty
Other brands that make boat shoes are Quoddy, Sebago, Prada, Arpenture, Polo Ralph Lauren, Timberland, Salvatore Ferragamo, Yuketen, etc.
Some brands are making boat shoes that are completely different from the traditional style. Shoes like the Shimano Evair Boat shoes, Grundéns hybrid Deck-Boss Slip-On, XtraTuf's lace-up Topwater,  Huk's new Mako fishing shoe, and so on.
Although these shoes are a big deviation from the classic boat shoes, they were made for the same purpose as the boat shoe. They also have the main features that fit this purpose: great traction, nonmarking soles, comfort, and waterproofing or water resistance.
Still, we love Sperrys. This classic boat is versatile, and you can wear them with most smart casual outfits. These deviants, on the other hand, are limited in what they can be paired with.
So if you're a more traditional kind of guy, go with Sperrys or something close to it.
How Should Boat Shoes Fit?
Comfort is key when picking out a boat shoe, so ensure they're comfortable. Boat shoes are known to provide a sneaker-like fit, and the lacing at the sides is for a snug fit.
However, to find your best fit, follow these simple rules:
There should be a half-inch space between the front of the shoe and your big toe when standing.
Make sure the ball of your foot fits seamlessly into the widest area of the shoe.
Finally, you know your best fit by trying them out. So get into your shoes and walk around the store a bit to see how they feel.
Leather boat shoes expand over time, so you should consider that when buying a pair of boat shoes.
The easiest way to break into your new pair of boat shoes is by wearing them around the house. Give 1 hour a day to wearing them around the house. Then when they feel comfy, wear them out for longer periods.
Can Boat Shoes Get Wet?
Boat Shoes can get wet.
Most boat shoes are water-friendly or water-resistant. This means that while they are good with wet surfaces, you don't want to dunk them in water.
However, when they come in contact with water, they hold up pretty well. Plus, they look pretty good when they come in contact with water. And over time, your boat shoes will develop a seasoned look.
That's it for boat shoes. So don't hesitate to grab a pair, whether it's Sperrys or some other brand. For more style tips, check out these articles:
How to Know if You're Wearing the Right Size Chelsea Boot
What are Roper Boots? | How To Wear Them To Boots Your Style