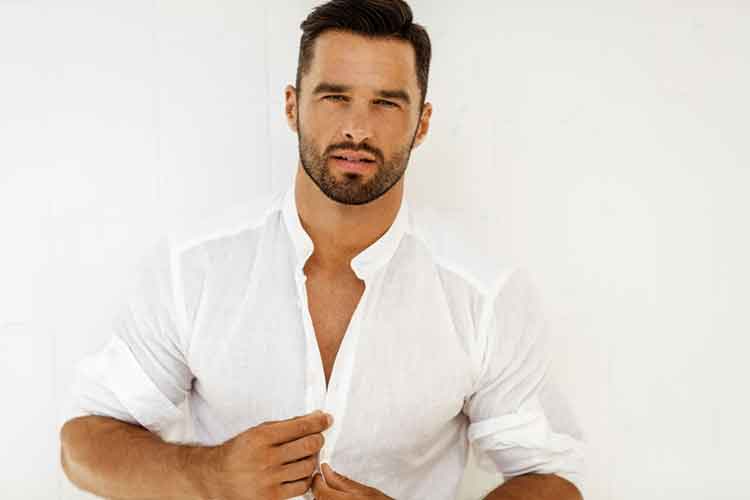 It's a known fact that wearing lightweight men's shirts that keep you cool in hot weather are the best wardrobe choices to put you in control of extreme heat and humid weather. Not being unprepared for the outdoors or your vacation can send you running for cover.
With temperatures on the rise, fashion is the last thing that most men think about, especially since dressing up in the summers and adorning a fashion-forward ensemble takes a backseat to being comfortable and not drowning in your own sweat.
Avoid wearing darker colors shirts like black, which absorbs light and converts it to heat, but stick to lighter color shirts like white which repels the sunlight.
Have a look at our 9 best men's shirts options for all men to beat the heat this summer.
Whenever you make a purchase through links on this page we make a small commission from our affiliate partners. Learn more
Cotton V Neck Top
Finding yourself a cool yet comfortable style slim fit tee for the sunny season can be a tough task, no sweat we have you covered! This men's casual slim fit V neck shirt is suitable for any casual occasions, this summer whether it be for daily wear, sports, work, hiking or beach.
Made from cool cotton fabric, if you're not satisfied with the comfort that this shirt provides then within 30 day you can send it back for a full refund guaranteed. Check Price on Amazon
Short-Sleeve Linen Shirt
It's no secret, but linen is one of the coolest fabric shirt materials to wear in warm weather. This isn't surprising since, when it comes to men's fashion, short sleeve button up shirts are usually the go-to option for the summer. An Amazon Essentials, this slim fit linen shirt features a patch chest pocket for a classic look, spread collar design and a straight back yoke with side pleats. Check Price on Amazon
Cotton Tee Hippie Shirt
While most men usually go for round neck T-shirts this summer, step outside the box of what everyone else is wearing and go for this classic cotton tee hippie shirts that is design with a drawstring closure. This beach yoga top adds a slight variation to an everyday staple, made from 100% Cotton it super soft, lightweight, breathable and sweat-absorbent,  leaving you comfortable and relaxed especially in very humid condition. Perfect for beach, yoga, meditation, workout, party or just hang out. Check Price on Amazon
Hawaiian Shirt
When it comes to a laid-back men's shirt that keeps you cool in hot weather, this Aloha Hawaiian style shirt is ideal for travel, cruise and vacations. As such, this short sleeve summer button-down shirt is made for a casual yet modish ensemble that is absolutely pocket-friendly, making it a steal for less than $30 at the time this post was written.
Given the top-notch quality that the LA LEELA brand provides. Check Price on Amazon
Beach Henley Men's Shirt
If you like to keep your attire simple, then you would absolutely love this Henley shirt summer button up top from Runcati. Available in 28 other colors this cotton and linen top is all about comfort and breathability. Depending on which color you opt for, you could team it up with a complimentary pair of shorts, a pair of leather flip-flops or contrasting colored slip-ons for a fashion-forward ensemble. This summer plain mandarin collar t-shirts for men is suitable for casual, daily wear, working out, work, home wear, formal work, everyday fashion casual wear, parties and beach. Check Price on Amazon
Tropical Hawaiian Shirt
Going on a vacation or a cruise this summer, if you don't own a Tropical Hawaiian Shirt yet, it's time that you gift yourself one! Made from fine quality 100% cotton, it feels exceptionally good on the skin. This 28 Palm brand men's shirt offers that vibrant tropical appeal and is perfect for those burning hot summer days when you want to be dressed in the breeziest of attire and take a stroll outside. Going on a vacation, there is no reason why you shouldn't be getting this. Check Price on Amazon
Linen Henley Shirt
While some men will prepare for the summer by stock their wardrobes with just cotton t-shirt, others are all about the relaxed and cool vibes look that a lining shirt has to offer! And on the other hand, there are those who find that wearing a V-neck or a crewneck shirt is just too boring. This linen Henley casual shirts will give you the benefit of both worlds you won't regret! Suitable for casual, work, holiday, club, party, date, outdoors, sports, beach, street, this lightweight cotton and linen fabrics piece will make you keep refreshing all the time in summer. Check Price on Amazon
Casual Buttons Down Mens Shirt
Summer casual short sleeve dress shirts with pockets front,stand collar button down fashion stylish T shirts.100% brand new. Suitable for casual,outdoors,date,club,party,vacation,street,home etc.Great for spring,summer.Check Price on Amazon
V Neck Summer Beach Shirts
Mens lace up V neck sleeveless shirts, made of high quality cotton material, very comfortable, soft and breathable. This casual tank top featuring a drawstring lace up neck, single front pocket, v neck style, loose fit, solid color and breathable fabric.Check Price on Amazon
RELATED POST