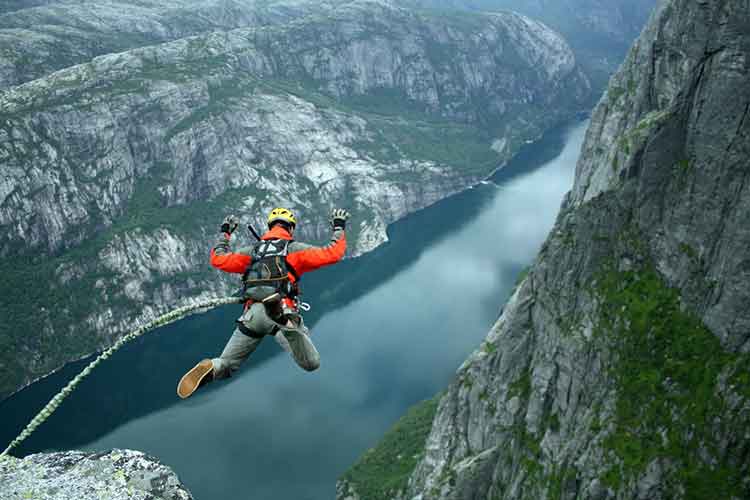 Plummeting in the best places to go bungee jumping in the US is a blast. And that's why bungee jumping has become very popular over the years, especially in the US. And it gets your adrenaline pumping like a few other daredevil activities. Imagine plunging many feet into the unknown, only to be snatched up again by a bungee cord—priceless!
Now, bungee jumping can be scary but is it scarier than skydiving? The answer is yes for a few reasons. For one, with bungee jumping, you're way closer to the ground than with skydiving. And it's one giant leap within which if anything goes wrong, there's no recourse. Still, it's incredibly fun.
So if you're an adrenaline junkie, get your fix by going bungee jumping. And you can count on finding the best places to go bungee jumping in the US, whether it's cliffs, bridges, or towers. So hold on to your heart and your lunch, and take a plunge into or fall in love with our list of best places to go bungee jumping in the US.
Royal Gorge Suspension Bridge, Colorado
The Go Fast Games event opens up the Royal Gorge Suspension Bridge to avid jumpers three days a year. This bridge is not for the faint of heart, as you'll find expert jumpers flocking here from around the world. More reasons to love Colorado.
If you think you can't make the jump, that's not enough reason to shy away from this bridge. Just watching other thrill-seekers magnets the fun and adventure to you.
The Royal Gorge bridge runs over the Arkansas River. And this 1,260-foot long suspension bridge looms above the river by 956 feet!—Now that's scary. So it's no surprise it was considered the tallest bridge in the world up till 2003.
Jumping off this bridge is so extreme that it's closed 11 months in a year and only opens during the Go Fast Games Event. And you only get to jump off the bridge during the event by invitation. So if you're looking to join in the adrenaline rush and maybe beat a world record in the process, hurry and apply.
After months of building anticipation and held in excitement, you finally get to release all that in 15 seconds of raw thrill. And three days of extreme sports with other bungee jumping enthusiasts make the wait worth it. The fun is simply unbeatable.
So get ready to show off what you've got. Or, if you're only a spectator, roll out your camera for some amazing extreme clips.
Redwood Trees, California
Only bungee jumpers and nature lovers will appreciate a good 150-foot redwood tree. The redwood trees are a perfect setup for a daring jump. So, gear up for a three-in-one bungee jumping adventure off Redwood Trees, California.
To bungee jump from redwood trees, you'll have to climb a tree, walk on a tightrope between two giant redwood trees, and then it's free-falling to thrill town. That's why it's three in one, more extreme tasks and more extreme fun.
The redwood forests provide a different atmosphere. The beauty and serenity of nature and the trees are breathtaking. Too bad this serenity is broken off by the screams and heart-racing fall of the bungee jumpers.
And if your eyes are open during the fall, you just might catch a flying squirrel leaping with you. You won't see that jumping off a bridge or tower.
As fun as it sounds, you can't just jump off as you wish. This unique bungee jumping spot is operated by Bungee Adventures, the only company authorized to carry out bungee jump trips in this forest. This company is popular for organizing some of the most unusual jumps in the US. And you can trust that you're in good, capable hands.
So if you're a first-timer, you're welcome to try out the redwood trees. And an experienced jumper will appreciate this delightful spot even more.
Navajo Bridge, Marble Canyon, Arizona
The Grand Canyon has always been amongst the most visited places in the US.
Not only will you see families and tourists stopping by this hot spot, but you'll also find adventure seekers casting off some restraints for a rush.
This is because the Navajo Bridge is located near the North Rim of the Grand Canyon.
The Navajo Bridge overlooks a stunning red rock desert gully, as well as the Colorado River, providing a perfect jump site. And it is the 10th highest bungee jumping bridge in the United States.
You can expect to have a wonderful view of the red rocks while taking a 470 feet jump off the bridge. Now 470 feet is a scary height for beginners, so if you are a beginner, you might want to try a lower height before conquering the Navajo Bridge.
And as a bonus treat, depending on the operator you sign up with, you get to take a dip into the river for extra bucks. It's a lovely and refreshing place to view the death-defying drop you just did. And considering how fast your heart will be racing, it's a good place to cool off.
You might want to prepare for the swim wearing a nice pair of swim trunks for your jump. No shame in that.
There are several operators to choose from so take time to shop around. You just might find one that will offer a bungee jumping road trip adventure bundle. Imagine checking out 4 to 6 different bridges across the US and just jumping over them. We won't say more.
High Steel Bridge, Washington
Jumping off this bridge is not only a rapturous experience but also a connection to the wonderful nature around you.
Seems absurd, right? Who looks around when the only thing you're feeling is the speed from the jump and the air around you. Well, don't conclude so fast until you visit the High Steel Bridge. It's the perfect bridge for the most beautiful jump you can imagine.
High Steel Bridge is located in the dense rainforests of the Pacific Northwest, near Shelton, Washington. That's hundreds of rich evergreens around you and a beautiful transient ice-blue river, called the Skokomish river, below you. It may not be the highest or most daredevil jump, but it does make for an unforgettable experience.
It's very common for jumpers to forget themselves and take in the beautiful view. And it's a cool place to take your family for some cool family photos.
The 685 feet long bridge hangs between two sides of a gorge that drops 400 feet. However, because the river has some sharp rocks, jumpers only jump 350 feet for their safety. Still, that's a far way to fall.
So join the Bungee Expeditions for a breathtaking jump of High steel bridge. And please note that this operator organizes trips for private groups of 12 or more jumpers.
Rio Grande Bridge, New Mexico
Ever dreamed of flying? Well, the Rio Grande Bridge just might make your dream come through. It's a long way down from the Rio Grande Bridge, so long you'll feel like you're flying.
And that's why this list of best places to go bungee jumping in the US will be incomplete without the Rio Grande Bridge. It is one of the highest bungee jump spots in the world. And it is the highest bungee jump in the United States.
Also known as "Gorge Bridge" by locals, this magnificent bridge towers at an impressive height of 680 feet above the river. Jumping off this bridge gives you more plunging time than you can stomach. But there's no point having second thoughts midway through the fall.
Free falling off this bridge is a feat like no other. And only the brave-hearted and dare devilish enough can tame this New Mexican beauty. Plus, it will cost you no small buck to jump off this bridge. You'll have to cough up a whopping $300, which is a lot but worth it.
So if you're up for it, Bungee Expeditions is ready to take you up—or should we say, down. Bungee Expeditions has over 25 years of experience taking people over several heights. So you'll be in good hands booking with them.
Bridge To Nowhere, El Segundo, California
A bridge called "the Bridge to Nowhere" is bound to hold some mystery. And, of course, tickle the excitement of adventure seekers everywhere. So it's no surprise that this bridge is the favorite of Southern California dwellers.
Like the name says, this bridge leads to nowhere. It came about as a result of an abandoned road project in 1930. So, instead of roads on both sides, it leads to a mountain—a dead end!
However, that's not the only thing that makes this bridge so exciting.
Encircled by the Sheep Mountain Wilderness, the bridge overlooks the San Gabriel River. And standing at a height of over 100 feet, jumpers are treated to a 100-foot jump over the rushing river.
So, you're plunging face forward to the river and also looking up to the high walls of the gorge around you—truly epic!
It requires a 10-mile hike to get to the bridge. But what's a little hiking compared to the exhilaration from jumping off a bridge 100 feet at a crazy speed. Plus, the hike gives you a chance to explore the mountains and enjoy the view. Don't forget to carry a hydration pack.
And it gets better. Bungee America offers night jumps off the bridge. Now that's something. You can bet that a night at the bridge to nowhere will give you a chilling bungee jumping experience.
Bungee Tower, Government Camp, Oregon
You'll find many Oregon locals trooping to the Mount Hood Adventure Park for tons of fun and entertainment. However, there's more to this family-friendly park that's got people hooked, and that is the Bungee Tower.
Many visitors—bungee jumping enthusiasts—look forward to an exciting 100 feet drop off this tower. What else do you expect from the 9th highest bungee tower in the USA? And, coupled with the fact that it's the 77th highest jump in the United States.
You should know that dropping off this tower requires a little more courage. This is because, unlike most tower jumps where jumpers get to jump off a trap door, the Bungee tower is nothing like that. Jumpers can lean over, dive, or fall off the edge as they like. But not to worry, a giant safety airbag is waiting beneath you.
The rush you feel from this fall is enough to satisfy any adrenaline junkie. Plus, you get to choose how you want to make this death-defying jump.
And such an adventurous fall comes with the rewarding backdrop of the beautiful Mount Hood. Take a picture, and it's sure to get many likes on any social media platform. You may even want to frame it.
So, if you're feeling brave, dive in.
Is Bungee Jumping Worth It?
Yes, bungee jumping is definitely worth your while. We won't deny that it's scary, especially if you're jumping for the first time. However, after a few jumps, you'll get the hang of it and take on more challenging jumps.
One kick you'll get from bungee jumping is that you'll learn to conquer your fears. It's near, if not, impossible to remain the same after taking such a leap of faith. And other challenges will pale in comparison.
Another thing about bungee jumping is that you cannot bungee jump and not feel on top of the world. It will make you lift your head high and be proud of yourself because you just achieved an awesome feat.
Even more, Bungee jumping is a great way to feel alive. The adrenaline rush and rewarding endorphins you'll get will make you feel so good. And simply free-falling like that, knowing you're safe, is a good way to release all tension and worries. The birds truly have it good.
Shall we go on? With bungee jumping, you can make sweet memories of bravery and courage. And also, indulge in a radical yet safe adventure with a good amount of excitement. Take a lot of pictures for lasting memories and a little showing off.
[/vc_column_text]
Tips for Bungee Jumping
Clothing: There's no fixed clothing for bungee jumping. You can wear whatever you're comfortable in—as long as it's not your birthday suit.
Choose your jump operator and location carefully. Bungee jumping isn't just about the jump, but your surroundings and party. So you want to make every bit of it memorable and go without a glitch.
Carefully pay attention to everything your jump instructors tell you and trust them. If they are instructors, it means they are trained and know what they are doing.
If you can't make the jump, it is absolutely fine to step down. But make that decision before you plunge. You don't want to rethink your decision midair; that's not a good move.
If you've made up your mind to jump, don't hesitate or overthink it watching others go, take the lead and enjoy an epic surge.
Eat light before you jump, and it's even more preferable to not eat at all. Need we say more?
It's advisable to take off all valuable items with you because they could fall off you. And you'll end up being distracted from the whole experience.
Don't look down; it makes the jump scarier. Rather, look straight ahead or close your eyes, and it will be over before you know it.
And lastly, if you have any health issues like a heart problem or backache, please don't bungee jump.
Following these tips could be the difference between an awesome jump and broken bones—if one is lucky.
So what's our take on bungee jumping? It's an amazing extreme activity, and you should go for it. You should also check out these articles for more fun adventures:
Best Adventure Trips for Guys on a Budget
Best Bike Touring Routes In the US For Your Next Bike Packing Trip