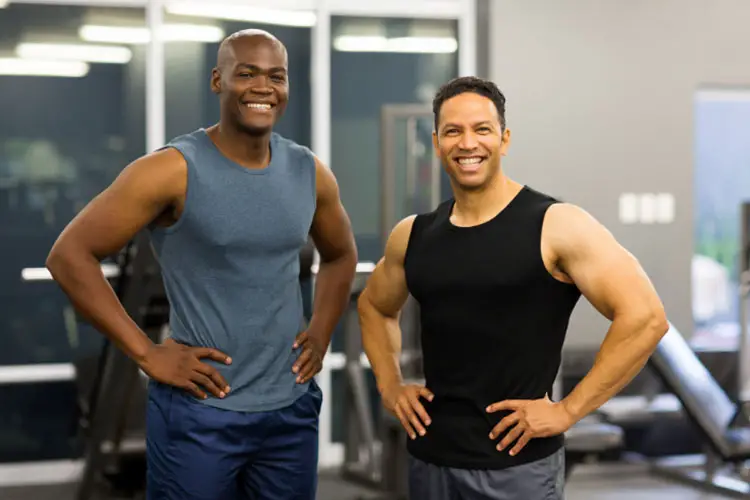 Unless you're a cold-blooded alien, you'll probably sweat a couple of times in your lifetime. And one thing is certain – there's nothing dashing or debonair about huge pit stains. So, how do you combat those? Undershirts. Undershirts are a necessity for every guy. Not only do they protect your shirts from sweat or deodorant stains and odor, but they also give you a more polished appearance.
This brings us to a key question; should men wear undershirts with polo? Generally, men shouldn't wear undershirts with polos. Wearing an undershirt under a polo will typically make you feel too warm and look bulkier (in a bad way). However, you can wear a V-neck undershirt under your polo if you're concerned about sweat pit stains.
Now that's out of the way; it's essential to know how to choose the right undershirt for your shirts. Wearing the wrong one can make a great outfit look less than perfect or even downright awful. So, how do you know which to choose? That's what this article is here to answer. So, without further ado, let's jump right in.
Whenever you make a purchase through links on this page we make a small commission from our affiliate partners. Learn more
Factors to Consider When Choosing an Undershirt For Your Shirt
As a rule of thumb, your undershirt must always stay hidden beneath your shirt. This rule is a key determinant when deciding on the undershirt to pair with a dress shirt. So, to make sure that you get it right, we've compiled a list of factors to consider before making a choice.
The Color of the Undershirt
The general go-to color for undershirts is white. However, while white undershirts are ideal for certain shirts, they're not always the right choice.
Before choosing any color of an undershirt, you need to think about your skin tone as well as the color and weight of your dress shirt. Remember, the goal is that the undershirt remains hidden to outside eyes. Let's look at what colors match best.
White Undershirts
White undershirts typically go with dark or opaque shirts. Since such dress shirts are not transparent, you're not worried about the undershirt showing through the shirt.
Since the color wouldn't be an issue, why go for white and not black, for instance? It's simple. White undershirts are generally cheaper, easier to find and maintain, and come in a variety of cuts and fits.
Light Grey Undershirts
The common belief that the most appropriate color of undershirt to wear underneath a white dress shirt is white is simply not true. The ideal color of undershirts to wear beneath a white or any other light-colored dress shirt is light grey.
White generally reflects light and is the easiest color to see through. As such, white undershirts don't blend in with light-colored dress shirts and are visible under them. Light grey, on the other hand, blends more naturally and will remain hidden.
You can also wear this color of undershirt beneath dark dress shirts. They're quite versatile. Another advantage they have over whites is that they don't get sweat-stained as quickly as white undershirts do.
Related Read: A Man's Guide To Wearing Undershirt With Dress Shirt
Skin-Colored Undershirts
Flesh-toned undershirts are another great option for white dress shirts. In fact, they generally will remain invisible regardless of the color of the shirt you wear.
These types of undershirts are great if you have tan or darker skin. But if your skin is pretty pale, you can stick with a white undershirt. The only "problem" with skin-colored undershirts is that they're typically more difficult to find than other colors.
The Undershirt Cut
I've probably said this ten thousand times already, but I'll say it one more time (or another 10,000 times). Undershirts are meant to stay hidden. This means no peeking out from behind your shirt's collar or under the shirttail.
Therefore, you'll need to consider the length and collar type of your dress shirt when choosing an undershirt. So, make sure that the undershirt is long enough to allow you to tuck it in comfortably. But, it should be short enough so that it doesn't show under your shirt if you decide to forgo tucking in your shirt.
Here are a couple of undershirt styles:
Crew Necks
These are the most basic and perhaps, most common undershirts. With a round-shaped neckline, crew necks are ideal if you intend on keeping your shirt's collar buttoned all the way up or want to wear a tie.
Because this type of undershirt is pretty high up, literally up to your neck, they can only stay hidden beneath high-buttoned dress shirts. For that same reason, you should crewnecks if you plan to leave a few top buttons undone, show off some chest hair, or take your tie off later on.
V-Necks
These types of undershirts are ideal if you plan to leave the top button(s) of your shirt undone. V-necks allow you to do this without exposing the undershirt you're wearing underneath. You can ditch the undershirt totally or go for deeper v-necks if you plan to leave more than two top buttons undone.
Tank Tops
Some of the most basic functions of an undershirt are to cover your skin and prevent sweat and deodorant stains to your shirt. Tank tops do not serve any of these purposes. It's also the most visible type of undershirt when worn beneath a dress shirt.
It creates contrast lines and can even be worse than doing without an undershirt altogether. The only time tank tops may be okay is during the summer. Summertime is the one exception to the "undershirts must never be visible" rule.
The Fit
Like every other apparel, getting the right fit is essential when choosing the right undershirt. Too loose and the undershirt will add excess bulk in the wrong places, making it obvious that you're wearing something under your shirt.
Too tight, and you'll be uncomfortable for as long as you wear it. A properly fitted undershirt should be snug and form-fitting without cutting off your airflow.
What is the Best Material For An Undershirt?
Generally, natural fabrics like cotton, nylon, and linen are the best materials for undershirts. They provide comfortability, breathability and do a great job of absorbing sweat.
You want to avoid synthetic materials like spandex and polyester. The same goes for undershirts that have water-absorbing properties.
Moisture-wicking undershirts may also be ideal if you're going for a workout. However, they're typically not as comfortable as cotton shirts.
Did you enjoy the read? Then check out these articles!
Men's Guide To Wearing A Collared Shirt With A Jacket
8 Most Comfortable Men's Oxford Dress Shoes That Are Stylish