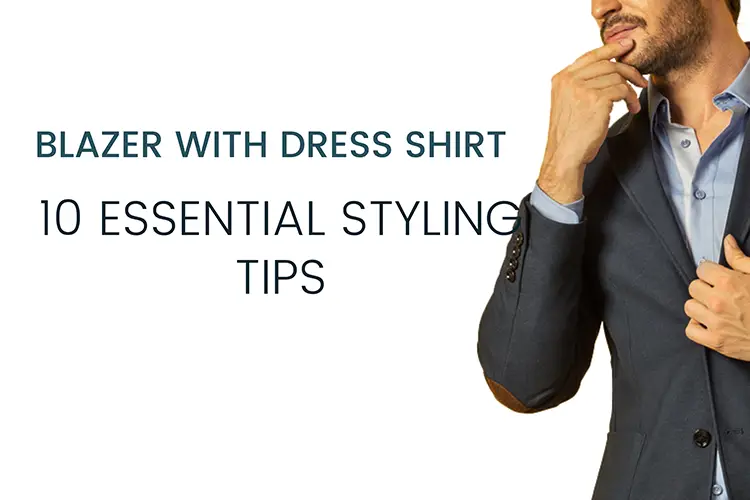 Combining a blazer with a dress shirt is a classic, timeless look that exudes sophistication and style. Whether you're dressing up for a formal occasion or want to add a touch of elegance to your everyday wardrobe, this pairing is a go-to for many men. However, the key to pulling off this look lies in the details.
 From choosing the right blazer and shirt to accessorizing with the perfect tie and shoes, there are several styling tips to remember. 
How Do you wear a blazer with a dress shirt at a glance? 
Start by choosing a well-fitted blazer and dress shirt that complement each other in color and style.

Ensure the blazer is buttoned and the dress shirt collar is neatly tucked under it.

Complete the look with tailored pants, dark wash jeans, and dress shoes or boots.

Add a pocket square or tie for a more sophisticated look.
In this article, we'll share ten essential tips to help you master the art of wearing a blazer with a dress shirt. Whether you're a fashion-forward trendsetter or simply looking to elevate your style game, these tips will help you look and feel your best. So, let's dive in and discover how to create a dapper and sophisticated look with a blazer and dress shirt.
Whenever you purchase through links on this page we make a small commission from our affiliate partners. Our ultimate goal is to provide our readers with actionable insights and practical tips that they can use to improve their daily lives. Learn more
Ensure That The Dress Shirt Fits Well
When wearing a dress shirt and blazer, the fit is crucial. A well-fitting dress shirt looks better and feels more comfortable to wear. To ensure a proper fit, paying attention to how the shirt fits around the chest, under the armpits, and across the upper back is important.
A shirt that is too tight in these areas can restrict movement and make it uncomfortable to wear for an extended period. On the other hand, a shirt that is too loose can look sloppy and unprofessional.
To find the perfect fit, it's important to take your measurements and consult a sizing chart. If you're between sizes, it's often better to go for the larger size and have the shirt tailored to fit your body perfectly.
A well-fitted dress shirt will enhance your overall look when wearing a blazer, creating a sharp, sophisticated appearance.
Choose The Right Collar
Choosing the right collar to wear with a blazer can significantly affect your overall style and appearance. The collar of your dress shirt should complement the style of the blazer you're wearing.
A spread collar would work well if you wear a traditional blazer, providing a classic and formal look. The spread collar has wider points, which help to balance the width of the blazer's lapels.
On the other hand, if you're going for a more casual look with your blazer, a button-down collar will be more suitable. This type of collar features buttons that hold down the collar points, giving you a relaxed and casual style that complements a casual blazer.
Remember, the collar of your dress shirt is essential to your overall look, and choosing the right one is essential to ensure you look your best. By considering the style of your blazer, you can select the collar that complements it perfectly.
Related Read: What Shirt To Wear With Dress Pants
Wear The Right Tie
Choosing the right tie can greatly affect an outfit's overall look and feel. Whether you're dressing for a formal occasion or a day at the office, your tie should complement the rest of your outfit. The key is to ensure that the tie's color and style match the rest of your clothing.
If you're wearing a blazer and dress shirt, the tie should complement the colors in your outfit. A solid-colored tie complementary to your shirt or blazer is always a safe bet. If you're looking to make a bolder statement, you can opt for a patterned tie that still matches the color scheme of your outfit. On the other hand, if you're wearing a more casual outfit, a statement tie with a unique design can help elevate the look.
Ultimately, the right tie can help tie your outfit together and leave a lasting impression. Remember to choose a tie that matches your outfit's overall style and color scheme, and you'll be sure to look sharp and put together.
Coordinate Colors
When coordinating colors for your dress shirt and blazer, it's important to choose complementary colors that work well together. One classic combination is a blue blazer with a white or light blue dress shirt worn with chinos or dress pants that are not too close in color. This pairing is timeless, sophisticated, and versatile, making it a go-to choice for many occasions.
This combination works so well because blue is a neutral color that complements various shades. A white dress shirt is a crisp, clean backdrop that allows the blue blazer to take center stage. Meanwhile, a light blue dress shirt provides a subtle contrast that enhances the blazer's hue.
When coordinating your dress shirt and blazer, you should also consider the occasion and your style. A white dress shirt is a safe bet for a formal event, while a patterned or colorful shirt can add interest to a more casual outfit. Ultimately, the key to successful color coordination is finding a combination that makes you look and feel confident and comfortable.
Don't Clash patterns:
The key to achieving a polished and put-together look when dressing up is to avoid clashing patterns. When selecting a blazer and dress shirt, it's important to consider the patterns in each garment and ensure they complement each other.
If you're wearing a patterned blazer, such as plaid or houndstooth, it's best to pair it with a solid color dress shirt. This creates balance and prevents the outfit from looking too busy or overwhelming. On the other hand, if you choose a patterned dress shirt, like stripes or checks, it's best to keep the blazer solid. This helps to anchor the outfit and make it look more cohesive.
Following this simple rule of not clashing patterns, you can create a sophisticated and stylish look suitable for various occasions. Remember, the key is ensuring each piece complements the other rather than competing for attention.
Button Your Blazer Correctly
When it comes to buttoning your blazer correctly, it's important to consider the style of the blazer. Two-button blazers should always be buttoned when standing, as leaving them unbuttoned can look sloppy and unkempt. However, it's best to unbutton the blazer when sitting down to prevent it from pulling and wrinkling.
Three-button blazers have different options depending on the style and personal preference. The classic approach is to button the top button only, leaving the bottom two buttons unbuttoned. Alternatively, some prefer to button the top two buttons, leaving the bottom button unbuttoned. This gives a more modern and slightly more casual look.
In any case, it's important only to button all three buttons on a three-button blazer, as this can look outdated and stuffy. Following these simple guidelines can help you achieve a polished and stylish look wearing a blazer.
Keep Your Shirt Tucked In
Keeping your shirt tucked in creates a sharp, put-together look. An untucked shirt can appear sloppy and unkempt. In contrast, a neatly tucked shirt communicates professionalism and attention to detail.
Tucking your shirt in can also elongate your legs and create a more flattering silhouette. When your shirt is tucked-in, it creates a visual line from your waist down to your feet, making you appear taller and slimmer.
To keep your shirt tucked in throughout the day, ensure that your pants fit properly and are not too loose or tight. You can also use shirt stays or tuck your shirt into underwear or undershirts to keep it securely in place.
In short, keeping your shirt tucked in is a simple yet effective way to elevate your overall appearance and make a positive impression.
Choose The Right Pants
When dressing up for a formal or semi-formal event, paying attention to the details, including your choice of pants, is important. If you're wearing a dress shirt and blazer, you want to make sure your pants complement the style of your blazer.
If you're wearing a traditional blazer, it's best to pair it with dress pants. This combination creates a classic, formal look that is perfect for business meetings or formal events. Dress pants should be tailored and fitted, with a pressed crease down the front.
On the other hand, if you're wearing a casual blazer, you can pair it with jeans or chinos. This creates a more relaxed, casual look that is perfect for social events or a night out with friends. Just make sure the pants fit well and are manageable.
Selecting the right pair of pants with your dress shirt and blazer is crucial for achieving a cohesive and put-together look. The pants you choose should balance out the style of your blazer, whether a traditional blazer that pairs well with dress pants for a classic formal look or a casual blazer that looks great with jeans or chinos for a more relaxed one, laid-back vibe.
Related Read: Black Dress Shirt With Jeans: A Classic Combination for Men
Wear The Right Shoes
Wearing the right shoes to match your outfit is essential to dressing well. When wearing a dress shirt and blazer, choosing dress shoes that complement the style and formality of your attire is important. Dress shoes are typically leather and come in various styles, such as oxfords, loafers, and brogues.
When selecting dress shoes to wear with a dress shirt and blazer, it is crucial to ensure that the color and style of the shoes match the overall look. For instance, a classic black leather oxford shoe would be perfect for a formal event or business meeting. A brown leather loafer will be a good option if you're going for a more casual look.
In addition to choosing the right style and color, it is essential to ensure that your shoes are clean and well-maintained. Dirty or scuffed shoes can detract from an otherwise well-put-together outfit. Investing in quality dress shoes and taking good care of them will elevate your style and extend your shoes' life.
Accessorize
Accessories are a great way to elevate your outfit and add a touch of personality to your style. A pocket square is a small piece of fabric that can be folded and placed in the breast pocket of a blazer or suit jacket. This accessory comes in various colors and patterns, and it can complement or contrast with the colors of your outfit.
Cufflinks are another stylish accessory that can add a touch of sophistication to a dress shirt. They come in different materials and designs and are perfect for formal occasions or business meetings.
Consider wearing a watch that is both a functional and fashionable accessory that can complete your look. It can be a simple leather strap or a more elaborate metal band, and it can help you keep track of time while adding a stylish touch to your outfit.