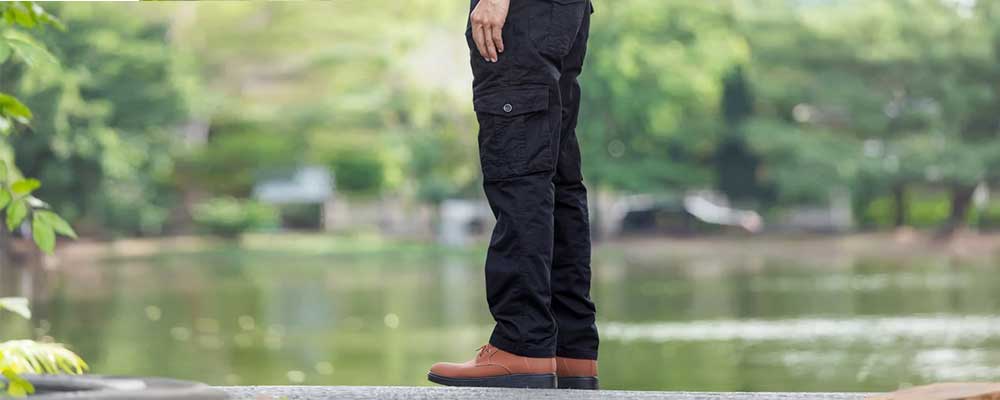 Buying the best carpenter pants with knee pads as a handy worker is quite different from buying regular pants. Your optimal pant choice should meet your protective needs and provide some storage space for essential work tools. When you tend to work on your knees for extended periods, your work pants should feature knee pads to provide comfort.
What is the difference between cargo and carpenter pants? Cargo pants and carpenter pants are both loosely cut pants originally designed for intensive outdoor activities. Cargo pants are usually characterized by the presence of multiple cargo pockets along the sides. Carpenter pants differ from cargo pants in that they typically feature one or more loops with extra pockets.

Choosing the perfect pair of carpenter pants with knee protection can be pretty overwhelming, as there are too many options to choose from on the market. To make it less overwhelming to choose your perfect work pants, we have selected and reviewed some of the best options available.
 Whenever you make a purchase through links on this page we make a small commission from our affiliate partners. Learn more
1. Carhartt Double Front Dungaree Pant
Check out the Carhartt Men's Duck Double Front Dungaree Pant. It is made from a durable 100 percent ring-spun cotton fabric that's guaranteed to last for a very long time. The highlight of the work pant is the cleanout opening it comes with. The opening is designed to house knee pads for knee protection. Also, they let out dirt and debris easily.
Like you would expect from any carpenter pant, it comes with multiple pockets to hold your tools and other essentials while you work. On the left leg, it features a hammer loop.
It just doesn't come with an assortment of pockets. The pockets are tailored to hold heavy-duty hand tools with a minimum risk of damage. The back pockets, for example, feature heavy hauling reinforcements to strengthen them to hold your tools. For added durability, it comes with sewn-on belt loops that are strengthened against wear and tear.
As much as durability is critical in workwear, comfort is also an important thing to consider. The Carhartt Men's Duck Double Front Dungaree Pant has a relaxed fit through the seat and the thighs, such that it remains comfortable when you sit, squat, or walk.
Buy on Amazon
2. Timberland PRO A1OVC Bender Utility Pant
If what you need are the best carpenter pants with knee pads, the Timberland PRO Work Men's A1OVC Bender Utility Pant is one of the options to consider. Timberland is a respected and popular clothing brand, and the A1OVC Bender Utility Pant is just one of their workwear offerings.
The pant fabric is 98 percent cotton for durability and 2 percent elastane for stretchiness. It features an articulated knee design that incorporates 1000D Cordura nylon canvas material and has openings on the top to load protective knee pads.
The fit is quite relaxed like any decent work pants should have. They don't hug so tightly that they become uncomfortable. Furthermore, the pants come with multiple pockets to hold your tools while you work.
Another thing we love about the pants is that while it is essentially a work pant, it does have some fashionable appeal to it. It features a crotch gusset that adds some extra space to the crotch seam to make it more comfortable. Right above the crotch, it features a button closure. Interestingly, it is safe for machine wash.
Buy on Amazon
3. Carhartt Relaxed Fit Holter Double-Front Dungaree
This is another work pant option from Carhartt for those who need carpenter pants that can accommodate knee pads. Like all the other work pants on our list, the Carhartt Men's Relaxed Fit Holter Double-Front Dungaree comes with multiple tools and utility pockets that are strengthened to secure your tools and essentials while you work.
The pants are made from a 12-ounce denim fabric that is 86 percent cotton and 14 percent polyester. While it is available in various width and length options, the fit is generally relaxed, from the seat down to the thighs and legs.
For knee protection, the pants have double-front cleanout openings on either leg through which you can fit in your knee pads. In addition to the pockets, there's a loop on the left leg designed to hold hammers.
The openings on the legs are not tapered, and they fit directly over footwears. For improved durability, you get more robust sewn on-seam belt loops. The classic design goes further to include a zip and button closure. Considering the heavy-duty construction, the comfort, and the practicality of the pants, it makes the grade as one of the best carpenter pants with knee pads.
Buy on Amazon
4. Walls Ditchdigger Double-Knee Stretch Work Pant
With its articulated knees that have openings for inserting and removing knee pads, the Walls Ditchdigger Double-Knee DWR Stretch Duck Work Pant is one of the best carpenter pants with knee pads you can get. The pants are available in a variety of sizes and color options.
As it is made from 98 percent cotton and 2 percent spandex fabric, it is durable enough to resist wear and tear in different work scenes. It features double and triple-needle stitching and a reinforced kick plate at the back leg hem for durability. Furthermore, the pant is characterized by the usual zip and button closure.
The carpenter pants do have a little fashionable appeal that is translated through their relaxed fit design. More importantly, it comes with a smooth move waistband elastic waistband for superior flex. Also, it comes with a gusseted crotch design for comfort and free movement.
Like with all carpenter pants, you get all-purpose pockets that hold your tools and essential belongings. Among the several pockets are deep front pocket bags, back patch pockets, and a cell phone pocket. Interestingly, it is safe to wash in a machine without the risk of the fabric washing out.
Buy on Amazon
5. Caterpillar Men's Trademark Pant
The Caterpillar Men's Trademark Pant has all the right features good carpenter pants should have. The pants are available in a variety of color, width, and length options. They look like they can also be worn for recreation, in addition to being the perfect pants for construction and other handy work.
They are made from tough heavy-duty fabric that's 60 percent cotton and 40 percent polyester. Additionally, it comes with several pockets, including multipurpose tool pockets on the front and rear and front pockets that have to pull out oxford tool bags.
The fit of the pants is quite relaxed like you would expect it to be. You get enough comfort from the seat of the pants right down to the thighs and legs. The leg openings are 20 inches wide, and they feature scuff guards that help them fit to drape over work boots perfectly.
Furthermore, the Caterpillar Men's Trademark Pant comes with Oxford double-layered knees with openings through which knee pads can be installed. There's also a carpenter loop designed to hold hammers at the thigh.
Buy on Amazon
Factors to Consider When Buying
Buying a suitable carpenter pant with knee pads is by no means a small feat. It's pretty different from buying regular fashion pants. If you hope to make the right choice, there are some criteria to consider. Here are some of the features and factors to consider when buying carpenter pants with knee pads.
Inbuilt Knee Pads or Knee Inserts
When choosing a carpenter pant with knee protection, you can choose either a pant that comes with inbuilt knee pads or pants with space with knee inserts. Like those we have reviewed, the more common options are pants that come with openings for knee pad inserts.
However, you can also get options that come with inbuilt knee pads. For the best level of customization, you may want to choose pants in which you can fix your preferred knee pads.
Fit
Another thing you need to consider when it comes to buying carpenter pants is the fit. As a general rule, work pants should be reasonably loose for comfort and free movement. A loose fit characterizes typical carpenter pants.
They should have a straight, loose, or slim fit. More importantly, your work pants should have enough space right from the seat down to the thighs and legs.
Material
Durability is one of the most important factors when it comes to carpenter pants, and the quality of the material directly influences durability. What you want is a pair of pants that's strong enough to handle the wear and tear that's typical at work sites. The most durable carpenter pants are made from denim or canvas material.
Much more than durability, the material also affects how comfortable work pants are. Materials like polyester are moisture-wicking. They dry up quickly when they absorb moisture, while cotton materials take much longer to dry up when they absorb moisture.
Additional Features
There is a collection of extra features to check out when buying carpenter pants. Many of these features are optional, but they can affect your pants' overall functionality and durability. One of such features is a durable seam construction. Some carpenter pants feature triple stitched seams to make them more resistant to tearing.
Fortified belt loops, reinforced pockets, and water repellency are some other features you may want to consider when choosing a carpenter pant.
Price
Price is an important consideration when shopping for anything. Carpenter pants come at different prices. Depending on what you can afford, you can always get affordable options or the costlier high-end pants.
It will help if you set a budget before you start shopping. The most important thing is to get pants with the best quality and features at the lowest price possible.
What Are the Best Carpenter Pants to Buy?
In general, the best carpenter pants are built to resist the wear and tear that's typical to work environments. Your pant choice should be reasonably durable and comfortable enough to support free movement. Look out for pants that specifically feature strong sewing, loose fit, and reinforced pockets.
Typical carpenter pant features like hammer loops, utility pockets, and tool pockets should not be overlooked. Also, you want to ensure that the belt loops are wide enough to accommodate the wide and thick belts you'll probably want to wear with carpenter pants.
There are several dependable brands to choose from. While some are work wear-specific, many offer different types of clothing items. Carharrt, Caterpillar, and Timberland are some famous names in the world of workwear.
Why Do Carpenter Pants Have Many Pockets?
The reason for this is that handy work requires several essential tools. Carrying these tools on your person at all times makes them very accessible, instead of having to reach around for these tools whenever you need them, you can easily pick them from any of the pockets where you have them stashed.
Pant pockets are not just there for decoration; they are mostly installed to serve storage purposes. Carpenter pants come with many more pockets than the standard fashion pants to hold tools and essential belongings. Oftentimes, these pockets are reinforced to strengthen them for holding work tools.
What Is the Purpose of the Loop on Carpenter Pants?
Carpenter pants usually come with one or more loops attached to the side to hold hammers. These loops are commonly referred to as hammer loops. As the name implies, they are designed to hold hammers, a standard tool of carpenters and other construction industry professionals.
Hammers can either be carried on a tool belt that's worn around the waist or on the carpenter pant loop, but the loop eliminates the need to wear an extra tool belt while working and keeps the hammer at arm's length.