Best Hiking Pants To Avoid Ticks
It's hiking season and being in the open leaves you vulnerable to be bitten by ticks. These nasty creatures can easily latch on to your clothing or body and if they bite you can catch Lyme disease. To minimize the risk of being bitten you need to wear proper clothing. In this article we will look at the best hiking pants to avoid ticks
Wearing a hiking pant while hiking not only protects your from bugs and insects but they come with pockets that have zippers or velcro shutters. This makes it easy for you to reach for your phone or camera and take pictures. This gives you a secure place you can carry your cash or ID.
Hiking pants are durable, breathable and they wick away moisture better than regular pants. Some pants rea water repellant and offers SPF 50 protection. They won't get torn that easily, and with the right fit they look good on you.
Whether you are out hiking, camping or walking your dog in the bushes, here are the 6 best hiking pants to avoid ticks outdoors.
prAna – Men's Stretch Zion Hiking Pants
Buy on Amazon
The open trail is prAna middle name. When you need men's hiking pants that is lightweight, water resistant, durable and will protect you from tick.  Consider this Stretch Zion Lightweight hiking pants from prAna.
This pant is not only a hiking gear but it can also be used for everyday wear. The prAna Zion fully protects you from the element with its 97% Nylon and 3% Spandex fabric. It has well positioned dual entry cargo pocket, adjustable waistband and roll-up leg snaps are some of the main features of this pants.
Built with an inseam gusset for ventilated and helps distribute the stress around the crotch area. This hiking pant is versatile and will perform will in a wide range of environment.
FJALLRAVEN Men's Keb Trousers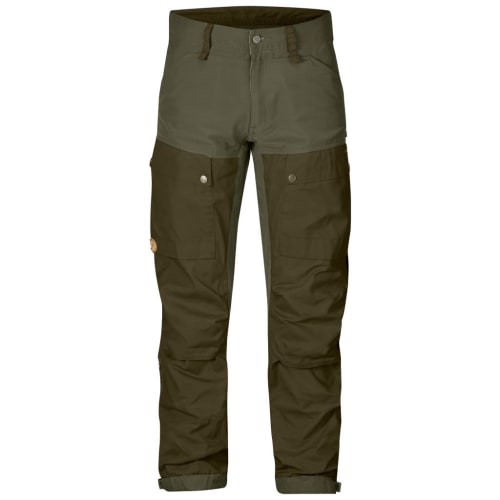 Buy on EMS
Founded by Åke Nordin in 1960, Fjall Raven has made it clear that they only produce timeless outdoor gears that will stand the test of time.
The Keb Trousers is one of the best hiking pants you can get when it comes down fit and quality. In our opinion it's worth the investment for a must have for a man's hiking wear. When Fjall Raven designs these hiking trousers, they made sure that it can handle some of the hashes conditions.
It features double reinforcements at the rear, front of the legs and knees. The inside seam of the thighs is tailored with fabric panel to limit chafing and wear. With its combine fabric of polyamide, polyester and elastane, this hikers pants is wind and water resistant and will keep you from being bitten my nasty ticks and insects.
It has large flip pockets for holding you contents. The pants also have a zippered opening from knee to hip that provides ventilation.  Considering the price this pant is highly recommended.
Outdoor Research Ferrosi Convertible Pants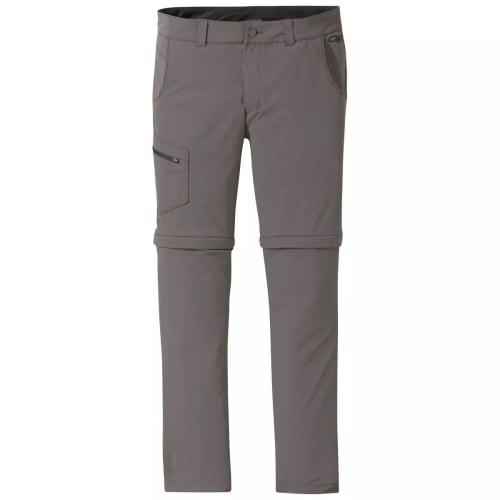 Buy on EMS
Another preferred buy is the Outdoor Research Ferrosi convertible pants. This pant is prefect for hikes where you need to break and cool down from the humid temperatures.
From the knees down, the lower half of the pants can be zipped off and convert in to a short. Made from a quick dry Nylon and Spandex material it give you the add protection from the sun with a UPF of 50.
Made for outdoor adventure, it's constructed with front and rear pockets, as well as a zipped pocket on the right thigh. Another thing we like about Ferrosi men's hiking pants is that it's constructed with a breathable gusseted crotch, which give you a comfortable wearing experience.
Columbia Silver Ridge Cargo Pants
Buy on Amazon
When looking for outdoor gears Columbia is one of the top hiking and camping brand names that pop up. So we had to include their hiking pant that will give you protect from tick bits.
For the price, this men's Silver Ridge Cargo pant for hiking by Columbia is a steal. This Columbia cargo pant is 100% nylon and features a Omni-Wick fabric that absorbs moisture from the skin in to its fabric. Columbia pulls all the stops by making it an all-weather pant, it blocks harmful UV rays and it keeps you dry and cool.
Other feather worth mentioning are its two large cargo pockets and a zipper pocket to keep your small gears secured. It's water resistant and can be worn in hot or humid condition and comes in several color option.
Helly-Hansen Varde Outdoor Hiking Pant
Buy on Amazon
Helly-Hansen is also another to rated outdoor brand. Known for outerwear's made for mountains, oceans and workwear. Their men's Varde outdoor hiking pant does a good job as a hiking wear.
They have two thigh zipper pockets that perfect for storing your phone or wallet. They are made of 100% cotton that and has a wax finish, making it more durable a more resistant to tear. For added comfort and support it offers reinforced panels at seat and knee.
For optimal fit, movement and comfort it's constructed with a crotch gusset. Helly-Hansen also went the extra mile by coating the pants with DWR which make it resistant to water. Best for Hiking, Camping or Trekking, the only down side is it available in only one color.
How to Protect Yourself from Ticks While Hiking
Avoid areas they are common.
Wear long sleeve shirts and hiking pants to protect from Lyme disease.
Consider covering your head with a hat or cap.
Wear socks with tick

repellent built-in

.
Use tick repellents for humans or tick-repellent clothing treatment.
Avoid walking the side of the trail, stay in the center.

Research

has also shown that wearing darker clothing is better
What Do Ticks Hate The Most?
Some of the natural scents that tick hate and can also be used as a repellant to prevent ticks when hiking are:
Lemon
Orange
Cinnamon
Lavender
Peppermint
Rose Geranium
Finally, if you know you were in an area prone to tick. There are some other steps you should take prevent ticks bite after the hiking is over.
Remove clothing after you are done hiking
Check your skin carefully, examining areas like your legs, hair and under arms.
The quicker you find and remove the ticks the lesser the chances of you being bitten and getting Lyme disease
RELATED POST