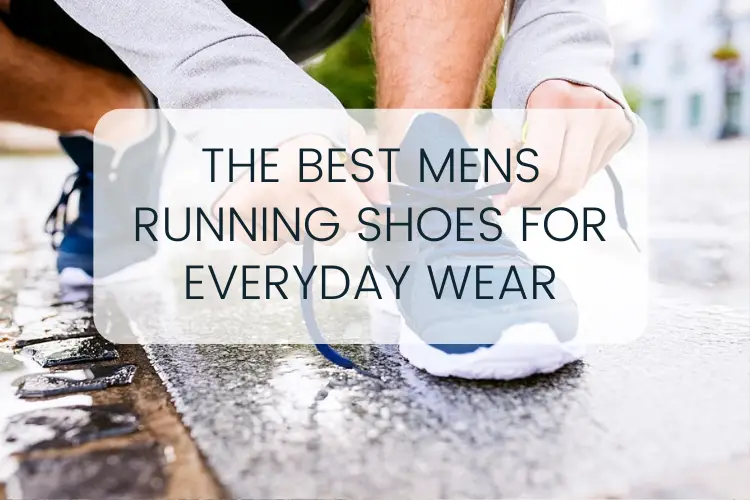 Are you on the hunt for the best running shoes for everyday use? Finding the right running shoe is a personal experience, and what works for one person may not work for another. Despite what you may hear, there is no "one-size-fits-all" regarding running shoes. Everyone has different foot shapes, sizes, and arch types; each factor significantly determines the best shoe for them. Wear comfortable and supportive shoes, regardless of your experience level, to prevent injury and ensure a successful workout. 
With that said, Can you wear running shoes all day?
Wearing running shoes for a long is possible since they are designed for comfort and support. However, ensuring the shoes fit properly and adequately supports your feet is important. It is important to wear the right shoes to avoid discomfort and injury.
With so many choices available, deciding which shoes are right for you can be overwhelming. In this article, we'll explore some of the top running shoe options for everyday use to help you decide and find the perfect pair for your needs.
Whenever you make a purchase through links on this page we make a small commission from our affiliate partners. Our ultimate goal is to provide our readers with actionable insights and practical tips that they can use to improve their daily lives. Learn more
The Best Running Shoes For Everyday Use
To help you make an informed decision, we've compiled a comprehensive guide to the top running shoes on the market.
Under Armour Charged Assert 9
The Under Armour Men's Charged Assert 9 Running Shoe is an excellent option for all-day wear due to its impressive combination of breathability, stability, comfort, and design.
The shoe's upper features a lightweight, breathable mesh material that allows optimal airflow, keeping the feet cool and dry even during extended wear. This breathability also helps to prevent odor buildup and reduces the risk of blisters.
Secondly, the Charged Cushioning® midsole provides stable and responsive cushioning, which absorbs impact and returns energy with every stride, ensuring a comfortable and supportive experience throughout the day.
The shoe's design also contributes to its versatility, with a sleek and stylish appearance that can easily transition from casual wear to exercise. The durable rubber outsole provides traction and ensures long-lasting wear, making it a reliable and practical option for daily use. Buy on Amazon Primeeligible
Brooks Men's Revel 5 Neutral
The Brooks Men's Revel 5 Neutral Running Shoe is a great option for everyday wear due to its exceptional features. First, the soft cushioning of the shoe provides a comfortable and responsive ride, reducing the impact on your feet during your daily activities. The shoe's outsole is also designed with high-abrasion rubber, providing excellent durability and traction for a more secure stride.
Comfort is a top priority in the Brooks Men's Revel 5 Neutral Running Shoe. The shoe's interior has a plush tongue and collar, ensuring a snug and comfortable fit. The shoe's design also features a breathable and stretchable knit upper, providing ventilation and flexibility while maintaining the foot's structure.
One possible drawback is the price. These shoes are at the higher end of the price spectrum, which may concern budget-conscious shoppers. Buy on Amazon Primeeligible
Nike Mens Free Rn 2018
The Nike Men's Free Rn 2018 Running Shoe is a true wonder of footwear engineering. This running shoe combines style, function, and comfort in equal measure. This shoe is an excellent choice for athletes, fitness enthusiasts, or anyone looking for a quality running shoe to keep up with their active lifestyle. One of the standout features of the Free Rn 2018 is its exceptional shock absorption capabilities. 
The shoe's midsole is made of a highly responsive foam material that provides excellent cushioning and support, minimizing the impact of each step.
Another key feature of the Free Rn 2018 is its innovative midsole design, which provides a natural, barefoot-like feel that enhances flexibility and range of motion. 
This design also helps evenly distribute the wearer's weight across the foot, reducing pressure on any specific area and promoting a more comfortable stride. While the shoe's midsole design promotes flexibility and range of motion, it may not suit runners with certain foot conditions, such as flat feet or high arches, who may require more structured support. Buy on Amazon Primeeligible
Brooks Men's Ghost 15 Neutral
The Brooks Men's Ghost 15 Neutral Running Shoe is a footwear masterpiece that takes everyday use to new heights. Its superior shock absorption technology ensures that you can go about your day-to-day activities without feeling the impact on your feet, knees, or lower back. Whether running errands, hitting the gym, or walking around the block, the Ghost 15 Neutral has covered you.
One key feature that makes these shoes stand out is their midsole. The midsole is designed with Brooks' BioMoGo DNA technology, which provides unparalleled cushioning and support. Every step you take feels like you're walking on clouds. Additionally, the shoe has a segmented crash pad that allows for a smoother heel-to-toe transition, reducing the likelihood of injury or discomfort.
Comfort is also a top priority in the design of the Ghost 15 Neutral. The shoe has a plush interior that feels soft and comfortable against your skin, while the engineered mesh upper keeps your feet cool and dry. The shoe's construction ensures that it conforms to the shape of your foot, providing a custom fit that is both snug and comfortable. Buy on Amazon Primeeligible
Adidas Kaptir 2.0
The Adidas Men's Kaptir 2.0 is the epitome of sophistication and performance in a running shoe. This shoe is designed to elevate your running game, offering unbeatable comfort and versatility, making it perfect for everyday use. The shoe's shock absorption technology is second to none, ensuring that each step is perfectly cushioned. 
With its advanced midsole technology, the Kaptir 2.0 delivers a responsive and stable platform that adapts to your every move, ensuring your foot stays secure with each stride.
The Kaptir 2.0 is renowned for its unmatched comfort. It boasts a plush and breathable upper that provides a comfortable, supportive fit that feels like a second skin. 
The shoe's padded collar and tongue enhance comfort, ensuring you feel snug and secure throughout your runs. One potential downside is that the shoe's design may only suit some foot shapes. Some users have reported that the toe box is too narrow, causing discomfort or blisters during longer runs. Buy on Amazon Primeeligible
ASICS Gel-Nimbus 24
ASICS Men's Gel-Nimbus 24 Running Shoes are an excellent choice for everyday use due to their lightweight construction, superior stability, exceptional comfort, and well-cushioned midsole. One of the main advantages of these shoes is their lightweight design, which makes them perfect for everyday wear. They are not heavy on the feet, making it easy to wear them all day without causing fatigue or discomfort.
Moreover, these shoes are built with a stability feature that provides excellent support and balance. They offer ample support to the feet, preventing potential injuries while walking or running on uneven surfaces. The comfort level of ASICS Men's Gel-Nimbus 24 Running Shoes is unmatched. The shoes are designed with a soft, breathable upper that ensures your feet remain cool and dry all day.
 The midsole is made of high-quality materials that provide adequate cushioning and support for maximum comfort. Cost is one of the main disadvantages. These shoes are relatively expensive, which may only be affordable for some. However, the high cost can be justified by the quality of the materials and construction and the advanced technology used in their design. Buy on Amazon Primeeligible
Nike Men's Running Shoe 
Nike Men's Running Shoes are an excellent choice for everyday use due to their lightweight, stability, comfort, and midsole technology. The shoes are designed to provide a comfortable and supportive fit for your feet, whether running, walking, or standing for long periods. The shoes are incredibly lightweight and perfect for daily use, as they won't weigh you down or tire your feet out. The lightweight construction also helps to reduce the risk of injuries caused by heavy shoes.
The stability of these shoes is another excellent feature for everyday use. They have a supportive midsole and a durable outsole that provides excellent traction and grip, keeping you steady and secure on any surface. Comfort is a top priority in Nike Men's Running Shoes. The shoes are designed with a breathable upper that provides ventilation to your feet, preventing them from getting too hot and sweaty. 
The shoes also have a comfortable midsole that cushions your feet and provides excellent shock absorption. The midsole technology in Nike Men's Running Shoes is also great for everyday use. They are designed with foam or Air-Sole units that provide excellent cushioning and comfort for your feet, no matter how long you wear them. Buy on Amazon
Factors to Consider When Choosing Running Shoe
Arch Support 
When it comes to shopping for running shoes or sneakers, there are a lot of factors to consider, such as comfort, durability, and style. However, arch support is one of the most important factors often overlooked. Regardless of your style or profession, wearing shoes with proper arch support is crucial for maintaining good foot health and preventing discomfort or injury.
 Arch support helps to distribute your weight evenly across your feet, reducing pressure on certain areas and improving your overall posture. This is especially important for people who spend much time on their feet, whether for work or exercise. So, when shopping for new shoes, prioritize arch support as a key feature to ensure your feet stay happy and healthy.
Running Shoe Design 
Regarding running shoes, it's about more than just the comfort and support they provide for our feet during a workout. The design of running shoes also plays a crucial role in creating a stylish and eye-catching look. The combination of colors and different styles used in the design of running shoes can significantly impact how we perceive them. Running shoes are essential to any good outfit, and the footwear design can be the gateway to attracting attention.
 This is because footwear is a piece of clothing given to everyone, so it's crucial to have a certain appeal. The design of running shoes can incorporate a range of features, from sleek and minimalist styles to bold and vibrant colors and everything in between. Whatever your style, the design of your running shoes can be a reflection of your taste and an expression of your individuality. 
Your Budget
How Much Should I Pay For Good Running Shoes? When buying running shoes for all-day wear, the cost can vary depending on the quality of the shoes. Premium running shoes can range from $120 to over $250, and while it might seem like a high cost, it's important to consider the long-term benefits. Premium trainers are crafted with better materials, providing higher comfort, support, and durability. 
Investing in a good pair of shoes is crucial for those who spend a lot of time on their feet. However, you can still break the bank to get decent running shoes. It's possible to find affordable options that offer good quality and comfort. Consider factors such as the materials used, the type of activity you'll be doing, and the support level you need. Ultimately, the ideal cost of a running shoe for all-day wear will depend on your individual needs and allotment.
FAQs
What Is The Feature Of Athletic Footwear?
Athletic footwear is designed to provide comfort, support, and protection to the feet during physical activities such as running, walking, and training. One of the key features of athletic footwear is its shock-absorbing properties, which help reduce the impact on the feet, ankles, and knees when engaging in high-impact activities. 
Additionally, athletic footwear often includes breathable materials to promote airflow and moisture-wicking properties to keep the feet dry and comfortable. Other features may include stability technologies, such as arch support and cushioning, to prevent injury and enhance performance. Ultimately, the features of athletic footwear depend on the specific needs of the individual and the type of activity they will be engaging in.
Is It Ok To Wear Running Shoes At Work?
It depends on the dress code and culture of the workplace. In some casual workplaces, running shoes may be acceptable if they are clean and not too worn out. However, in many professional settings, wearing running shoes may not be appropriate and could even be seen as unprofessional. It's important to consider the expectations and norms of the workplace before deciding what shoes to wear. If in doubt, it's always best to err on the side of caution and choose more formal footwear.
How Long Can You Wear Running Shoes For?
The lifespan of running shoes typically ranges from 300 to 500 miles (482 to 804 kilometers), or six months to a year. It depends on the type of runner you are, your weight, and the surface you run on. Your shoes may wear out faster if you're a heavier runner or run on rough terrain. Worn-out shoes can cause discomfort, pain, and injuries, so replacing them over time is important. A good practice is to keep track of the miles you run in your shoes and replace them when you reach their maximum lifespan.