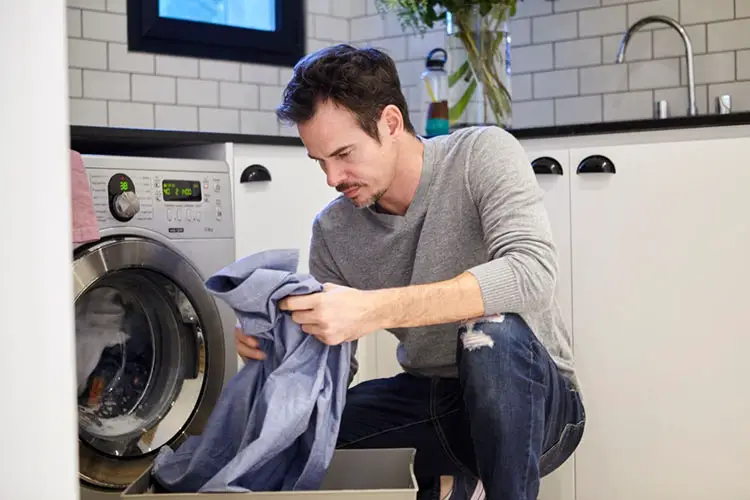 Washing dress shirts can be a tricky task. There is a common misconception that you must take your dress shirt to a professional dry cleaner. However, with the right process and products, you can easily learn how to wash dress shirts at home. Washing dress shirts by hand or in a washing machine requires tender care, as the fabric of dress shirts can easily become wrinkled and discolored. Suitable detergents and fabric softeners can help maintain the look and feel of a dress shirt. 
So, Should I wash or dry clean dress shirts? Generally, it's best to follow the manufacturer's instructions when washing and caring for your dress shirts. If the tag doesn't specify, it's usually best to opt for dry cleaning. Cotton dress shirts are generally safe to machine wash in cold water and tumble dry on low heat. But if it's a more delicate fabric like silk or linen, you should always go with dry cleaning to avoid damage. Additionally, if your shirt has embellishments like beading, embroidery, or sequins, you should always dry clean to prevent damage.
This guide will provide step-by-step instructions on washing dress shirts at home, including best hand and machine washing practices. With the right approach, you can keep your dress shirts looking sharp and fresh without needing a dry cleaner.
We make a small commission from our affiliate partners whenever you purchase through links on this page. Learn more
How To Wash A Dress Shirt At Home?
Washing a dress shirt at home is easy and can help you save money on dry cleaning. The key is to follow the instructions on the label and use the right temperature, type of detergent, and water level. 
Start by turning the shirt inside out so that the outside of the fabric doesn't get damaged from abrasion with other clothing items.
1. Check the care label to determine what water temperature to use when washing the shirt. Cold water is generally best for delicate fabrics, and you can wash robust items in warm or hot water. Be sure to select the proper setting on your washing machine. 
2. Next, choose a mild detergent or a garment-specific cleaning product. Many detergents are formulated specifically for delicate fabrics. Use the amount of detergent recommended on the bottle or packet. If unsure, start with a small amount and increase as needed.
3. Place the shirt in the washing machine and set the machine to the appropriate cycle, then start the cycle. When the cycle is finished, remove the shirt and check it for any remaining stains. If necessary, re-treat the stains using a pre-treatment solution and repeat the washing procedure.
4. After washing, hang the shirt on a hanger to air dry or place it on a clean towel before ironing. Be sure to follow the care label's instructions when ironing, as some fabrics require a lower heat setting than others. 
Taking the time to care for your dress shirt will ensure its longevity and preserve its shape and appearance.
Related Read: How To Get Yellow Stains On Your White Shirt
How Often Should You Wash Dress Shirts?
 Generally, It is recommended to wash dress shirts after every wearing to keep them looking their best. This applies to both machine-washed and dry-cleaned shirts. However, spot cleaning and ironing can be an effective solution if you need to freshen up the shirt for a special event or work the next day. Spot cleaning involves using a damp cloth to dab at any stained areas on the shirt gently and then allowing it to dry. 
Additionally, using a steamer or ironing the shirt can help to remove wrinkles and odors from the fabric. Regardless of how often you decide to wash your dress shirts, always follow the care instructions on the label and consider the type of fabric and any special finishes.
Related Read: How Often Should You Wash Business Shirts and Work Clothes?
Do You Have To Iron Dress Shirts?
Ironing dress shirts is an important part of taking care of them. Properly ironed dress shirts look neat and professional and can help you make a good impression when dressing for work or a special occasion. 
Ironing your dress shirt helps to remove wrinkles, straighten out any creases, and make your shirt's fabric look smooth and crisp. It is also important to pay attention to the specific fabric of your dress shirt; some fabrics require lower temperatures and less time with the iron than others. 
Before ironing your dress shirt, it is essential to read the care label and use the appropriate settings for your fabric. 
Additionally, it is always best to iron the shirt on the inside and avoid having direct contact with the hot iron on the outside. This will help keep the material looking new and prevent scorching or discoloration. Finally, remember to take your time while ironing and pay attention to any problem areas that may need extra attention. With proper care and maintenance, ironing your dress shirt can help keep it looking nice for many years.
How Do You Dry A Dress Shirt Without Wrinkles
Drying a dress shirt without wrinkles can be done quickly by following a few simple steps:
Turn the shirt inside out and button it up all the way. This will help to prevent any edges from sticking out and wrinkling.
Lay the shirt on a flat, dry surface, such as a clean countertop or a drying rack. If you are using a drying rack, ensure it is well-ventilated and has plenty of space for air to circulate.
Use a low heat setting on your dryer and periodically check the shirt while drying.
Once it is almost dry (but still slightly damp), take it out of the dryer and hang it up on a hanger. Allow the shirt to air dry the rest of the way, reshaping it with your hands as it dries to help give it a smooth finish. Following these steps should result in a dress shirt free of wrinkles.
Related Read: How To Properly Iron A Dress Shirt The Easy Way
What Fabrics Cannot Be Dry Cleaned?
Dry cleaning is a process that uses chemical solvents to clean clothing, bedding, and other fabrics. While many fabrics can be safely dry cleaned, some fabrics are unsuitable for dry cleaning and may be damaged by the chemicals in the process. 
Fabrics that cannot be dry cleaned include wool, linen, cotton, rayon, silk, velvet, and suede. Wool and linen are especially prone to shrink, so it is important to check the care label before cleaning items made from these materials. Dry cleaning can also damage cotton, rayon, and viscose, as the chemicals can cause discoloration and weaken the fabric. 
Silk and velvet can also be damaged by the chemicals used in dry cleaning, as they can strip away the natural oils that make silk and velvet soft and luxurious. Finally, suede is not recommended for dry cleaning, as the chemicals can cause discoloration and weaken the leather fibers of the fabric.
How Do I Know If My Clothes Need To Be Dry Cleaned?
Knowing when your clothes need to be dry-cleaned can be tricky. Generally, garments made from natural fibers like wool, cashmere, and silk should be dry cleaned, as well as special occasion dresses and suits. In addition, any garment with a label that says "Dry Clean Only" should be taken to the dry cleaner. 
If you need clarification on a piece of clothing, it's always best to check the care instructions on the label. If there are no care instructions, you can test the fabric by rubbing a white cloth or paper towel against the garment. If the cloth or paper towel turns color, the item should be dry cleaned. 
It would help if you also noted how often you wear items. Clothes that are worn frequently and come into contact with dirt, oils, and sweat should be dry cleaned more often than items only worn occasionally. Additionally, if you constantly battle stubborn stains, take these pieces to the dry cleaner.
Related Read: 5 Tips For Buying A High-Quality Dress Shirt
Now its Your Turn
Dry cleaning is important in caring for your clothing, so you should opt for a dry cleaner whenever possible. However, dry cleaning your clothes is only sometimes possible. And for some fabrics, dry cleaning may damage the fabric, so there's no need to worry about that. Here are some things to remember when dry cleaning your dress shirts at home.
First and foremost, always check the care label on your shirt before washing it. Some fabrics are not suitable for dry cleaning, and others may not be appropriate for commercial dry-cleaning services. 
Additionally, it is crucial to take care of the type of garment you are dry cleaning. Some fabrics require a lower temperature than others, so it is essential to pay attention to the care label and the recommendations of your dry cleaning company. 
Finally, remember that dry-cleaning can cause damage to certain fabrics so follow the care label and use the appropriate settings on your dryer.