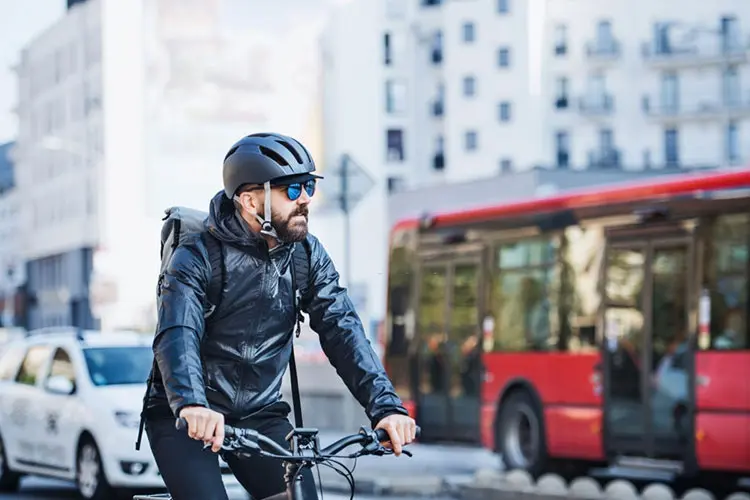 Without a doubt, every cycler needs a biking backpack. It doesn't matter the distance or what you're carrying; the best biking backpack has everything you need and more. Be it storage space, easy access to the things you need, and of course; if you throw in a little style and swag, you'll see that commuter backpacks are lit.
Before we go into how cool cycling backpacks are, first, what are the best cycling bags? Cycling bags are functional backpacks for carrying your essentials as you move. It is convenient and makes movement or cycling easy with its storage capacity and backstrap design.
 So, if you don't have a cycling backpack, you're in luck. We'll be showing you how to choose a cycling backpack and everything else you need to know. You'll even learn how and what to pack in a cycling bag. This is so that with it, you can get ready for the day and whatever it throws at you.
Whenever you make a purchase through links on this page we make a small commission from our affiliate partners. Learn more
What A Good Backpack For Biking?
If it's compact yet small enough to fit under a seat, if it's got backstraps and roomy with lots of pockets, then you have yourself a biking backpack. Like the word "commuter" implies, this is your backpack on the go.
A good backpack for biking feature straps that are easy on your back and shoulders and evenly distribute the weight.
Since this backpack is used daily or often, you should invest in a good quality backpack. Don't just opt for the cheapest option. You will understand the value of this piece of advice when you're caught in the rain, and your laptop is in your bag.
Also, cheap or low-quality backpacks aren't too kind to your shoulders. Good quality backpacks, on the other hand, consider all the necessary details to ensure you're comfortable while using your backpack.
So whatever it is you're carrying, be it a laptop, documents, lunch, water, your backpack should be able to handle it —effortlessly.
What Should I Look For In A Biking or Commuter Backpack?
When getting a commuter backpack, don't just go for anything. You should look out for:
Get yourself a commuter backpack with straps that are comfortable even when the bag is loaded with your stuff. Also, check if it's padded. This adds extra comfort to your shoulders and back.
The backpack should also be breathable. That is, it should come with vents where the bag meets your back.
Depending on what you plan to carry with the bag, go for a size you're most comfortable with.
The essence of carrying a backpack is to keep all your stuff in it. So, get a backpack with lots of room and pockets. It's even better if there is a padded area for keeping your laptop.
Your backpack should come with waterproofing so you can be at peace when rain falls. You don't want your clothes and books to get wet or damage your electronic devices. However, if you can't find a waterproof bag, then get one with a rainfly you can easily use when it starts to rain.
A good biking backpack should be strong and long-lasting. Having to change the backpack often can be very disappointing. This is why you shouldn't be afraid to invest in a solid backpack. Thankfully, there are affordable backpacks you can get that are not too expensive.
We can't leave out beauty and style. Your cycling bag should reflect your personal style. If it's for the office, go for a simple style and simple colors. For school or everyday outings, you can go for a more interesting design.
This is a less obvious feature of backpacks, but it's very functional. When you're cycling, your back takes a bent shape. So you need a hip belt to keep your backpack in place while cycling. The hip belt plus an additional chest belt helps take off some of the weight of the bag from your shoulders.
For safety, your backpack should have reflective strips or where to attach a bike light.
5 Best Cycling Backpacks In 2022
Here are our top 5 picks for the best biking backpacks you should get in 2022.
#1 Osprey Metron Bike Commuter Backpack
With a 26l capacity, the Osprey Metron biking Backpack is ideal for commuting to work or school. It's got a large storage compartment with a padded area for storing your laptop. You also get a lid lock helmet attachment and loop for bike lights.
The compression straps on the backpack ensure that your bag stays comfortably on your back while you ride. Then for rainy days, this bag comes with a highly visible rain cover, so you don't have to worry about your things getting wet.
It also features side mesh pockets to store sunglasses, cards, and whatnots easily. All these features and more make the Osprey Metron a beauty to behold. Its stylish design and sturdiness make it perfect for work and everyday commuting.
Buy on Amazon
#2 Thule Pack 'n' Pedal Cycling BackPack
Pedal in style with this stylish Thule Pack 'n' Pedal backpack. This backpack features waterproofing, so whatever weather you're cycling, your stuff stays safe and dry. Not only is it waterproof, but it also comes with a visible rain cover for added protection.
You also get a hideaway helmet compartment for storing your helmet when you're not riding. Speaking about storage, this backpack features a large compartment and a 15″ laptop compartment, with front and side pockets.
Its 360-degree reflective strips and logo provide high visibility, especially during night cycling. Talk about a bag that thinks about you.
Buy on Amazon
#3 Ridge the Commuter Waterproof Backpack
If you're looking for a sturdy backpack that has it all, this is a great option. Ridge Commuter Backpack features sturdy YKK zippers, a bottle holder, power bank pockets, and an external USB port.
That's not all, this backpack has got weather-resistant capacity that helps keep your things dry during light showers.
It also features a main compartment and a laptop compartment, plus front and side zippers.
Buy on Amazon
#4 The North Face Borealis BackPack
Suitable for work, school, gym, and so on, this backpack is a classic option for commuters.
You get a roomy compartment just for your laptop and the main compartment to fit your other stuff. And in the main compartment, you also get a dedicated electronic tablet slot. Now, this is what it means to be totally organized.
It also has venting technology at the back and shoulder straps, making it breathable and comfortable. This backpack allows for easy carrying with a removable waist strap that holds the bag to your body.
Even though this backpack isn't waterproof, it's still a great backpack to get. Its sturdiness is guaranteed to last a long time of commuting and exploration.
Buy on Amazon
#5.  Incase Biking Backpack
Two words best describe this backpack: simple and sophisticated. The Incase biking backpack is one you can carry anywhere.
Made from a durable bionic ripstop, this backpack is built to last a long time. It is also well compartmentalized with easy storage access. You can fit in a 16″ Macbook Pro and an iPad in their separate slot, while your other stuff goes into the main compartment.
It also features a side water bottle pocket to avoid spills and accidents. Also, it helps you access your water bottle easily.
Buy on Amazon
What Size Backpack Do I Need For Biking?
The size of backpack you need for commuting depends on what you will be carrying. And this matters in choosing a commuting backpack.
You don't want to look complicated by carrying a backpack that's too big. It will be very uncomfortable carrying a heavy backpack while cycling. Yet, you want something that can carry all your stuff in nicely.
Many backpack companies measure the size of the backpack by the volume it can hold. This is why you'll often see the size of backpacks displayed as liters.
On that note, here's a breakdown of sizes and what they mean:
A 10 to 15l backpack is small and compact. It can also take a hydration bladder, snacks, and a few other things.
A 16 to 20l backpack can fit in all you need for a cycling day trip. A laptop and change of clothes can get by with a squeeze.
A 21 to 25l backpack can carry all you need if you're commuting to work. Yet it's compact and lightweight, which is ideal for everyday commuting.
A 26 to 30l is large enough to carry all your stuff, including a laptop and other electronic gadgets, comfortably.
If you pln to stop by the gym, you can fit in your gym clothes, shoes, change of clothes, and so on. And if you're looking to go on a weekend trip, this size of a backpack can double as a weekend bag. However, packing for this is a different story.
A 30l and above backpack is not ideal for cyclists. It's way too large and unsafe because it will block your rear view while cycling.
To know what size is ideal for you, think about the largest item that is to fit into your backpack. If it's a laptop, then your best bet is a 26 to 30l backpack.
What Should I Pack In My Cycling Bag?
You don't want to overload your backpack and end up with a Santa Claus gift bag. Neither do you want your backpack ripping apart at the seams. On the other hand, you want to pack only your essentials, leaving nothing behind.
So how do you know what to pack and what to leave behind? Well, the simple way is to pack according to the occasion, and we'll show you how:
# For a long train ride, you need:
A pair of great wireless earbuds with long-lasting battery life and high-quality sound. However, just in case the battery dies before you get off the train, then carry a corded earbud as a backup.
A pair of sunglasses to block out the sun and help with a little privacy for when you fall asleep.
An electronic tablet to help you get things done better than using a phone. A tablet gives you a wider screen than a phone and is lighter than a laptop.
A water bottle to stay hydrated. Need we tell you the importance of staying hydrated, especially on long commutes like a train ride? No, we don't.
However, as a reminder, do carry a water bottle and get one that's leak-free and properly sealed. You don't want water spilling into your books and electronic devices.
A travel mug with which you can carry your own coffee or smoothie. Like your water bottle, ensure it's leak and BPA-free.
A light lunch like a sandwich or burger, whatever you prefer.
Some tissues because you never know when you have to clean something or sneeze.
# When cycling to work, pack light. Since you're going to the office, there are basic things you should have kept safely at the office. Things like:
Work pants and Suit Jacket
Tie, belt and shoes
A washcloth, some soap, and shampoo.
When you have these in the office, you don't need to carry them around. As such, your backpack will be lighter.
On that note, you should pack:
Your phone
A towel and change of clothes
Rain cover
Bike tools
A small first aid kit
Food in a plastic container, so it doesn't get crushed.
A dress shirt underneath your bag rolled up
Your laptop. Put it in a safe, designated area of your backpack.
Your water bottle. Keep this handy
Wallet, office pass, keys, cards, sanitizer, etc.
A raincoat
And a pair of sunglasses, just in case.
Now you're equipped with all you need to know on how to choose a good backpack for biking. So get ready to enjoy many days of biking with an efficient backpack of your choice.
We have more content on cycling for you to check out:
9 Best Commuter Backpacks to Buy For Your Daily Commute