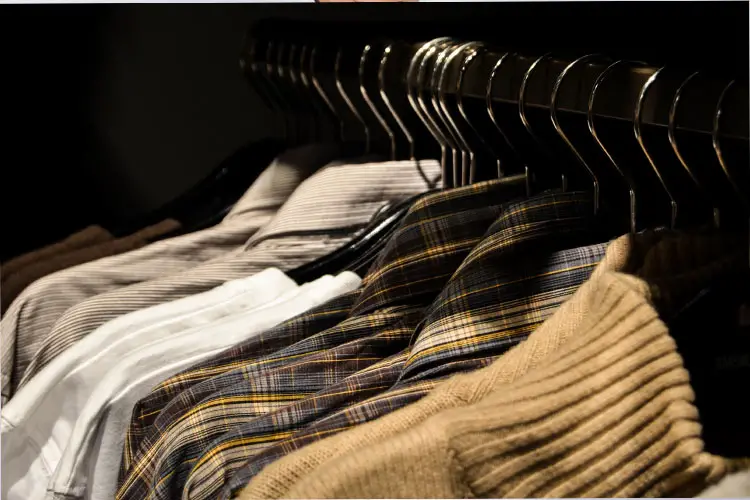 Photo by Pixabay
Khaki pants are a wardrobe staple for men. They are versatile and comfortable and look great for casual occasions and a more formal look. But when it comes to finding the perfect shirts to pair with your khaki pants, you may feel overwhelmed by all the choices. Luckily, there are five colors of shirts that always look great with khaki pants.
So, what Color Shirt Goes With Khaki Pants? 
The color of the shirt that complements khaki pants best will depend on the specific shade of khaki and the look you are trying to achieve. Generally, lighter colors such as white, blue, and black look great with khaki pants. Neutral colors like navy and gray are also good options.
From a classic white dress shirt to a bold patterned shirt, these five colors will take your look to the next level. Whether for a smart-casual look or a more formal ensemble, these shirts will help you achieve the perfect balance. So, if you're ready to kick your look up a notch, read on to find out what the five best color shirts that go well with khaki pants are!
We make a small commission from our affiliate partners whenever you purchase through links on this page. Learn more
Why does A Gray Shirt Works So Well With Khaki Pants?
Gray works especially well with khaki pants because the two colors are similar in hue yet distinct enough to create a visually appealing contrast. Gray is a neutral color, while khaki is a warm, earthy color. 
The Combination of these two colors creates a look that is both classic and sophisticated. Gray can also help make khaki pants more versatile, as it pairs well with various colors, such as navy, black, white, and red.
 When paired with khaki pants, a gray shirt can tone down an outfit and make it more professional or add a touch of class to a casual look. Additionally, a gray shirt is a timeless color that will never go out of style, ensuring that your khaki pants will remain stylish for years.
White Shirt With Khaki Pants Combination
White is an incredibly versatile color that works well with nearly any shade or style of clothing. Khaki pants are no exception to this rule. The neutral color palette of white and khaki makes for a classic, timeless look.
 A White shirt is a bright, clean color that stands out against the earthy tones of khaki, creating a subtle but sophisticated contrast. The color combination looks especially striking with khaki pants in a tailored fit, giving off a sharp, professional vibe. 
The two colors can also create an effortless casual aesthetic when paired with simpler pieces like a plain white t-shirt or a lightweight cotton blouse. White is a great way to add a stylish touch to any outfit, particularly one featuring khaki pants, making it a timeless trend.
Related Read: Best Men's Button-Up Shirts To Buy
Black Shirt With Khaki Pants Combination
Yes, black shirts work very well with khaki pants. The two colors provide a great contrast to each other and create an attractive, stylish look. Black and khaki create great contrast, making it an especially attractive option for casual events. Black shirts work well with khaki for a variety of reasons. 
First, the two colors combine to create a sharp, sophisticated look. Khaki is a neutral color that gives a subtle background for the boldness of black. The Combination can be further enhanced by adding accessories and other colors. For example, a white shirt with a black blazer and khaki pants is a great way to dress up the look. 
The colors also pair nicely for a more casual look. A black t-shirt and khaki shorts are a simple, comfortable outfit that looks great for a day out. Furthermore, black and khaki are colors that are easy to accessorize. Overall, black and khaki are a great combination that can be styled in many different ways.
Related Read: Discovering The Types Of Pants Considered As Dress Pants
Blue Shirt With Khaki Pants Combination
A blue shirt and khaki pants make an excellent combination because they are complementary colors on the color wheel. Blue is a cool color, while khaki is a warm color, creating a balanced and aesthetically pleasing look. 
The shades of blue and khaki should also be chosen carefully to ensure the best match. For instance, a bright sky blue with a light tan khaki would create a more casual, summery look than a navy blue with a dark olive khaki. Additionally, when pairing blue shirts and khaki pants, it's important to keep the rest of your outfit in mind. 
Pair your blue shirt and khaki pants with a blazer or dress shoes to create a more formal look. On the other hand, you can create a more relaxed look by wearing a pair of sneakers and a hoodie with your blue shirt and khaki pants.
Green Shirt With Khaki Pants Combination
Yes, a green shirt will also work well with khaki pants, but it depends on the shade of the green and the khaki. They will look great together if the green is a light mint color and the khaki is a lighter tan color.
 Alternatively, suppose the green is a deep forest color, and the khaki is a darker olive shade. In that case, they will also complement each other nicely. The key is finding shades that are similar in hue but have different saturation and brightness levels. To ensure the green shirt and khaki pants match, you can pair them with accessories that contain both colors. 
For example, you could wear a mint green belt with a brown leather watch for a more subtle look. Or, add a bright yellow scarf and necklace to liven up the outfit.
Related Read: How To Dress Up And Down A Light Green Button-Up Shirt
Conclusion
If you like khaki pants as much as we do, chances are you are also a fan of the khaki dress shirt. The khaki dress shirt is one of the best pieces of clothing you can wear with khaki pants. It perfectly contrasts the earthy tones of khaki, making it look very sharp. 
The khaki dress shirt complements khaki pants for many reasons:
1. The two colors have a similar shade, so they stand out against each other.
2. The two colors work well together because khaki is warm, and blue is cool.
3. The two match because khaki is a neutral color, and blue is a vibrant color that is easy to wear.