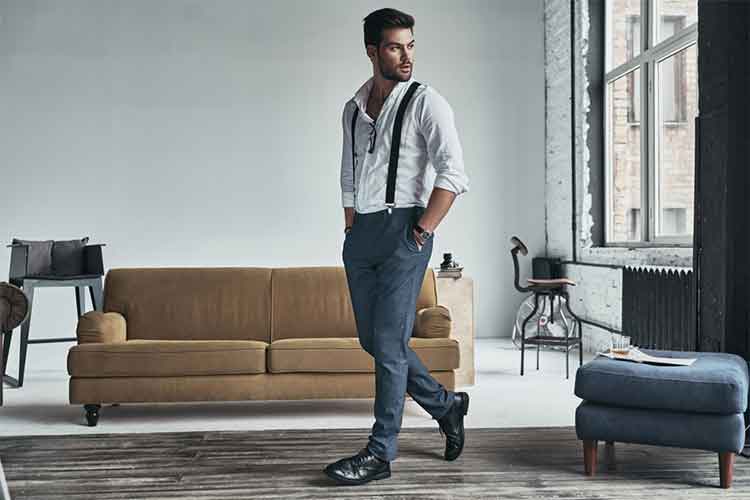 Dress pants are essential to any professional wardrobe, but what qualifies as "dress pants"? Are they the same as slacks or trousers? Do they need to be a certain color or fabric? With so many options, it can be confusing to determine what pants are appropriate for a professional setting. Fortunately, some general guidelines can help you navigate the world of dress pants. 
In this article, we'll explore the different types of dress pants, what makes them different from other types of pants, and how to choose the perfect pair for your needs. Whether you're starting a new job, attending a formal event, or want to up your style game, understanding the basics of dress pants is key to looking and feeling your best.
What pants are considered dress pants? Dress pants are typically considered formal trousers for dressier occasions, such as weddings, business meetings, or job interviews. They are usually made from a more refined fabric than casual pants, such as wool, tweed, or gabardine. Dress pants are often tailored and have a straight or slim cut, with a crease down the front of each leg.
What Fabric Are Dress Pants Made Of?
Dress pants are typically made of wool or a wool blend. Wool is a popular fabric choice for dress pants because it is durable, holds its shape well, and drapes nicely. It also provides a level of insulation that makes it suitable for year-round wear. However, dress pants can also be made from other fabrics such as cotton, linen, and synthetic materials like polyester and rayon.
Related Read: 7 Best Occasions To Wear Dress Pants For Men
Common Fabrics Used To Make Dress Pants.
Wool Dress Pants
Wool dress pants are a versatile clothing item that every man should have in his wardrobe. Merino wool, in particular, is an excellent fabric choice for dress pants as it not only drapes well but is also breathable enough to provide comfort in various situations. The natural fibers of merino wool allow air to circulate, preventing moisture and heat buildup. 
This feature makes these pants ideal for formal and casual events, ensuring the wearer remains comfortable throughout the day. Furthermore, merino wool is known for its durability and stain resistance, ensuring that the pants retain their shape and appearance for a long time. In summary, merino wool dress pants are a practical and stylish choice that every man should consider adding to his wardrobe.
Cotton Dress Pants
Cotton dress pants are versatile and comfortable for formal and casual occasions. Made from high-quality cotton, these pants offer a breathable, lightweight feel that is perfect for any season. Cotton dress pants come in various styles, such as straight-leg or tapered, to fit your preference and body type.
 You can pair cotton dress pants with a dress shirt and blazer to achieve a polished, professional look or a casual shirt for a more relaxed look. The soft and durable nature of cotton also makes these pants easy to care for and maintain, ensuring they last for years to come. Whether attending a business meeting, going on a date, or running errands, cotton dress pants are a comfortable and stylish choice to elevate your wardrobe.
Related Read: 5 Affordable Dress Shirts Anyone Can Buy
Linen Dress Pants 
Linen dress pants are versatile and practical clothing worn on various occasions. Whether attending a business meeting, a dinner party or enjoying a sunny day at the beach, linen pants are a great choice. One of the reasons that linen pants are so versatile is their unique combination of comfort and style. 
Linen is a lightweight and breathable fabric that is perfect for warm weather, making it a popular choice for summer clothing. Additionally, linen pants come in various styles and colors, ranging from casual and relaxed to more formal and sophisticated. This means you can easily find a pair of linen pants that suit your style and fit any occasion. So if you're looking for a stylish and comfortable clothing item that can be worn all year round, linen pants are an excellent choice.
Polyester Dress Pants
Polyester performance slacks are a great choice for those looking for comfortable, lightweight pants that can be worn in warm weather. Made from a blend of polyester and Elastane, these slacks are designed to provide stretch for ease of movement. In addition, they are significantly lighter than cotton, making them a perfect option for hot summer days. 
One of the advantages of polyester fabrics is that they wick away moisture, keeping you dry and comfortable throughout the day. Another benefit is that they maintain a neat and wrinkle-free appearance, even after extended wear. So, whether you're headed to work or for a casual outing, polyester performance slacks can offer you the comfort and style you need.
When Should I Wear Dress Pants?
There are plenty of options when discussing occasions to wear men's dress pants. Dress pants are a versatile wardrobe staple that can be dressed up or down depending on the occasion, making them a valuable addition to any wardrobe.
One occasion to wear men's dress pants is in a professional setting, such as a business meeting or job interview. Dress pants offer a polished and put-together look that can make a positive first impression on potential employers or clients. They pair well with a dress shirt and shoes, creating a sleek, professional outfit that exudes confidence and competence.
Another occasion to wear men's dress pants is at formal events, such as weddings or black-tie galas. Dress pants are a must-have for these events, as they offer a sophisticated and elegant look appropriate for the occasion. Dress pants can create a timeless and classic look that will never go out of style when paired with a dress shirt, blazer, or suit jacket.
Dress pants can also be worn for semi-formal occasions, such as a dinner party or a night out. They offer a comfortable and stylish alternative to jeans or casual pants while maintaining sophistication and refinement. Dress pants can be paired with various shirts and accessories to create a stylish and appropriate look for the occasion.
Finally, dress pants can be worn simply for everyday wear, particularly for those who work in a more formal office setting. Dress pants offer a comfortable and professional option for daily wear. They can be paired with various shirts and accessories to create a stylish and put-together look suitable for any workplace.
How To Wear Dress Pants Casually?
There is a common misconception that dress pants are only suitable for formal events. However, this notion is far from the truth, and it is a shame that many overlook this wardrobe staple's versatility. Dress pants can be easily dressed down to create a casual yet stylish look for any occasion.
When it comes to wearing dress pants casually, the key is to choose the right clothes to pair them with. A simple t-shirt or a casual button-up shirt can be paired with dress pants for a laid-back and relaxed look. Sneakers or loafers can also be paired with dress pants to add a casual touch to the outfit.
To make dress pants more suitable for a casual setting, choosing the right material and color is important. Opt for cotton or linen dress pants in lighter colors like beige, navy, or olive green for a casual look. These colors and materials are comfortable and breathable, making them perfect for everyday wear.
In summary, dress pants are not just reserved for formal events. They can be worn casually with the right clothing choices and accessories. Feel free to experiment with different styles and combinations to create a comfortable and stylish look that suits your personality and lifestyle.
Related Read: 5 Best Pants for Big Belly Man
Are Dress Pants Appropriate For Work?
When dressing for work, the rules can sometimes feel unclear. Dress codes vary greatly depending on the company, industry, and specific job duties. However, dress pants are generally considered appropriate for most professional workplaces, as they offer a polished, put-together look that exudes professionalism.
While dress pants may be traditionally associated with more formal occasions, they can also be dressed down for a business casual look. When paired with a sport shirt, polo, sportcoat, or sweater, dress pants can maintain a professional appearance while being comfortable and versatile. This allows for a more relaxed dress code that is still appropriate for most office settings.
In addition to traditional dress pants, a variety of casual alternatives can still be considered professional. Linen pants, wool trousers, or khakis offer a more relaxed look still suitable for most workplaces. These options provide a comfortable and stylish alternative to traditional dress pants while still maintaining a level of professionalism.
Are Khakis Considered Dress Pants?
Khakis can be considered dress pants, but their classification largely depends on the specific style, fabric, and context in which they are worn. "khakis" generally refers to casual pants made from a durable cotton twill fabric, typically in shades of tan or beige. However, khakis can also come in various colors and styles, making them a versatile wardrobe staple.
To determine if khakis can be considered dress pants, let's examine the factors that differentiate them from other types of pants:
1. Style: Dress pants usually have a more formal cut and design than casual pants. They often have a flat or pleated front, a clean waistband with belt loops, and a tailored fit through the legs. Many khakis possess these characteristics, making them suitable as dress pants. For example, a pair of slim-fitting, flat-front khakis with a creased leg can be considered dress pants. In contrast, a more relaxed, cargo-style khaki might not be appropriate for formal settings.
2. Fabric: The fabric of khakis contributes to their classification as dress pants. High-quality khakis made from a finer cotton twill or a blend of cotton and other dressy materials, such as wool or synthetic fibers, can elevate their appearance to that of dress pants. In contrast, khakis made from a thicker, more casual fabric may not be suitable for formal occasions.
3. Context: The appropriateness of khakis as dress pants also depends on the dress code and the context in which they are worn. A well-fitting pair of khakis can be an acceptable substitute for dress pants in casual office settings or events with a smart-casual dress code.
Related Read: Best Color Shirts That Looks Good With Khaki Pants
What Is The Difference Between Slacks And Dress Pants?
Many people use the terms interchangeably regarding dressing in pants and slacks. However, there are some differences between the two that are worth noting. Generally speaking, dress pants are a more formal and structured version of slacks. Dress pants tend to be made from higher-quality materials and feature finer details, such as creases and cuffs.
Slacks, on the other hand, are generally more casual and relaxed than dress pants. They are often made from materials such as cotton or corduroy and may feature a looser fit than dress pants. Slacks may have fewer fine details than dress pants and may not be as structured.
Another difference between dress pants and slacks is the occasions on which they are typically worn. Dress pants are generally reserved for more formal events, such as weddings or business meetings. At the same time, slacks can be worn for a variety of occasions, from casual outings to semi-formal events. 
Related read: 10 Best Business Casual Shoes To Wear With Jeans