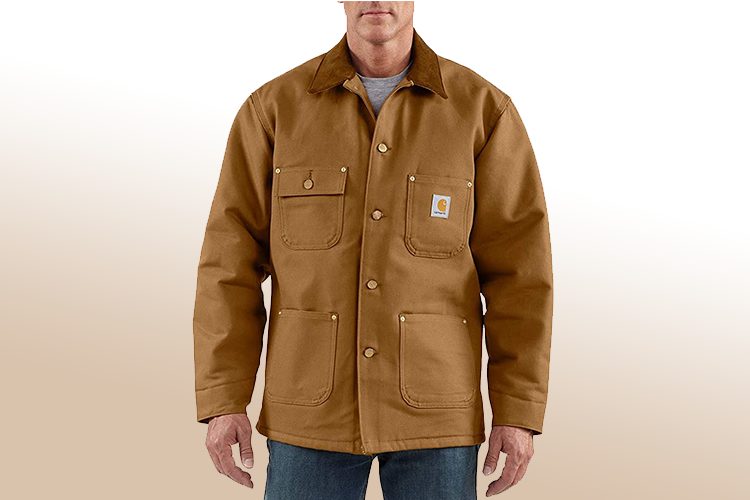 If you're into tough physical work as a guy, then you're probably familiar with Carhartt chore coats. Combining style and functionality, this sturdy workwear has been the definition of work clothes for years. However, you may be the "anything goes for workwear" kind of guy and so can't seem to see what the fuss is about.
So, just in case you are wondering, "is a Carharrt chore coat worth the money?" The simple answer to this is yes, Carhartt chore coats are worth every dime. The reason isn't hard to see as the name rings true of Carhartt chore clothes. They are super effective for work and double as stylish everyday wear.
Not convinced? Don't worry about it. We have many more things to say about Carhartt chore coats and why you should get one. Not only will you find them appealing, but also super practical. So if you're looking to join the trend of revolutionary work clothing, keep reading.
Whenever you make a purchase through links on this page we make a small commission from our affiliate partners. Learn more
Why Is It Called A Chore Jacket?
Chore jackets are outerwear made to withstand the hassles of physical labor. Over the centuries, workers have favored these jackets as stable clothing for work. And over time, they have taken their place as versatile everyday clothing.
They are usually loose-fitting and feature two large breasts pockets and two large hip pockets for warmth and functionality. They also feature button closure, pointed collars, and long sleeves.
Traditionally made from twill or canvas, these work jackets sure can take a hit.
The chore jackets began in the nineteenth century in France. And at this time, it was known as bleu de travail (blue work) because it was originally dyed in French benzoate blue dye. This is actually fitting because the chore jackets were worn for blue-collar-type jobs like farming, construction, mining, etc.
The large pockets of the chore jackets were very handy as workers could fit in their tools easily. And thanks to how loose-fitting they were, workers could easily throw it on and be very comfortable.
Later on, the chore jackets got into the United States and took on the signature name. They weren't made in the same rich color as those in France, but they retained the same construction nonetheless.
Soon many companies began producing their own chore coats. In 1923, Carhartt's first chore jackets were made. At first, they were made in blue denim but later on took on the prominent duck brown canvas.
What sets Carhartt's chore jackets apart is that they featured corduroy lining at the collar, triple-stitched seams, and reinforced pockets. These additions were done to meet the needs of rail workers then. But, we are forever grateful for them.
These days, you won't see chore coats only on the back of laborers, but you'll find them on almost everybody. The reason isn't far-fetched. They are reliable, strong, versatile, and very stylish. You give off a rugged appeal when sporting a chore jacket.
Are Carhartt Chore Coats Warm?
Carharrt chore coats are definitely warm. They are specially designed for that purpose. However, you'll find that Carharrt chore coats come in different varieties. And these varieties come with different features for different degrees of warmth.
For example, the Carhartt Yukon Extremes Insulated Active Jacket, like the name implies, can withstand extreme weather. It's made up of a durable wind-resistant nylon duck shell. Also, it's water-repellant and abrasion-resistant; insulated with Thinsulate to keep you warm and dry.
The Carhartt J140 jacket is lined with a quilted flannel which is very warm. The outer cover, on the other hand, is made of a 100% firm Cotton shell which is both water repellant and wind-resistant.
For moderate weather, the Carhartt Insulated Washed Duck Jacket is ideal. It is made with pre-washed cotton shell fabric, which makes it soft and feels natural. And for warmth, the updated version features a 3M Thinsulate.
Carhartt jackets are typically lined with any one of these:
Fleece
Quilted nylon
Thermal
Blanket lining
Quilted flannel
3M Thinsulate.
Of these, 3M Thinsulate is the warmest, then followed by quilted flannel. So if you want a really warm Carhartt jacket, go for the ones lined with Thinsulate and quilted flannel. Sherpa, quilted nylon and blanket lining are good for moderate weather. Then thermal and fleece are good for mild weather.
Can I Wear A Carhartt Jacket In The Rain?
You can wear a Carhartt jacket in the rain if it's waterproof, water repellant, or water-resistant. However, the most effective of the three is a waterproof Carhartt jacket.
A Carhartt waterproof jacket offers protection from heavy rain with features like sealed seams and waterproof liners. On the other hand, a water repellent or resistant Carhartt jacket offers protection from rain only for short periods.
In making waterproof jackets, Carharrt uses polyvinyl chloride or polyurethane material to produce the PVC rainwear. This waterproof technically allows water to bead off the jacket, keeping the rain out.
However, a disadvantage of the PVC rainwear is that it's not breathable, so you might end up sweating a lot. Regardless, it's still dependable waterproof gear. You should, however, try not to wear it in the rain for a very long time.
Another Carhartt waterproof technically is the storm defender. Unlike the PVC rainwear, the storm defender is breathable as well as waterproof. It features sealed seams which don't allow water into the jacket.
For water resistance and repelling, Carharrt has the rain defender jackets. These may protect from light showers over a short period and no more.
Carhartt sometimes combines technologies for a better result. For example, a Carhartt jacket can have both Rain defender and Storm defender technologies. The rain defender is a water repellant finish applied to the garment's outer cover. The storm defender, on the other hand, features waterproof lining, sealed and taped seams, and so on.
So whatever the weather or temperature, there's undoubtedly a Carhartt jacket to step up to the plate.
Are Carhartt Jackets Good Quality?
Carhartt Jackets are good quality jackets. It is even a known fact that Carhartt has a well-earned reputation for producing good quality jackets.  By good quality, we mean hard-rocking, durable to the core, long-lasting work jackets.
These are not your average workwear. In fact, they are amongst the toughest jackets on earth. And even with so many years in the industry, Carhartt has not compromised quality.
This iconic brand also redefined the nature of workwear, making them versatile and very stylish. So with every Carhartt jacket you buy, you're bound to get:
A well-built jacket: Carharrt jackets are designed with strong YKK zippers, triple stitched 12 pounds duck canvas, buttons, durable liners, etc. You can easily see that they are built to last. You can be sure to rock your Carhartt jacket for 5 to 10 years and even above. It's beyond average wear and tear-resistant.
Style: Carhartt Jackets are simple and stylish. You can rock these jackets for more than 10 years without worrying that they'll go out of style. A pair of rugged work jeans go nicely with a Carharrt.
Comfort: Carharrt jackets are super comfortable. This is because they are loose-fitting and feature inner insulation with moisture-wicking abilities. The loose-fitting nature of a Carharrt makes it easy to wear. Also, since it's not right and clingy, you can wear it for long hours without feeling restrained or uncomfortable.
Functionality: Hoodies and pockets are staples for Carhartt Jackets. Although not all Carhartt have hoodies, they often have buttons that allow you to attach a separate Carhartt hoodie to them. Pockets, on the other hand, are a constant. Not one or two but four to six deep and functional pockets for your tools and to also keep your hands warm.
Is Carhartt Better Than Dickies?
Both Carhartt and Dickies are known to provide us with dependable workwear. So if you're wondering which one is better, then let's do a little comparison:
Toughness: When it comes to toughness, Carharrt takes home the gold. This is because while Carharrt is typically made of a hard outer shell, Dickies uses a soft outer shell for their jackets. So if you're looking for a tough workwear, Carhartt is your best bet.
Warmth: Depending on the temperature you're looking to beat, these brands make a range of jackets offering varying degrees of warmth. Generally, when you think of Carhartt, what comes to mind is ultra warmth. On the other hand, dickies provide mild warmth. So for everyday wear in mild temperatures, Dickies is a sure way to go. But in tougher temperatures, don't be caught without a Carhartt.
Style: Carharrt provides a variety of styles, from the hooded jacket with a front zipper to the mock neck jacket. However, "tough and rugged" is what you see and feel when you see a Carhartt jacket. Dickies, on the other hand, is known for their hip and fun jackets. These jackets are usually lightweight to medium weight, capable of going from work to casual jackets easily.
Comfort: Both combines offer comfortable and tough workwear. However, with Carharrt, because the outerwear is firm and typically hard shell, there is usually a stiffness until you break into it. Nonetheless, there are some types of Carhartt jackets that are made from pre-washed cotton, which feels like it's already been broken in. Plus, the inner lining of a Carhartt jacket is soft, breathable, and comfortable.
Dickies, on the other hand, produce softshell jackets, which are easier to break in and feel more comfortable.
Price: Although both Dickies and Carhartt are decent brands, Carharrt is more costly than Dickies. Both brands, however, offer a range of prices so you can find pricing that fits your budget.
Fit: Carhartt offers a loose or relaxed fit. On the other hand, dickies jackets fit true to size. Although, you can find those that offer a more relaxed fit. The warmer and heavier winter Carhartt jackets are usually bigger, with built-in inner room for layering underneath. Then the spring/fall Carharrt jackets are more fitting.
So, in the end, it all boils down to what you're looking for in a jacket. And with this breakdown, you know what to expect from a Carhartt jacket and a jacket by Dickies.
How Do You Break Into A Carhartt Jacket?
When you buy a new Carharrt jacket, it may feel a bit stiff at the beginning. And so you'll need to break into the jacket. Here's how:
If you buy a jacket with a cotton outer shell, buy one that's a size larger than you. Then make sure all buttons, hooks, and zippers are fastened.
After this, place the jacket alone into the washer, without detergent soaps or fabric softeners. Set the washer to the smallest setting, and the wash and rinse cycle should be set on "cold."
Then add a cup of vinegar and allow the cycle to run till it gets to the agitation cycle.
Afterward, rinse the jacket till you can't smell vinegar anymore. When you're done with this, remind the jacket and drain the water. Do not use the spin cycle on the jacket. Instead, use a dryer and dry on a low heat setting. However, if you're afraid it will shrink in the dryer, then air dry the jacket.
Allow the jacket to dry completely before trying it on. And if it still feels stiff, put the jacket into the dryer with a clean tennis ball and let it run a run cycle. Do this until it feels soft enough.
If the jacket has fire resistance, doing this will not spoil it.
Another basic way to break onto the Carharrt jacket is to simply wear it. Wear it and keep wearing it, and pretty soon, they'll feel soft enough. Thankfully, no matter how stiff the jacket initially feels, a Carharrt jacket is pretty easy to break into.
And that's all for now on Carharrt. So if you had wondered if Carharrt is worth it, we bet you're convinced now. So don't dilly dally, get yourself a Carhartt and while you're at it, check these out:
How Can You Tell If Your Jacket is 100% Waterproof