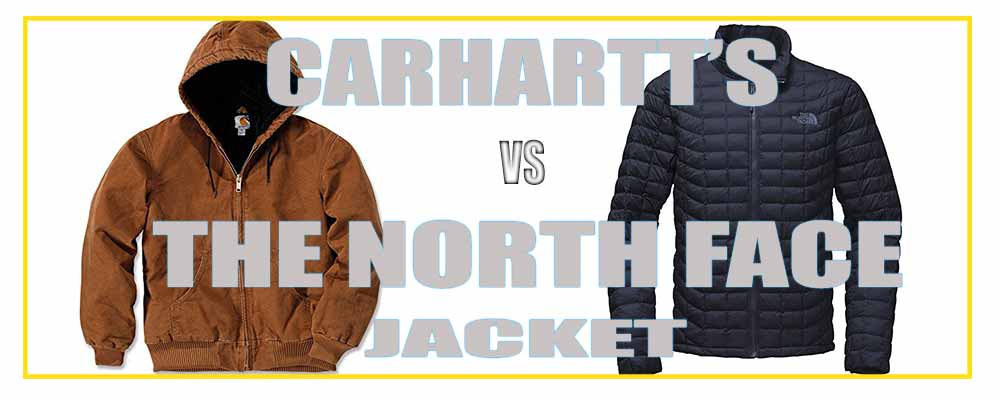 You can get by some things by simply playing eenie-meenie-miney-mo, but not this.
For every review on the best winter jackets for men compiled online, you are 95% likely to see Carhartt jackets or North Face jackets, or both jacket brands. It's not sheer luck or coincidence. It's decades of service, skill, experience and quality production that have put these brands at the vanguard of their industry, making it difficult to decide which to choose when it comes down to that.
So, we thought to ourselves, how can we make deciding which of the brands to choose easier?
We did our research and discovered that although both brands are great at what they do, one does better than the other in certain aspects. We will be sharing details of our findings soon. Let's quickly look at how both brands started.
Carhartt's History
Talk about necessity being the mother of invention.
Carhartt was founded in Detroit in 1889 and named after its founder Hamilton Carhartt. Carhartt's initial designs were unsuccessful because they failed to meet the needs of the market- which comprised mainly of railroad workers.
Hamilton made a wise decision at that point which led to the success of the company. He did his market research and consulted the railroad workers to know what they really needed. It was answers from his conversations with them that inspired the Carhartt overall bib which became the standard for quality workwear.
Carhartt contributed its facilities and services to the U.S. Military during both World Wars. After the war, they went back to mainstream production, creating new styles to fit the needs of the working populace- most of these styles are still in use presently.
The company sources heavily from other companies that are into fabrics, snaps and buttons production to meet the demands of their growing customer/consumer base.
North Face: Never Stop Exploring

It's safe to say that the purpose of creating the brand in 1966 has been/ is still being achieved with North Face claiming to "have helped explorers reach the most unfathomable heights of the Himalayas."
North Face started as a retailer of high-performance climbing and backpacking equipment in San Francisco Bay, before it began designing and manufacturing its own brand of technical and mountaineering equipment 2 years later.
The more the brand explored new terrains, the more styles were created. By the end of the 1980's, they were the only suppliers in the US to offer a comprehensive collection of high-performance outwear, skiwear, sleeping bags, packs and tents.
The brand continues to expand to include more apparels needed for the toughness of the outdoor mountain life.
Carhartt Vs North Face
From reading the history of these brands, you'll observe both were founded to combat cold, harsh topography and other unfriendly weather conditions associated with outdoor life. But while Carhartt was created for workers, North Face was created for hobbyists.
You'll often notice the difference of intent through the style and features of the jackets.
We'll be comparing Carhartt and North Face jackets based on the need they are designed to meet and the features these jackets have that enable them to meet the needs.
Whenever you make a purchase through links on this page we make a small commission from our affiliate partners. Learn more
Carhartt Jackets
Carhatt Jackets are designed for outdoor work. A good outdoor work jacket should have the following features:
Tough
Flexible
Comfortable
The following Carhartt jackets meet these specifications
Carhartt Men's Quilted Flannel-Lined Duck Active Jacket
One of the best Carhartt jackets for cold weather, the sturdy thick 12-ounce fabric of this jacket is ring-spun by Cotton Duck and is extremely tough and durable, yet soft to touch leaving the worker comfortable in his work apparel.
'Quilted flannel lining' may be a feature peculiar to Carhartt. Flannel is a fabric typically composed of wool or cotton that is brushed. Padding the jacket with flannel makes it comfortable and warm.
The sleeves are also padded, but with nylon. Padding the sleeves with nylon fabric makes the hands flexible as nylon is a flexible material. This gives room for the worker to easily move his/her hands while working.
Main Features
Heavyweight firm-hand 100% ring-spun cotton duck fabric
Quilted-flannel lining in body
Quilted-nylon lining in sleeves
Check Price on Amazon
Carhartt Men's Thermal Lined Canvas Hooded Jacket
Carhartt switches things up in this jacket with the thermal lining. Thermal lining is a way of providing insulation for clothes. This jacket uses 100% polyester to achieve this, both in the body of the jacket and its hood.
Just like the previously reviewed jacket, the fabric used for this jacket is also ring-spun by Cotton Duck, so you can tell the jacket ticks the 'tough' box.
Although the jacket is not water-proof, it repels water to a certain degree. It is the cotton canvas that helps it repel water. But you should not bank on this because you'll get wet in heavy rain.
Main features
100% cotton
100% polyester thermal lining
Attached thermal lining hood
12-ounce, 100% ring-spun Cotton Duck canvas
Check Price on Amazon
North Face Jacket
North Face jackets are primarily designed for mountaineering, skiing and related activities. A good mountaineering jacket should be the following:
Quick-drying
Waterproof
Windproof
Insulate
North Face Men's Thermoball Jacket
Made of 15D nylon ripstop, the jacket is waterproof and has zero porosity. What this means is, it will be impossible for water or air to pass through this jacket. This helps in heat retention and keeping you dry.
Apart from the material used, ThermoBall technology also helps in heat retention.
North Face adopts this technology to trap heat within small air pockets. An added advantage of using this technology would be the light weightiness it affords the jacket and the comfort it gives the user because of its light weight. Mountain climbing or hiking is a tasking venture already, your jacket shouldn't make it more so with its weight.
Main Features
100% nylon
Waterproof
Light weight
ThermoBall Technology
Check Price on Amazon
North Face Men's Apex Bionic 2 Jacket
You're probably wondering what an Apex Bionic jacket is. It's simply a thicker type of jacket and is often water-resistant and fleece lined. It is made of Apex ClimateBlock which is a heavier soft-shell type of fabric.
The above explanation answers the questions, does this jacket provide adequate warmth and is it water-resistant?
Also note that TNF Apex ClimateBlock fabric is 100% windproof.
The jacket is light weight and dries quickly courtesy of the materials, making it convenient for you to repack while hiking or mountaineering if it gets warm.
Main Features
Windproof
100% polyester
TNF Apex ClimateBlock fabric
Check Price on Amazon
N.B.: TNF means The North Face.
Conclusively,
You would have observed from the reviews that where Carhartt sells toughness, flexibility and comfort, North Face sells waterproof, windproof, insulation and lightweight.
Both brands offer similar luxuries such as insulation, comfort and style, but Carhartt is a better outdoor work gear than North Face is; while North Face is a better mountaineering outfit than Carhartt is.
Click here to see more stylish and utility jackets and coats.
RELATED POST