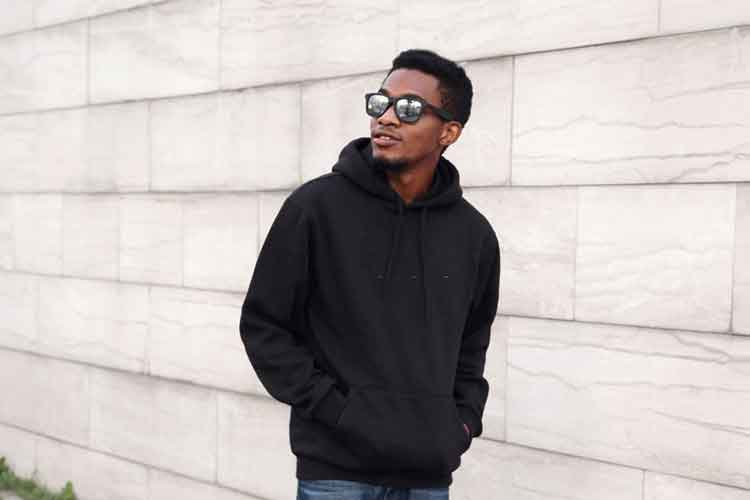 From keeping out cold to making a fashion statement, hoodies are a comfortable piece of clothing for guys to wear. However, when you're looking for a hoodie, you want one you can be comfortable in all day. Something you can wear both indoors and outdoors. Something soft and warm without being bulky. And this is where a midweight hoodie comes in.
So, what is a midweight hoodie anyway? A midweight hoodie weighs between 500-553 grams. It's thicker than a regular hoodie and softer than a heavyweight hoodie. Mid-weight hoodies are perfect for spring/fall seasons, and they layer nicely. You can wear them indoors, outdoors, and in 35-40° weather.
 So, if you're looking for the best of both worlds, a midweight hoodie is a sure way to go. However, it gets tricky when it comes to making your pick of a midweight hoodie. You want to know what size to choose, the best fabric to settle for, and so on. Thankfully, this article tells you about the world of hoodies. So, get ready to shop like a pro when you're done reading.
Whenever you make a purchase through links on this page we make a small commission from our affiliate partners. Learn more
What Are Midweight Hoodies?
A midweight hoodie is a hoodie with a weight measurement higher than a lightweight hoodie but lower than a heavyweight hoodie.
The average-sized hoodie, depending on the fabric and a combination of other factors, can be found weighing about 15.87 ounces (450 grams). A larger size, given the same quality, can weigh between 23.9 ounces (680gm) to 25.1 ounces (712gms). The midweight hoodie, on the other hand, can weigh anything between 17.7 ounces (500gms) and 19 ounces (553 gms)
You know you can don a midweight hoodie when you want more warmth without having to feel like you are carrying too much. You can also layer it with a jacket or parka during winter.
The great thing about midweight hoodies is that they are soft and super comfortable.
Remember, any type and style of hoodie can fall into the midweight category. Different brands make a size distinction in their products for the satisfaction of a wide range of customers.
What Is The Most Comfortable Type Of Hoodie?
The most comfortable type of hoodie will be one that fits well. That is, something true to size or that offers a relaxed fit. It should also not be too heavy nor too light and, of course, should be made from soft quality material.
You should also consider how warm you want to be in it. It should be something you can wear easily in all seasons, whether indoors or outdoors.
Hoodies made from cotton are very comfortable. They're soft and offer a great deal of warmth.
These considerations should take into account the purpose of the hoodie and your budget.
How Do I Choose A Hoodie?
When choosing a hoodie, make sure you get something that offers a relaxed fit. You don't want to look like you're wearing a hand-me-down that is two sizes too large, and neither do you want to appear like you wanted a hoodie at all cost that you got one that is two sizes smaller.
You should also look at the sleeves. It will be wonderful if the sleeves are not too tight and not too loose or baggy.
Also, you should go for colors that will not be difficult to match. Colors like black, grey, navy blue, tan and so on. These colors easily match with jeans or chinos and a pair of white sneakers.
You can go for neon colors like bright orange if you can pull it off. Although it won't be easy and it works best as a costume. Remember, you don't want to stick out like a sore thumb.
Then, you want to decide early on if you want to get something that has drawstrings or if you'd be just fine without them. The jury is not yet out on drawstrings in hoodies, but in some quarters, they have been accused of giving hoodies a bad look. So, unless you are obsessed with drawstrings, you might want to reconsider having them in your hoodie.
If you're getting a zippered hoodie, for the sake of all that is good, be sure the zip is made of good stuff. You don't want to have the zip head changing color after one or two washes.
As for the length, somewhere above the fly of the trouser is good enough. If it's a few inches too long, it will seem like you have rather short legs. You also don't want to be caught in one that is too short.
Simply go for what suits you and go for quality material. Try it out, bend, stretch, walk out, see how it feels and fits, and you have your hoodie.
Should Hoodies Be Tight Or Lose?
Hoodies should not be too tight or baggy. The best fit is a relaxed fit. Too tight will bring you some discomfort, and too loose will make you feel like you're carrying around weight.
Anything baggy will give you that lazy couch look. And if you'll be wearing your hoodie outside, it's never a good look.
Why Should I Buy A Hoodie?
Now, if you're wondering why there's much talk about hoodies, know that hoodies save the day in many ways. Some of the benefits of having a hoodie in your wardrobe include the following:
Whether it's winter or spring, a hoodie can effortlessly provide you with warmth. This warmth is a function of the nature and thickness of the fabric used in making the hoodie.
So, you want to be sure of what you're getting. When you're not sure of the weather condition of a place you're traveling to, grab a hoodie along. Better still, a midweight hoodie because it's lighter and easier to pack.
Hoodies can be combined with anything and still look great. A pair of jeans will sit just fine with a hoodie, and so will a pair of chinos or khaki. Sneakers and leather sandals will also look great with a hoodie.
With a hoodie in the bag, you don't need to pack too many shirts. The hoodie can be worn over a shirt or worn alone, depending on what you want.
Hoodies are comfortable pieces of clothing. You can forget yourself inside a hoodie. This is because it allows you the freedom to move about and attend to different matters without feeling weighed down.
What Is The Best Fabric For Hoodies?
There are different fabrics from which hoodies can be made. The best fabric, therefore, depends on:
Need: Why do you want the hoodie, and how long would you like it to be in use?
Allergies: You don't want to have more than the regular hospital trips because of your hoodie and personal preferences.
Select your fabric, bearing in mind its construction or composition, washing instructions as well as durability.
Hoodies made from a combination of polyester, acrylic, viscose, and our all-time fave, cotton, are common. The cotton-polyester combo gives stretchiness and breathability, which is important for comfort.
Fleece hoodies are also great if you're looking to have comfort minus weightiness.
If you prefer natural fibers for your clothing, then you want to make sure you are getting a hoodie with little to no polyester mixed in. You should go for cotton or wool instead.
How Do I Care For My Hoodie?
Ensuring that your hoodie lives to a ripe old age requires that you care for it properly. You want to be sure you're treating it right. This is because your hoodie will lose its appeal if it shrinks, fades, and/or loses its softness. So, to care for your hoodie:
Read the instructions on how to care for the material on the label:
The instructions will tell you if the hoodie can safely make a trip to the washing machine, how much detergent to use, etc.
 Do not wash after every use:
Generally, fabrics lose bits of their original glow after every wash (and a follow-up trip to the dryer). So, hoodies should not be washed after every use. Using sprays and perfumes in-between washes will help tackle "bad-smell" troubles.
Using cold water to wash the hoodie reduces shrinkage and fading, especially for a cotton hoodie. As a plus, cold water reduces the wrinkling that happens after a wash. Fewer wrinkles mean less time and energy spent ironing.
Air-dry your hoodie rather than use the dryer. This helps you avoid shrinkage.
Turn the hoodie inside-out before tossing it in the washing machine: This way, you preserve the correct side of the cloth from too much friction — rubbing against other clothes and fading.
Well, that's that about hoodies — fabrics, weights and all. You will be well on your way to getting your money's worth the next time you step into a hoodie store.
For more winter/spring fashion, church these out:
How Can You Tell If Your Jacket is 100% Waterproof