In a city as large as Michigan, streamlining your options for cool road trip destinations can be a tough one. With lots of opportunities for fun, nature, and sightseeing, Michigan is one place you simply can't miss. Our beloved mitten-shaped state has so much to offer, and no season is a bad time to visit.
So if you're wondering, "where should I go for the weekend in Michigan?" First, Mackinac Island offers a simple old Victorian allure. Then get caught in the euphoria of nature's beauty at Lake Michigan. And finally, mingle in the bubbling nightlife of Detroit. Michigan offers a unique experience everywhere you go.
And that's why in this list, you'll find lots of cool road trip destinations in Michigan that's worth your time. Along with this, you have recommended places to visit, where to eat and lodge, and helpful road trip planning tips. So get ready to hit the road.
Traverse City Michigan
From restaurants to fine wineries to adventurous kayaking at beaches, Traverse City will take you on an awesome tour. Located at the base of Old Mission Peninsula, which points north towards the Grand Traverse Bay, this city makes for an excellent vacation destination.
Traverse City is known for producing enormous amounts of cherry tarts. And so it's no surprise she is also called "Cherry Capital of the World."
Where to visit: Your visit to Traverse city is incomplete without paying a visit to the village at Grand Traverse Commons. You also shouldn't miss out on a chance to explore the finer things of old culture at the Dennos Museum Centre. And finally, capture the glint of Lake Michigan below dunes and ridges at Sleeping Bear Dunes National Lakeshore.
Lodging: Have a nice warm stay at Great Wolf Lodge, or you can opt for an exquisite homey feel at Cherry Tree Inn and Suites.
Where To Eat: There's just something magical about pies. And at Grand Traverse Pie Company, you can have all the cherry pies you want. You also get to enjoy a gorgeous view or a cozy fireplace while chomping on delicious bite-sized dainties.
And of course, what's a trip without coffee? Morsels Expresso and Edibles provide the most delicious cups of coffee.
We're not leaving out burgers. Stop by Slabtown Burgers for delicious mouth-watering meaty burgers. And if you'd like to cool off from a hot summer afternoon, check out Moomers Homemade Ice cream. There are over 100 varieties of delectable ice cream for you. Simply delightful!
Mackinac Island Michigan
You'll have to get out of the car and hop on a ferry for this. Mackinac Island has harbored centuries of history you can easily connect with. The alluring Victorian grand hotel calls out to many tourists yearly–it's hard to turn her down.
Mackinac Island creates a hub of history and fun. And you can rent a bike or go for a carriage ride around the Island, the meeting place of lakes Michigan and Huron.
Where to visit: Relieve Mackinac's military history at Fort Mackinac when you visit Mackinac State Historic Parks. A world of history and fun awaits you there. And enjoy the thrills and frills of rock climbing, zip-lining, and walking on treetops at Historic Mill Creek Discovery Park.
Old Mackinac Point Lighthouse is also another must-see. Your kids will love to explore this good old guiding beacon.
Where should i stay when visiting Mackinac Island: Experience the finest traditional luxury lodging at Grand Hotel. Or you can go for a gorgeous summer-style residence at Hotel Iroquois. But then again, maybe a balcony view of the lake is more your style, so lodge at Chippewa Hotel Waterfront, home of the pink pony.
Mackinac Island places to eat: Discover the explicit Mackinac treat in 28 flavors at Joann's fudge. Or grab a quick breakfast omelet or burgers and sandwiches for lunch at The Chuckwagon of Mackinac. And if you're looking to have some homey seafood speçiale, go to Audie's restaurant.
Ann Arbor Michigan
For an enthusiastic experience, ride down to Ann Arbor. This is the home of sports and culture, with the University of Michigan entwined in the mix. And a drive downtown will immerse you in art galleries and boutiques. The University of Michigan offers museums in natural history, art, sports, music, and theater.
You can also engage yourself with the city's spectacular culinary skills on a food tour. And you know, a trip to Ann Arbor during Summer is even better. You'll get to enjoy the annual Ann Arbor Street Art Fair! Now that's what we call a 'fair' trip.
Ann Arbor Michigan places to visit: You can't resist a visit to 16 Hands Gallery filled with the best American handmade products like jewelry, clothing, candles, and so on. And you can time travel as far back as possible at the University of Michigan Museum of Natural History.
Also, amp the athletic vibe at the Michigan Stadium, the largest sports stadium in North America and the second-largest in the world. This 107,000 capacity stadium is where fans gather to watch the Wolverines play.
Ann Arbor Michigan places to stay: Rest easy in an interesting, cozy, and athletic setting at Graduate Ann Arbor. Celebrate the arts and Wolverine pride at this distinguished hotel.
Ann Arbor Michigan places to eat: Visit MANI Osteria and Bar for a rich homemade Italian cuisine. And Spencer will leave you craving for more delectable French dishes.
Wine, and cheese anyone? Then at Gandy Dancer, enjoy fine dining in a restored 1886 train depot.
Frankenmuth Michigan
It's Christmas time! No, wait, it isn't; you're in Frankenmuth. This is how you feel when you take a trip to this delightful town—like you're on a Christmas vacation in another country!
You get to enjoy an old-world setting while chowing down on homemade family chicken dinners. With lots of festivals and shopping at Frankenmuth, every day has its unique bang.
Frankenmuth is packed with distinctive Bavarian and German-themed architecture, splendid food, and lots of shopping. This town also offers lots of outdoor recreation. Here, you can take a one-hour cruise down the Cass river or go golfing at the Fortress Golf Course.
Frankenmuth places to visit: Frankenmuth houses the famous Bronner's Christmas Wonderland — a wonderful store filled with everything Christmas. Stock up on everything holiday in this world's largest holiday shop.
And while you're at it, you might want to shop for some Bavarian-themed home decor at Frankenmuth River Place Shops. A one-hour cruise down the Cass River sounds like a good plan using the Bavarian Belle Riverboat.
Frankenmuth Michigan places to stay: Relish the warm Bavarian hospitality while overlooking the beautiful Cass river at Bavarian Inn Lodge. Or, you can go to Zehnder's Splash Village Hotel and Waterpark for fun family lodging. Your family will love the indoor water parks and all-you-can-eat fried chicken dinners.
Frankenmuth Michigan places to eat: Ever tried Pizza and a malty Red sky Ale? Well, what are you waiting for? Go to Frankenmuth Brewery. And if you have an appetite for a sumptuous family-style chicken feast, then Zehnder's is your next stop.
Detroit Michigan
Looking for some bustling metro fun? Then you have to hit Detroit. Detroit is known for its rich history, and it is home to lots of iconic places, including the Ford Piquette Avenue Plant. When it comes to nightlife, it's like the city never sleeps.
Your tour around this urban jungle begins with culture and food and ends with sports and more food. Sink your teeth into the famous Detroit coney hotdog and see your taste buds explode with Detroit life.
Detroit is one place you can easily blend in like a local at a baseball game or camaraderie with local vendors and artists.
places to visit: With tons of memorable historical hot spots, you don't want to miss out on a trip to the Henry Ford Estate. A walk through this sophisticated structure reverberates the life of Henry Ford and his wife Clara before their demise in 1947 and 1950. Don't forget to stop by the Comerica park—a ballpark, theme park, and baseball museum.
Detroit Michigan places to stay: You're sure to have a stellar experience in this vintage modern-style hotel at Detroit Foundation Hotel. And for an epic view of the city, from a 70 story hotel lodge at Detroit Marriott at the Renaissance Center.
Detroit Michigan places to eat: You haven't yet imbibed all that Detroit has to offer without trying out the Yardbird Mammoth Sandwich at Slows Bar BQ. And you can dine on Michigan pork chops, delicious crab cakes at Lumen Detroit.
Grand Rapids Michigan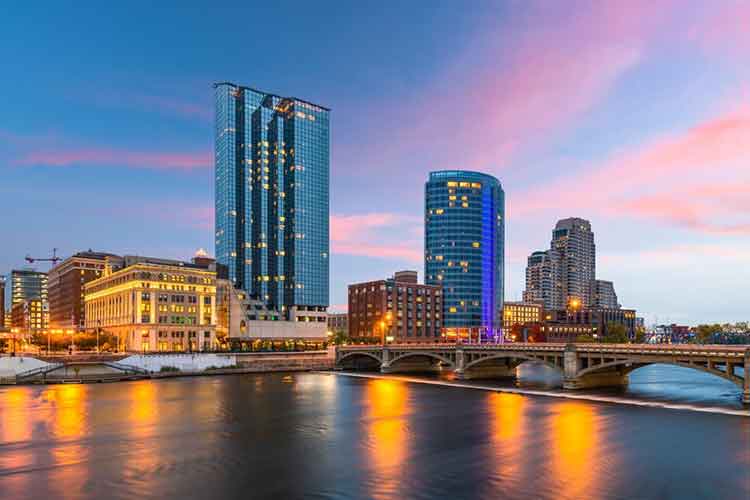 Grand Rapids is Michigan's second-largest city, developed around the Grand River. In a town that brands itself Beer City USA, you're sure to find dozens of breweries there. And breweries go along beautifully with a variety of fine cuisine. You also get to unleash your inner artist in this artsy town with a reputation for culture and public art.
And in the evenings, you can unwind with various music scenes with over a hundred live music options.
places to visit: The John Ball Zoo is a worthwhile place to visit in Grand Rapids. Your kids will love the Camel rides, seeing the bald eagles, penguins, Lions, Otters, and so on.
And for a mind-blowing artistic collection of the pre-renaissance era to the 21st century, visit the Grand Rapids Art Museum. Frederik Meijer Gardens and Sculpture Park is a great place for family fun, art lovers, and plant enthusiasts. It will be a good opportunity to check out a Japanese garden.
Places to stay in Grand Rapids Michigan: You can lodge at the warm and eco-friendly CityFlatsHotel located in the heart of downtown. Otherwise, spoil yourself with a spa treatment, lavender-scented baths in the JW Marriott Grand Rapids luxury hotel.
Grand Rapids Michigan places to eat: Silver foam, Nicodemus the wise, and blond badger are some of the different refreshing ale you can get at Grand Rapids Brewing Company. And for some soup and meaty goodness, you should eat at Uncle Cheetah's Soup Shop.
Marquette Michigan
Head up to the Upper Peninsula and drive to Marquette. This is the biggest city in the Upper Peninsula but not as big as most American cities. This cute town has a watery allure as it's situated on the rocky shores of Lake Superior.
Home to the Northern Michigan University of Michigan, this college town is awash with art, culture, and family fun resorts. You can also add to your style by rocking a pair of cool Oakley Sunglasses.
Marque offers a combination of big city appeal and closeness in a friendly Midwestern town.
places to visit: View thriving art displays at The DeVos Art Museum, which houses over 1500 objects, including Japanese arts and artifacts. Or explore different timelines captured in beautiful stage shows at Historic Vista Theatre. And at the Northern Michigan University's Outdoor Recreation Centre, you have the chance to explore Upper Peninsula's natural beauty.
Places to stay in Marquette Michigan: The Landmark Inn is amongst Marquette's finest hotels with views of Lake Superior and downtown.
You can also choose to nestle at Nestledown Bed and Breakfast and be treated to Finnish/Scandinavian legacy. You get comfort, breakfast, quiet, a warm fire, and a sauna.
Marquette Michigan places to eat: Blackrocks Brewery serves beer in cans and taps with guy-friendly fun and entertainment.
And at Lagniappe Cajun Creole Eatery, tantalize your taste buds with authentic Louisiana culinary chef-d'oeuvre by Chef Don Durley.
Or perhaps, you'd prefer a stop two blocks north of Nothern Michigan Campus, at Wooden Nickel, for a taste of the finest brews at Marquette's oldest bar.
Tips For Planning Your Road Trip.
Have a budget: This will help you know how many places you can cover within your budget and which lodgings you can afford to stay in.
Have a road trip itinerary: This contains a list of places you will visit, possible places to lodge, dine, and so on. Make bookings ahead if possible.
Packing: Make sure you pack up the basic amenities you will need on the road. This also includes medication in case of emergencies.
Pets: Look out for pet-friendly attractions and lodges in Michigan.
If you're traveling in your RV and you plan on sleeping in it, take note of safe and secure campsites or places where you can park your RV safely.
If you're camping, go along with a good family tent with blackout.
And of course, take loads of pictures and souvenirs, you'll want to remember this trip for a long time. And that's it for cool Road trip destinations in Michigan. For awesome advice on road trip gear, get a load of this:
10 Best Waterproof Duffel Bags For Boating and Outdoor Adventure in 2021