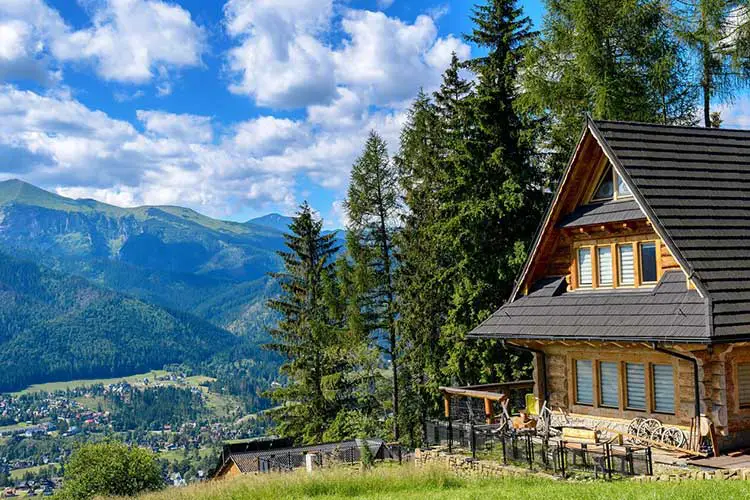 When on a budget, what better place to spend some time with family than at some pigeon forge cabin rentals under $100? These affordable cabin rentals are ideal for couples and small families who want privacy while staying in the Smoky Mountains. And with such cheap lodging, you can have more money to spend on other incredible attractions like the Crave Golf Club, Dollywood, and the Island in Pigeon Forge.
Pigeon Forge is a resort town in the foothills of "the Great Smoky Mountain," also known as the Smokies. With various attractions like the Dolly Parton's Appalachian-themed park, adjacent water parks, the dinner theaters, and the outlet malls, you are guaranteed the time of your life in this small town.
So, are you looking for pigeon forge cabin rentals under $100? You're in luck. We've listed below some of the most amazingly cozy pigeon forge cabin rentals in Tennessee under $100. Browse the list and choose one that's perfectly suited for you and your family.
A Mountain Surprise Pigeon Forge Cabin
This little paradise of a cabin is perfect for pet lovers. Yup. You can bring your adorable pets to this one. A short drive from all the exciting attractions downtown, A Mountain Surprise is a home away from home.
This comfortable one-bedroom cabin for four people is perfect if you're set on exploring every part of pigeon forge. Nonetheless, if all you want to do is relax and lazy around, the cabin has all the conveniences of a home. It manages to combine the advantages of a Smoky Mountain cabin rental with the comforts of a home.
So, before going on your trip, there's no need to pack so much. With only a lightweight travel bag, you are good to go. The Mountain Surprise Pigeon Forge Cabin has a:
Living room: Relax in the living area, indulge in the luxurious master suite, or simply unwind in the tranquil, wooded surroundings.
This huge Pigeon Forge log cabin is a perfect spot to relax on the sofa while watching a rom-com classic on the big screen TV. Not one for movies? Then, enjoy an exciting novel in the armchair by the fireplace, or just connect with the environment on the chaise lounge.
You'll definitely make some great Smoky Mountain memories here. It doesn't matter whether you're looking for a little romance or simply want to get away from it all. For one of the best pigeon forge cabin rentals under $100 per night, this cabin exceeds expectations.
Kitchen: Pigeon Forge has several lovely restaurants where you can have a cozy family dinner. But if you would rather cook, the kitchen in this cabin has lovely wood cupboards and all the tools you'll need to prepare a delicious meal. This fully equipped kitchen is every cook's delight! And that's not all. There's also a four-person dining table, so the whole family can eat together.
Bedroom: Allow yourself to be smitten with the warmth of this bedroom.
The Mountain Surprise sleeps up to four people and features one bedroom and one bathroom. The bedroom is right off the living room, making it easy to get to the open areas of the cabin. The luxurious linens on the king-size log bed complement the TV (with DVD player) in the corner, allowing you to enjoy your favorite shows or movies.
Outdoor space: This features two beautiful patio spots with wooded vistas all around. Step onto the covered deck for a seat in the porch swing or on the rocking chairs. Just grab a cup of coffee and enjoy nature's morning sounds.
A Perfect Paradise Pigeon Forge Cabin
A Perfect Paradise is another one of the most amazing pigeon forge cabin rentals under $100 you should consider. This one-bed charmer is perfect for a family getaway weekend or honeymoon for precious newlyweds. And if you love woody adventures like hiking in the woods, this perfectly placed pigeon forge cabin is it!
Only 7 miles from downtown Pigeon Forge, you have quick access to all of the Parkway's attractions, restaurants, and stores.
It boasts lovely woodwork and a good decor that compliments the cabin's facilities. With a great fireplace that's great for winter and a movie library available, you can enjoy a warm romantic night with your partner.
Living room: Is there such a thing as being too comfortable on a trip like this one? If there is, this cabin would be it. With a sofa and a comfortable recliner, you can sit in front of a wood-burning fireplace and forget about any worries. A warm and inviting space on chilly Smoky Mountain evenings.
This living room is also perfect for relaxing in the luxury of your cabin on lazy days. With a coffee table in the center of the room, you can enjoy family game nights filled with card games and your favorite board games. There's also a movie library on-site, so you won't have to bring your own.
Kitchen: Its kitchen, located just off the living area, is warm and well-equipped for preparing meals in the cabin. You'll find everything you need for all four visitors, including plates, glasses, and utensils. There's also equipment like a dishwasher, stove/oven, refrigerator, and microwave.
Small gadgets such as a blender and coffee maker are also available to make your stay even more comfortable. So, if you don't want to go downtown to get some food, you can make delicious homemade meals in the comfort of your kitchen.
Bedroom: It has a king-size bedroom where you can have much-needed rest after all that fun downtown. You'll find a lot of drawers to unpack in, as well as a nightstand with a lamp to read by.
The cabin's bathroom has a jacuzzi with a stone surround and a stained glass window above the tub. Perfect for getting ready before a night out downtown or unwinding after an adventure-filled day.
Outdoor space: When you're on vacation in Pigeon Forge, Tennessee, it's important to spend time outside. You'll find some delightful and relaxing spots at a Perfect Paradise where you can unwind and take in the forest view.
End your day with a soak in the hot tub on the screened-in deck. Because it's covered, you can use it all year long, regardless of the weather.
There are also some rocking chairs on the screened-in deck. So you can enjoy the beauty of nature while sipping on some hot cocoa.
And if you love camping, this cabin has an outer space that is great for tent camping. You get some family bonding time before the real fun downtown. All you need is the perfect camping tent, and then it's bonding time!
Chalet of Dreams Pigeon Forge Cabin
This 2 bedroom paradise is just what you need to have your dream vacation. With all the amenities available in it, you wouldn't believe you can get all that at a budget-friendly price. Yes, this cabin is one of the best pigeon forge cabin rentals under $100.
Like its name, the Chalet of Dreams is your dream vacation come to life. Here, you have all the time and comfort to keep the stress of real life at bay. So, relax over the cool breeze and enjoy the humming beauty of nature's singing birds.
This Pigeon Forge cabin has everything you desire in a Smoky Mountain getaway. Beautiful scenery, comforts like a hot tub and a pool table, and cozy furniture. Even better, this beauty of a cabin can comfortably accommodate 6 persons!
Living room: This wooden cabin has two levels, each with plenty of light, incredible amenities, and all the comforts of home. The main level is on the first floor, and it features a large open floor plan that seamlessly integrates the kitchen, dining area, and living room.
After your first step into this cabin, you'll forget about your worries. Its rustic charm and stunning environment are simply captivating. The living area is so well-designed that it is ideal for family gatherings.
A ceiling fan, a flatscreen television with cable, and two comfortable couches beside a cozy fireplace are all available. It's perfect for family bonding, storytelling, planning the next vacation, playing games, and so much more. That is, after all, the essence of your vacation.
Kitchen: The Kitchen is fully equipped with amenities that make cooking easy. It has a dishwasher to do the dishes, so you don't have to worry about that. There's also the breakfast bar with two extra places to eat.
The dining table, located off the kitchen, comfortably seats six people. And then the wraparound terrace, located off the dining area, offers unforgettable mountain and valley views. All from the comfort of an outdoor hot tub and two rocking chairs. A gas barbecue is also available for BBQs. So who's ready for some steak?
Bedroom: This cabin has two king-sized bedrooms. One has a flatscreen TV, as well as a full bathroom with a tub/shower combo.
It also has a jacuzzi tub where you can relax after a long day hiking in the woods. Perfect for a summer holiday, isn't it? Don't forget to take a hiking daypack so you can stay hydrated while hiking.
Upstairs, there's a full-size pool table, a radio, and a ceiling fan. So, if you want to host billiards competitions, this is the ideal place to book.
Outdoor space: It has a beautiful mountain view you can enjoy from your deck house. Guests can enjoy activities such as hiking, skiing, and billiards in the area where the vacation home is located.
A Touch of Heaven Pigeon Forge Cabin
A Touch of Heaven is another cabin to look out for. This cabin offers way more for pigeon forge cabin rentals under $100.
Make your vacation worthwhile. And a night in a touch of heaven is just what you need. You get a dreamy cabin that sleeps four people and gives you the warmth and ambiance that you desire.
It's simply a world with less stress and more fun. It's a vacation, so you need something that would take you miles away from work and concerns and closer to peace of mind.
Did we forget to mention that this is also pet-friendly? Who says pets don't enjoy vacations too! You can bring your pet along on this one.
Living room: As you enter into this charming cabin, you are welcomed with a warm atmosphere. With a covered porch and a great air-conditioning system, it's pretty ideal for the summer.
Want a winter vacay instead? This cabin has got you covered with its beautiful warm fireplace. So, whatever the season, you can enjoy the delight of staying here.
Kitchen: This kitchen has every piece of equipment and utensils to cook for a large family. Plates, glass cups, all perfectly clean. It also has a dishwasher and a fireplace close to the diner. And even better, you get a perfect view while dining.
Barbecued meat just became juicier. With a grill for making barbecued meat, you get more time for some family bonding.
Bedroom: A touch of heaven cabin also has a queen-sized bed and heart-shaped jacuzzi tub where you soak away your troubles. What speaks peace of mind more than that? Very impressive for a pigeon forge cabin rental under $100.
Outdoor space: This cabin is a few minutes drive from downtown, where the fun is. However, there's no harm in having some alone time to reconnect with nature. It has the perfect view and is serene enough for you to enjoy.
The Takeaway
There you go! Some of the best pigeon forge cabin rentals under $100. Now it's your turn. Make your choice. Remember, it's about you and all the luxury you and your family can get.
We hear "the Smokies" is great for climbing. So it's time to make memories, buddy. These are some other articles to help you make the best of them.
8 Best Hiking Camera Bags for DSLR To Protect Your Gears From the Elements