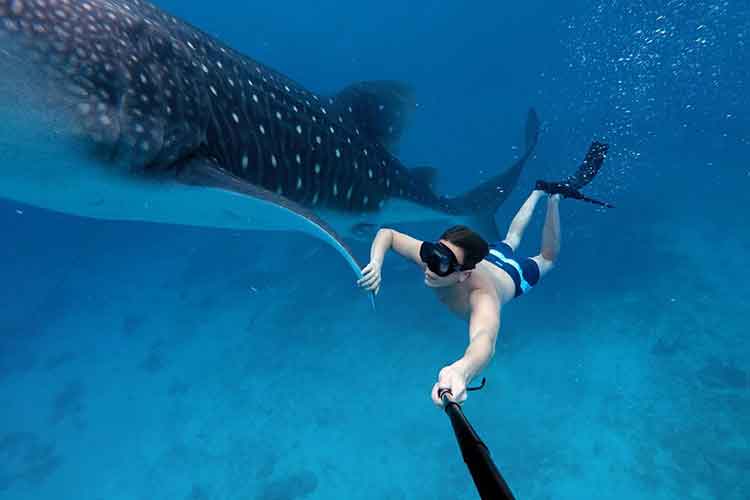 Swimming with Whale Sharks is one of the most beautiful things you can do on holiday. Not only does it give great photo credits, but you also get to view the world from a whole new perspective. It's a profound experience and definitely, a must-have on your vacation bucket list. So it's no surprise if you're wondering where to go swimming with whale sharks.
But first, how much does it cost to swim with a whale shark? The answer depends on the location, operator, or length of the tour. You can swim with whale sharks for as low as $60 and as high as $1000. There are operator packages that can add to the price, like underwater photography or luxury tours.
So if you've given it a thought and you've concluded that swimming with whale sharks will be your next adventure. Then knowing where to go swimming with whale sharks will be a breeze with this list we've put together. Here, you'll find beautiful beaches, reserves, and Islands that offer the most remarkable whale shark swimming experiences.
Galapagos Islands, Ecuador
It's hard to resist the inviting waters of the Galapagos Islands. Teeming with amazing and exotic sea life, these Islands draw you in like no other.
The most popular of these Islands is Darwin Island. Here, you'll find lots of species like the Galapagos tortoises, penguins, iguanas, and so on. However, what's sure to get you most excited is the whale sharks that often appear out of the blue waters.
The whale sharks in Galapagos Islands are like no other place. They are larger than other whale sharks you can find elsewhere, boasting 40-50 feet long. And you can scuba dive with these magnificent beasts up close.
The different islands of the Galapagos offer different dive spots. However, each offers a unique experience with a diversity of marine life. For example, at Isabel Island, you'll find an extraordinary environment where you can swim with sea lions and penguins.
And you certainly don't want to miss Wolf Islands. Here, you have different interesting dive spots to explore with all your favorite sea critters. Spots like Shark Bat, North Islet, The Caves, The Landslide, and so on are unbelievably beautiful.
And Darwin Island's Pillar of evolution will give you a real underwater treat, especially for whale sharks. It's always an unforgettable experience swimming with these gracious sea beasts.
When to go: The weather and water temperatures from June to December attract lots of whale sharks to the Island. So, don't let the dry season pass you by without swimming with grand whale sharks.
Where to lodge: Galapagos Safari Camp combines luxury and a cool wildlife experience.
Things to do: If you're not swimming with whale sharks, Galapagos also offers snorkeling among sea turtles and sea lions. Or you can take a hike around the Sierra Negra Volcano. And kayaking around Divine Bay is truly divine.
Holbox Island, Cancun, Mexico
Without a doubt, Cancun is one surreal Vacation hotspot. Delightful Islands like "Isla Mujeres," "Isla Contoy," and "Isla Holbox" are what vacations are about.
The beautiful topography, Latin charm, and hospitality of the locals make your trip worthwhile. It's even better when you get to swim with the majestic whale sharks. And the best of the three Islands for such an adventure is Isla Holbox (Holbox Islands).
Home to the largest whale shark population in the world, Holbox Islands offers you a close-up with more whale sharks than you can count.
Holbox Island is located 40 miles northwest of Cancun. And this Island provides an excellent opportunity for snorkeling or swimming with whale sharks.
This Caribbean oasis measures 12 kilometers long by 1.5 kilometers wide. And apart from whale sharks, this shallow lagoon also attracts over 150 exotic bird species.
When to go: The official time within which you can go on whale shark trips is mid-May to mid-September. However, for the best whale shark encounters, July to August is the best time to visit.
Where to lodge: If you're looking for more private lodging, then Puerto Holbox Hotel is a lovely place to stay. This four-bedroom lodge offers a beachfront, a beautiful garden, and the tranquility of the sea. Or you can stay at the pleasant tropical hotel, Hotel Posada Mawimbi Holbox. You'll be surrounded by a luxuriant tropical garden and all the delights of a tropical environment.
Things to do: Kitesurfing, fishing, and kayaking are some of the activities you can do at this deliciously relaxing Island.
Island of Utila, Honduras
Utila's reputation for offering world-class dive sites is undeniable. But what do you expect from a place with 80 amazing dive sites?
Amongst the variety of marine life you can find here are the whale sharks. And you can enjoy a mesmerizing experience swimming with these precious animals.
The Island of Utila, located off the northern coast of Honduras, is among the most famous sites for whale shark sightings.  You can find these marvelous beasts near the shore all year long. So, it's a no-brainer that Utila is also called the Whale Shark Capital of the Caribbean.
Utila takes so much pride in her whale sharks that it is home to the Whale Shark and Oceanic Research Centre. And it blends culture brilliantly with alluring seafronts and wild sea life for a vacation beyond your imagination.
If you really want to take your diving a notch further, dive at the north side of the Island. You'll find most of these animals there to swim with.
And to top it off, the Island of Utila is one of the most inexpensive dive destinations in the world. That's getting so much for less; what a great deal!
When to go: The Island of Utila offers year-round sightings, so you can visit anytime. However, the months of March and April are the best times to visit. This is because you get the highest concentration of Whale Sharks during these months.
Where to lodge: The Deep Blue Utila offers very comfortable lodging. And Underwater Vision is also a nice dive hotel to stay.
The Gladden Spit, Punta Gorda, Belize
Another wonderful place to go swimming with whale sharks is the Gladden Spit, Belize.
Located 26 miles east of Palencia, the Gladden Spit is about 26,000 acres with 36km of shoreline. Here, you'll find a rich aquatic ecosystem with sea life ranging from colorful fish, sea turtles, hammerhead sharks, and coral reefs. And, of course, gentle 60-foot long whale sharks.
The Gladden spit received a protected status 20 years ago as part of the Marine Reserve in Belize. The clear turquoise blue waters, good water quality, and fish feed is a perfect environment for Whale sharks. And every snorkeler's or scuba diver's paradise.
Tracking down these mighty shark kings at Belize will require some amateur moon-watching skills. They usually feast near the ocean surface for about 10 days following the full moon. And after that, they dive back into the deep.
So if you're a sucker for whale sharks, head down to Gladden spit for your viewing and diving pleasure.
When to go: The best time to visit is between March and June. By this time, lots of snappers attract whale sharks to Gladden Spit. And for even better sightings, check out the waters three days before and after a full moon.
Where to lodge: You can lodge at beautiful and affordable cabana-themed accommodations. Or go for the more upscale lodgings like Turtle Inn.
Things to do: Visit the Great Blue Hole for some exceptional diving. And if you'd like to take a break from diving, then you can enjoy a fun time birdwatching or fishing. You might want to pull out a pair of sturdy fisherman sandals for this.
Ningaloo Reef, Western Australia
Ningaloo Reef, Australia, has some of the most incredible marine life in the world. And it's the world's largest fringing coral reef.
This beautiful reef is home to 500 species of fish, 300 species of coral, 600 species of mollusks, and other interesting sea creatures. You'll also find the migratory big guys like the humpback whale, dolphins, and the largest of all, a whale shark.
A visit to Ningaloo Reef is incomplete without swimming with whale sharks. Their massive size has a way of humbling you. And it's impossible not to be in awe of the sheer beauty and massiveness of their being.
Tour operators usually allow groups of ten swimmers into the water at a time, with a guide with them. And there's an underwater photographer or videographer on board the tour boat. So while you're having a fun time with whale sharks, you have someone helping you look good through cool photos and videos.
When to go: For the best experience of scuba diving with whale sharks, visit from March to June. Around this time, whale sharks show up to feed, following an abundance of coral spawning.
Where to lodge: Enjoy a luxury stay at Sal Salis safari-style camps. And reconnect with the peace and tranquillity of nature at this wilderness jewel.
Things to do: Australia has a lot to offer in tourism with lots of lovely attractions. You can go on a wonderful hiking trip through the Tropical Rainforests of Daintree. And then there are the dazzling waterfalls at Atherton Tablelands to see.
Tofo Beach, Mozambique
Mozambique boasts of some of the most pristine beaches in Southern Africa.
Miles of untarnished coastline, the gorgeous blue ocean, and white sands adorn the Mozambique beaches. And if you love sea life, Mozambique is a great place to explore the endless waters.
Among these beaches is the Tofo beach, with its lovely beachfront. Interestingly, the waters of the Tofi beach are rich in plankton which attracts lots of whale sharks year-round. In fact, it has one of the highest concentrations of whale sharks in Africa.
You'll also find other aquatic life like manta rays, humpback whales. This leaves you with an opportunity for a wonderful scuba diving adventure.
And thankfully, scuba diving in this little paradise is very affordable. You can take a diving trip for $60 or less! Sometimes, you don't even have to dive to see the whale sharks as they come close to the surface.
When to go: Although spotting Whale sharks is a year-round affair, the best time to visit is between October to March. You may even get to sight 50 strong gatherings of whale sharks.
Where to lodge: Lodging at Baia Sonambula Guest House offers a peaceful, relaxed and comfortable stay. There's lots of room, sun and fun and of course delicious meals to make your stay worthwhile.
Things to do: You can go on a full-day tour of Inhambane Bay. Or hit the sandy trails of Tofo, quad biking. You'll love it.
[/vc_column_text]
Why Should You Go Swimming With Whale Sharks
Apart from a thirst for trying out new things, you should go swimming with whale sharks if:
You're intrigued by these majestic beasts. And getting up close with them is a wonderful way to learn about them outside textbooks and documentaries. Plus, you also have guides giving you on-the-spot info about whale sharks.
You're excited about aquatic wildlife. When swimming with Whale sharks, you also get to see some delightful aquatic creatures up close. And explore the wide and endless underwater treasure.
You want to partake in conserving the whale sharks. This is because swimming with them allows you to learn more about them. And then you can relay this information to others. Soon enough, you'll get more people interested in them and desirous of doing what they can to help in the conservation effort.
You love being underwater. If you're confident underwater and you don't mind spending a lot of time with the whale sharks, then, by all means, take a swim or a dive.
You want to improve on your photography. Whale Sharks provide great photos with their huge size and shimmering white spots on their backs. So put your waterproof camera to good use and snap away.
Are Whale Sharks Dangerous?
The answer is no. Whale Sharks are not dangerous. So don't let the name 'sharks' scare you. These sea creatures are very friendly and pose no threat to humans.
They are filter feeders who open their mouths wide enough to feed on planktons or fish eggs. So you shouldn't even be afraid of getting 'accidentally' swallowed by one.
So if while swimming with a whale shark, they come close to you, they're just curious about you. And like you, they're intrigued by this little human swimming beside them.
However, you shouldn't try to touch or hang on to them as this stresses them. And you don't want to ruin a wonderful connection you two just might have.
So, pack your lightweight luggage and get ready for a magical experience, swimming with the largest fish in the world. And with our list of where to go swimming with whale sharks, the best places are just within your fingertips.
For more on outdoor adventures and vacations, don't miss out on these articles:
Does Airbnb Rent Apartments Long Term? What To Know Before Renting
Amazingly Cozy Pigeon Forge Cabin Rentals In Tennessee Under $100