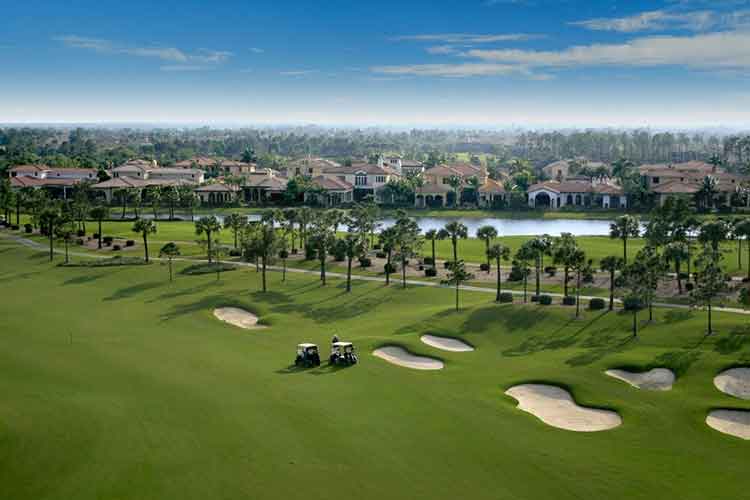 Planning for the best golf trip destinations in the US is one of the best things to do this year. There are so many golf trip destinations in the US, each offering its unique courses and golfing adventure. And finding the best ones to tee it up in is what we are about.
These golf trip destinations have everything you're looking for. From classic historical destinations to challenging layouts to go all Tiger Woods on, get ready to get your golf on. Each course is a story just waiting to be explored, and you'll be blown away by every scenic and serene view.
So get ready to travel and golf around the US with our list of best golf trip destinations in the US. And have fun ticking each destination off your bucket list. These destinations offer fun, relaxation, great accommodation, amazing food, and bonding with other golf buddies. You simply can't miss this. You know what they say; seeing is believing.
California
No one can deny that California is one of the most beautiful places in the US and has one of the best golf courses for year-round golfing.
With clearly outstanding 900 golf courses, rugged shores, stunning ocean views, and fairways, California offers world-class golfing benefits.
Here, you can take a break from the golf courses and visit Brandenburg Historical Golf Museum. Do check out La Foret for impeccable fresh dishes.
Where to play:
Pebble Beach
Pebble Beach is home to four incredible golf layouts, including Pebble Beach Link. And at Pebble Beach, an iconic experience awaits you. On that vast property, you get to stand where Tiger Woods won the 2000 US Open by 15 strokes and the AT&T that same year. And this year, you'll get to enjoy the new 9-hole par-3 course designed by him.
Pebble Beach offers numerous holes alongside ocean cliffs and small greens, making it the top choice for pros. And if you can't hit the high points, just soak in the beautiful scenery and revel in this historical golf link.
It is carved into the coastline of California and, without a doubt, one of the best golf trip destinations in the US. You can lodge at the Eastwood and Palmer cottages.
Spyglass Hills.
Spyglass Hills may not be as iconic as Pebble Beach, but it has golfers everywhere talking passionately. It's got tight tree-laced fairways, remarkable course conditions, lush greens, and a few holes near the pacific ocean.
Bandon, OR
Brandon has five full-size 18 holes, 3 par, and the Punchbowl—a 10,000 square feet incredibly fun putting green. One trip is never enough to cover all five links, so a second trip just might do the trick. And there are exceptional lodging options open to you, including large cottages at the Grove.
Where to Play:
Spectacular golf links you don't find everywhere constantly place Bandon dunes amongst the top golf courses. Brandon Dunes is tailored for the ultimate golf experience.
Despite its lack of golf resort amenities, Brandon Dunes remains one of the best golf trip destinations in the US for serious golfers.
This beautiful and challenging course will put your golf skills to the test. Firm fairways, windy atmosphere, and 60-foot dunes give Pacific Dunes a different feel to Brandon Dunes. So get your game on at Pacific Dunes.
Sheep Ranch
Sheep Ranch is a mile away from the ocean, with many direct shots over the water. This recently opened course has a no carts policy, so get ready to walk. Of course, you'll have an exhilarating experience, with your head entirely in the game while keeping fit.
Old Macdonald
This old-school design offers 18 holes with enormous greens and deep bunkers. It takes you back to golfing in those days.
Brandon Reserve
You can take a break and enjoy this par 3 course. You're sure to have a wonderful experience, but don't think it's as easy as it looks.
North Carolina
North Carolina has some great golf courses to play at. Her landscapes offer different striking courses, especially those in the sandhills area. There are even courses along the beach and fairways in the mountains.
Where to Play:
Pinehurst Resort
Pinehurst Resort is the crown jewel of North Carolina, with nine spectacular 18 hole courses and one short course. And it's the largest in the Western Hemisphere.
As the very first golf resort in the US, Pinehurst is steeped in golf history like no other place except, of course, Scotland's St. Andrews. It's easy to see why it is often called America's St. Andrews or America's Home of Golf.
Recently, it was named the first anchor site of the US Open. So if you're looking for a place that has hosted two different Men's Majors and the Ryder Cup, Tour Championship, Women's Major, and so on, then Tee it up at Pinehurst.
In recent years, Pinehurst has undergone amazing renovation. It added a short course, a ninth course, restored the Number Two course, and renovated Number Four.
You can also find comfortable lodgings like the Carolina Villas and the Carolina hotel. And you'll get to enjoy tasty Southern eats, a brewery, and lots more.
Tobacco Road Golf Club
Another fantastic course to play at is Tobacco Road Golf Club. This course is the climax of golf in Carolinas Sandhills. And offers smooth fairways which contrast with waste areas for a distinctive golfing affair.
South Carolina
South Carolina is another one of the best golf trip destinations in the US. A beautiful view, oceanside tee boxes, lush greens, oaks lined at the fairways, and splendid golf courses to get you hooked, what more do you need? Maybe a cool Rolex watch to complete your golfer look.
Where to Play:
Myrtle Beach offers amazing golf treats at Myrtle Beach Golf Courses. And had rightly earned the title of "Golf Capital of the World." It's easy to see why it's been on the golfers' map for decades.
With over 100 marvelous courses and lovely hotels, Myrtle Beach is one hot vacation spot for golf and relaxation.  You can lodge at the Pine Lakes Tavern or spend a day exploring the Grand Strand.
Myrtle Beach also offers great summertime fun and lots of beach activities.
Kiawah Island
Looking for more seaside holes than you can find in the Northern Hemisphere, scenic views, ocean winds, and fantastic golf layouts, Kiawah Island has got it.
The Ocean Course at Kiawah Island is one of the most beautiful courses that grace the eastern seaboard. Plus, with the 2021 PGA Championship returning to Kiawah Island's Ocean Course, you couldn't find a better time to visit. And it will leave you coming back over and over again for more iconic games
Kiawah Island has four other courses. You have to try out the Charleston Municipal Golf course and the 36 holes Wild Dunes Resort. You can stay at the new hotel-style accommodations.
Wisconsin
Wisconsin is home to 60 golf resorts and more than 500 golf courses, perfect for a good game and a fun family vacation. This fun city offers excellent food, great golf, and great relaxation while enjoying the beautiful sights of the city.
Where to play:
Destination Kohler
This vast luxury resort spans the entire Kohler village and to the seaboards of Lake Michigan.
Destination Kohler has four excellent courses and a luxurious five-star hotel. Three of its courses have hosted both Men's and Women's Majors. Also known as the American Club Resort, Kohler has all you need. From recreational amenities to lodging, fine dining, and of course, unique golf courses designed by the legendary Pete Dye.
And after a full day of golf, check out the Horse and Plow for some delicious American classics and premium European beer.
Sand Valley
Sand Valley's 36-hole and 17 holes short golf trip destination resort was built by star golf developer Michael Keiser. After his success with Brandon Dunes, Michael Kieser built this masterpiece using Coore & Crenshaw and David McLay Kidd, two of the designers of Brandon Dunes.
The Sand Valley offers conveniently close, cozy lodgings and delicious cuisine—try the cheese curds.
So enjoy a good game at Sand Valley. And you know, nothing matches a good game like a Merino Wool T-shirt.
Lawsonia
For a fun, memorable experience, book an amazing tee time at Lawsonia's Historic Links Course. The Links has 18 hole courses featuring deep bunkers, wide fairways, and superb putting greens.
Michigan
Michigan has some great golfing areas. With over 400 golf courses, including exceptional courses like Crystal Downs in Frankfurt, Oakland Hills in Bloomfield Hills, and Arcadia Bluffs, experience true golfing thrills.
Where to Play:
Arcadia Bluffs
180 feet above Lake Michigan, Arcadia Bluffs is possibly the most picturesque golf course in Michigan. This majestic layout has two courses sitting on 265 acres of windswept bluffs.
The South Course was opened in 2018, featuring architecture of the 1920s and 30s, which is no trees and all kinds of creativity.
There are beautiful lodgings, including the Nantucket-style Lodge and The Bluffs Lodge.
Forest Dunes
Forest Dunes lives up to its name. Located within the Huron National Forest, Forest dunes nestle on 1,300 acres of thickly wooded property.
It features Tom Doak's reversible golf course, the Loop, and Tom Weiskopf's definitive layout. The Loop is one of the two reversible 18-hole courses available in the US. A recently opened two-acre Hilltop putting course and a par 3 course adds to Forest Dunes being in the spotlight for best golf trip destination in the US.
Boyne Golf Resorts
Play 180 holes in this sprawling Golf resort. This self-acclaimed Golf Capital of America includes 10 designs created by architectural gurus such as Arthur Hills, Robert Trent Jones Jr., and Donald Ross.
Boyne Golf offers three full-service resorts, 300 plus rooms, multiple restaurants, pools, and spas. And if you'd like to take a break from golf, Boyne Golf offers winter skiing or summer prime fishing.
Florida
Famous for golf and fun golfing, Florida is your go-to place for an authentic golf-centered holiday. You can expect to find nothing less in a place that's home to the World Golf Hall of Fame, which celebrates prime golfers. There's simply no end to golf and fun in Florida.
With over 1,300 golf courses all over the state, you don't need a wild guess to know that Florida is one of the best golf trip destinations in the US.
Plus, you can lodge in any of the sweet lodgings available, like St. Augustine hotels.
Where to Play:
Streamsong Resort
Streamsong Resort boasts three courses uniquely designed by some of the world's top architects. The three courses: Streamsong Red, Streamsong Blue, and Streamsong black, have all received national rankings. And each unique course offers different experiences.
And with convenient lodgings, you can have a delightful stay while enjoying a good play. You can also try your hands on some bad fishing or archery in between.
Sawgrass Marriott Golf Resort & Spa
Sawgrass Resort has five restaurants, a 20,000 square foot spa, a pool, and a 77,000 square foot clubhouse you can't afford to miss. And most importantly, the popular Island green par-3 17th course.
Golf trip planning tips
Have a clear destination in view depending on the type of golfing experience you want.
Have a budget; we all know that golf is not a cheap game. You must include lodging, transportation, tee times, and cost for other activities like fishing, skiing, excursions, etc.
Factor in the length of the trip. Do you intend to hit all the holes, or will you be satisfied to come back and plan for another? A longer trip means more money and bigger luggage.
Plan for the number of people going with you. Is it a family trip or for golf buddies alone? Some resorts have better packages for bigger groups, so the more, the merrier—if you can afford it.
So have a fun time diving into the endless possibilities of golf. And don't forget to check out these articles for more on traveling.
The 5 Best Travel Pillows For International Flights, Sleep and Wake Up Refreshed.