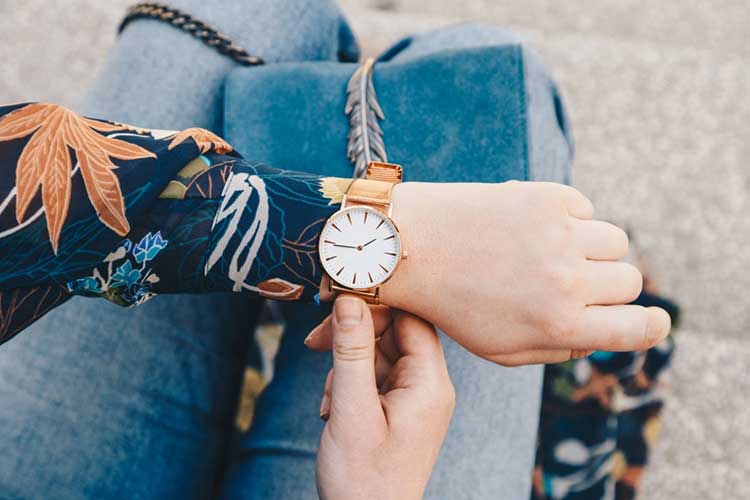 Whatever your age, or class, women's watches are classic for accessorizing. Not only are they practical, enabling her to tell the time at every moment, but they also make great gifts. With the right timepiece you give her as a gift you will be adding character and style to every outfit she wears.
However, with the several styles and designs of watches available on the market, it's normal to wonder, "How do you choose a watch that suits you female? " It all depends on the personal style of the lady in question. Other factors that can influence the choice of watch include the outfit, skin tone, and event. So, there's no definite answer to this question.
Still, if you're a watch enthusiast, there are a few types of watches you should have in your collection. And fortunately, this article is here to list the 5 best watches in style for women you can shop for. We'll also tell you how to choose the right watch that suits her, as well as what outfits she can wear with them. So, make sure to stick around to the end!
Whenever you make a purchase through links on this page we make a small commission from our affiliate partners. Learn more
Best Types of Watches in Style for Women
Without further ado, here are the 5 best types of watches in style for women. Every lady should have at least one of each to ensure you have the right kind for every occasion.
#1. Smart Watches
From smartphones to smart TVs and even smart glasses, we all love using a little tech here and there. Watches are no exception. Smartwatches are definitely a must-have for every lady.
These types of watches are so popular because they serve various functions other than time-telling and fashion. Most of them come with built-in sensors that help you keep track of your health and motivate you to keep fit.
With a smartwatch, you can monitor your heart rate and keep track of the number of steps you take in a day. Some even come with a menstrual cycle tracker! All in all, these types of watches can help you improve the quality of your life.
Smartwatches these days also come with various apps, as smartphones do. They enable you to check your messages and emails with a swipe of your finger.
And just in case you're wondering if they're as stylish as they are functional, the answer is yes! Smartwatches no longer come in sporty, rubber, clunky styles with rectangular faces. Instead, several designers have created smartwatches that combine functionality and style.
#2. Luxury Watch
From the name, you can tell that this is one style of watch that would make you stand out in the crowd. Simply put, this type of watch is a piece of art and comes at a premium price. With its outstanding craftsmanship, quality, and design, the luxury watch is a classic that never goes out of style.
They're typically made with precious metals and other high-end materials. Beyond the design, many luxury watches also provide functionality.
These timepieces are perfect when you're going for an elegant, classy, and refined look. Just pair it with a beautiful dinner gown, and you'll be the diamond of the occasion.
#3. Dress Watches
Few things say "corporate boss lady" like a beautiful dress watch. This classic type of timepiece is a must-have for the modern professional woman. Perfect for formal office wear, dress watches typically come with a simple dial and leather straps.
Often minimalistic, it's typically crafted with precious metals like gold and platinum. While they're not as flashy as luxury watches, they still exude style and class with a touch of professionalism. In this article, we answer the frequently asked question, "Can I Wear A Dress Watch To Work?"
#4. Boyfriend Watches
The boyfriend watch trend has been a thing in the fashion industry even before the 90s. From boyfriend jeans to boyfriend jackets, masculinized ladieswear is a trend train many ladies love.
As such, it's no surprise that boyfriend watches are also popular these days. These types of watches are the perfect blend of the masculine and feminine. A female timepiece, the boyfriend watch, has male watch features such as chunky bands, electronic gadgets, etc.
It balances these masculine features by adding some feminine accents like diamonds, pastel-colored faces, colored bands, etc. So, if you're in the market for a watch that's neither too masculine nor too feminine, this type of watch is your go-to.
#5. Bracelet Watches
Love bracelets and watches and not sure which to go with? Here are bracelet watches to the rescue! A great combination of style and functionality, bracelet watches typically come with interlinking metal pieces rather than the generic leather strap.
They may also have bangles and charms attached, giving your wrist a chic, stylish look.
Which Hand Do Females Wear Watches?
Generally, according to social rules, ladies are supposed to wear watches on the left wrist. However, with changing times, rules of etiquette are quickly being left in the dust. Now, it's up to you to decide what wrist you want to wear your watch on.
Still, you should know why wearing a watch on the left wrist is traditionally acceptable. You'd notice that many wristwatches have their crowns or buttons on the right side of the case.
Such buttons or crowns enable you to change the time and other watch settings. The idea is that you should be able to access this crown without taking the watch off.
And since most people are right-handed, it made more sense to wear the watch on the left hand, making it easier to wind it with the right hand.
Other than this, wearing your watch on your non-dominant hand also helps prevent the risk of damage to the watch since you don't use that hand as much. It also allows you the ability to check the time while you're busy working with your dominant hand.
In the end, it's all a question of your comfort and preference.
How to Choose the Most Popular Women Watch?
Even after knowing the best women's watches in style, it can still be difficult to choose a watch that best suits you. To help you with that, we've put together a few tips that can help make the decision easier. Consider the following features when trying to make a choice.
#1. The Movement
Generally, watches come in one of two movements – mechanical or quartz. Watches that fall under the mechanical category are also one of two types – manual or automatic.
Knowing the kind of movement a watch has is crucial as that is literally what makes the watch tick. As the watch's engine, the movement is the powerhouse of a watch, ensuring that it functions properly. A faulty movement means an inaccurate time.
Looking at the second hand, you can tell if a watch has a quartz or mechanical movement. The second hand of a mechanical watch moves smoothly and linearly. On the other hand, the second hand of a quartz watch moves sharply every second, with a tick-tick motion.
In current times, most luxury watch designers go for the mechanical movement. This is due to its high level of quality and craftsmanship. Another benefit of the mechanical movement is the absence of batteries. Since it doesn't make use of batteries, having to replace the battery will never be an issue. It's also quite durable when maintained properly.
Still, mechanical watches are not without their drawbacks. First, they typically require more maintenance and tend to be less accurate than quartz watches. For manual movement watches, you'll need to wind them daily. And if it's an automatic watch, you'll have to use a watch winder or wear it regularly.
In contrast, quartz watches tend to be cheaper and more accurate than mechanical watches. They're also powered by batteries so you never have to wind them. However, that means that you'll need to replace the battery every two to three years.
#2. Your Skin Tone
When deciding on a watch to wear, you want one that matches your skin tone. Generally, your skin tone would fall under one of three categories – cool, warm, or neutral.
You likely have a cool skin tone if your complexion is pink or red and if you have bluish veins on the insides of your arms.
On the other hand, if you have a yellowish or golden-apricot complexion with green veins, then you have a warm skin tone. But if your skin is a blend of both skin tones or is somewhere in between, then yours is neutral.
Generally, most watches, whatever the color, will look good on people with neutral skin tones. However, those with warm skin tones look great in earthy colors like gold, yellow, red, brown, and orange.
Finally, colors like silver, white, gold, green, purple, and blue are best suited watches for women with cool skin tones.
Also find out how to wear a black watch to match your clothes before making a decision.
#3. Your Outfit
The right watch will compliment your outfit and can turn a good look into a great one. So, what watch goes with what outfit?
Like with most accessories, minimalist, simple watches are most appropriate for the office. Dress watches are typically the way to go. A simple dial and a leather strap will also match well with a casual outfit.
In contrast, you want to go for a bold design watch if you're going to a fancy event. A stylish jewel watch with just enough bling is exactly right for a luxurious evening dress.
Related Read: Discover the Top Watch Colors for Men
What Size Of Watch Looks Best On Women?
In general, the size of the watch that looks best is one that fits your wrist perfectly. A watch with a dial that's too big will not only look awkward on your wrist, but it'll also weigh your hand down with its heaviness.
The perfect fit would depend on the size of your wrist. You can measure your wrist size by wrapping a measuring tape or a folding ruler around your wrist. Make sure it's neither too tight or too loose.
The ideal watch case size for ladies with average-sized wrists is between 28mm and 36mm. However, women with petite wrists typically prefer watches with a case size of 21mm to 28mm.
In the end, it's also a matter of preference. Some ladies like an oversized watch case look, so they could go for a case size that's above the norm. All that matters is that you're comfortable when you wear the watch.
How To Wear A Watch With Bracelet
Wearing a watch with a bracelet or three isn't a new trend. Women have been doing it since time immemorial. However, it's important to know the right way to combine these two accessories so it doesn't look gaudy.
One general rule to keep in mind is to never combine bracelets with watches that have a silicone or leather strap. Whatever watch you intend to wear with bracelets should have a chain strap. Just keep in mind that this look is better suited for casual outfits, not corporate ones.
Another crucial rule to note is that you shouldn't be wearing your watch with multiple bracelets or bangles. Stick to wearing just one or two to maintain class and elegance. Finally, the bracelets should always be behind the watch.
Final Thoughts
A watch is a great accessory for every woman. Like your other accessories and clothes, a watch can be a reflection of your style and personality. However, unlike most other accessories, a watch also serves a purpose (telling time).
So, in choosing a type of watch, you need to take into account not only your preferences but also your needs and lifestyle. You should also consider your budget before making any decision.
Still on the subject of watches, we're pretty sure you'll find these articles enlightening as well.
5 Watches That Instantly Make You Look Attractive Wearing
These Are the Best Skeleton Automatic Watches for Men to Buy Now