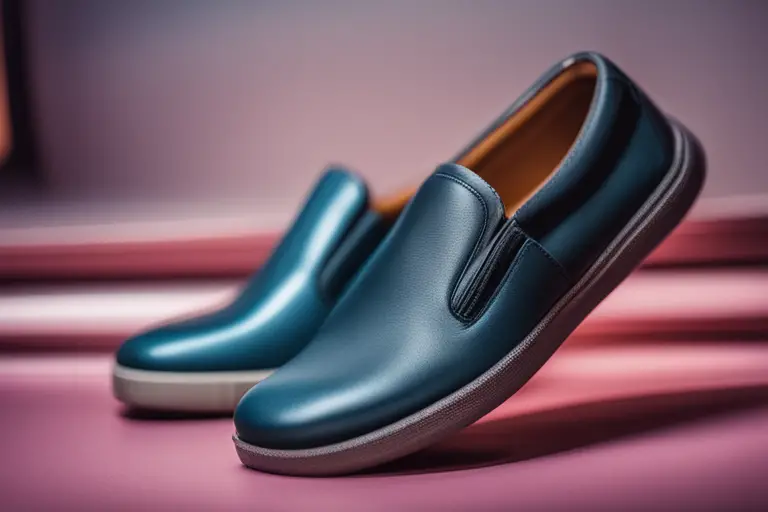 Slip-on shoes are popular among the most preferred casual shoes for men. However, there are certain people who are still looking for reasons to wear slip-on shoes. If you are one of them, this is the article for you. Here, we have curated a list of the reasons for owning a pair of slip-on shoes. In addition, you can also find some valuable information including how to wear slip-on shoes.
If this sounds interesting to you, please continue reading!
What is a Slip-On Shoes?
Slip-on shoes are shoes without laces or straps, making it easy for you to slide them onto your feet. Slip-on shoes are available in a variety of styles and shapes. This is why these shoes match the personal style and preferences of a vast number of people. The versatility of slip-on shoes depends on their material and design.
5 Reasons to Get Slip-On Shoes
Here are some of the most prominent reasons to get slip-on shoes:
Easy to Wear
Trendy and Stylish
Lightweight Construction
Unmatched Versatility
Comfort
1.     Easy to Wear
This is one of the key selling points of slip-on shoes. This feature allows you to instantly wear these shoes without struggling with zips, laces, or straps. What you need to do is to slide your feet in and you are set to go.
2.     Trendy and Stylish
Slip-on shoes are popular among people due to their trendy designs and stylish looks. These shoes are suitable for a vast range of occasions. Besides, they look great with almost any kind of outfit. So, you won't have to compromise the aesthetics while enjoying the comfort of your favorite slip-on shoes.
3.     Lightweight Construction
Being lightweight, slip-on shoes give a nice feeling when moving around. Mostly, the materials used are lightweight, allowing you to wear these shoes for long hours. In addition, slip-on shoes offer a perfect blend of functionality and convenience.
4.     Unmatched Versatility
Slip-on shoes are also popular for their versatility. You can easily find slip-on shoes that meet your style preferences. For instance, you can come across something that works for you, whether ballet flats or walking shoes. Furthermore, slip-on shoes look great with nearly all types of outfits, including jeans.
5.     Comfort
Buying slip-on shoes saves you from the hassle of carrying an additional pair of comfortable shoes. This is so, as slip-on shoes not only look stunning but they are comfortable too. The provision of cushioned insole prevents your feet from issues like sore feet or bristles.
How Slip-On Shoes Should Fit
Slip-on shoes are designed to offer a comfortable fit. However, when buying slip-ons, make sure there is enough room in the front. This ensures the breathability of the toes. The space at the toe should be 3/8″ or 1/2″. Your slip-ons should snug comfortably around the ball and arch of your foot (neither too tight nor too loose). Also, check the depth of your Slip-on shoes. It should be deep enough to fit your toes.
Should You Wear Socks with Slip-On Shoes
To put it simply, it really depends on your choice. If you like wearing socks with slip-on shoes, just go ahead. Having said that, it isn't essential to wear socks with slip-on shoes. Also, you can go with low socks, which help with absorbing moisture. These socks aren't visible, as they stay below the ankle.
On the other hand, wearing socks could protect your feet from common problems like sweating, chafing, and blisters. Besides, socks can offer additional comfort if you wear slip-on shoes for long periods. Wearing slip-on without socks can make them look dirty after a couple of uses.
Especially, when you have a pair of soft-colored slip-on shoes, these are more likely to be stained. So, to keep your slip-on shoes in immaculate condition, you can try wearing them with socks. In addition, socks offer a cozy feel to your feet during harsh winter.
How to Wear Slip-On Shoes
Talking about versatility and freedom, slip-ons can even look amazing even with swimming shorts or trousers. This renders them not only stylish but practical too. If you aren't sure how to wear slip-on shoes, we have something to share with you.
Below, you can find some popular ways to wear slip-ons.
Go for a Casual Outfit
If you are badly in need to wear your favorite slip-on shoes, a casual outfit can serve the purpose well for you. Slip-ons are available in a variety of designs, colors, and styles, giving you a perfect opportunity to wear them with a casual outfit.
Some guys believe that slip-ons are good to wear with suits. However, this isn't the case, as slip-ons also look great with a pair of rolled-up chinos (without socks). This tends to offer a trendy casual look for summer. Besides, you can wear slip-on shoes with jeans and a polo shirt or shorts and a T-shirt.
High-cuffed tan pants also look amazing with slip-on shoes. You can play with textures and colors to find something that is comfortable and looks amazing.
Casual Business Outfit
Slip-on shoes can also be worn with a casual business outfit. For this purpose, you can wear a button-up shirt and khaki pants with your slip-ons. In addition, you can also add a sports coat or a blazer to give a little formal touch to your outfit.
Slip-on with Formal Outfits
Slip-on shoes go well with a range of outfits. However, this usually depends on the style and material of your slip-ons. For instance, leather slip-on shoes look perfect with a formal outfit. You can wear brown or black leather slip-on shoes with your suit.
Wear Leather Accessories with your Slip-On Shoes
To add a chic look to your styling, you can pair your leather slip-ons with some leather accessories. However, don't overdo these accessories and only go with those that complement the design of your slip-ons. A few of the popular recommendations include leather jackets, belts, or bracelets.
Explore the Best Ways to Dress as a Man

5 Best Color Shirts to Wear with Blue Jeans for Men
5 Classic Color Polo to Wear with Jeans for Men
How to Wear a Green Dress Shirt for Men?
White VS Blue Dress Shirts – Which is Better?