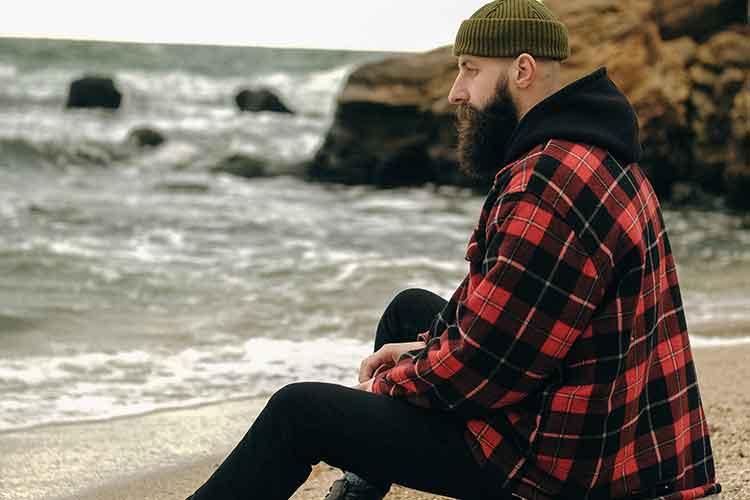 From Lumberjacks to everyday wear, flannels have come to stay in the fashion scene. It's hard not to see a guy without one because there hardly isn't anything you can't wear with it. Still, we believe there's more that can be done with a flannel shirt. You can take things up a notch without crossing boundaries.
So seeing as flannels are a must-have staple, just how many flannel shirts should a man own? At least four flannel shirts should be sitting comfortably in your wardrobe—one plain and three plaids. Stick with colors like red, black, or blue for the plaid and an earth tone for the plain flannel.
With this article on how to wear a men's flannel shirt, get ready to see flannel shirts in a whole new light. From casual to smart casual and even business casual, we've got it all covered. And if you thought you couldn't wear flannel as formal attire, think again.
Can You Wear A Flannel As A Jacket?
One of the ways to wear a flannel shirt is as a jacket. This is one-way flannels are a versatile piece of clothing. Simply wear a tee shirt underneath and leave the button undone.
In colder weather, you can wear a warm turtle neck or light sweater underneath instead of a tee shirt.
For this look, the flannel shirt should be just a tad larger than your normal size since you'll be wearing something under. Also, you don't want to outgrow it too soon. You should also go for a flannel shirt with a thicker texture for more warmth.
Even though there are modern zippered flannels, stick to the classic button flannels. These go better with all kinds of undershirts, especially if you're wearing a sweater underneath. You should also go with check flannels as they look more casual than plain flannels.
Finally, when styling, keep it simple with a pair of deep blue jeans and lace-up boots.
What Is A Flannel Shirt?
Beyond plaids and tartan patterns, flannel shirts are what they are, thanks to the fabric they are made from.
At first, the term "flannel" applied to material made from carded wool. This means that the fibers are brushed and have both long and short fibers. This, in turn, results in the soft texture flannels are popular for.
The opposite is combed fabrics which are made from tightly woven fibers, which makes them smoother and more formal.
Traditionally flannel shirts were made with wool; however, these days, you can get them in other fabrics. These include cotton and polyester, although they are still carded to retain the soft flannel feel.
Originally, flannels were worn by farmers and workers because they were affordable and comfortable. However, in modern times it's common to see them worn by almost every guy. This is no surprise as flannels are still as comfy as ever and stylish too.
A flannel shirt's style is found in its simple, edgy, and cool look. It's laid back yet smart and an effortless look to pull off. You can choose to dress it up or casually, and you'll still rock either way.
Flannel shirts come in plain or check fashion. Most times, the check style has a more casual appeal, while plain is more smart casual.  However, depending on how you style it, you can get away with a dashing smart casual getup with a checked flannel. If you're going for a check flannel, keep the rest of your outfit simple since the checks are already bold.
Flannel shirts also feature details like button-down collars and breast pockets, sometimes with flap and sometimes without. You can get them in different colors, especially classic colors like red, grey, black, brown, green, and white. These colors are available either in check or plain styles.
Flannel shirts can be worn in many different settings. We're talking about dinner dates, outings, the office, casual walks or errands, and even chilling at home. The reason isn't hard to see. They're simple, comfortable, and can be upgraded to a whole new level.
However, while they may be versatile, watch how you wear them for business casual settings. A lot of people also disagree with flannel shirts as formal wear, but with a little help and some tricks, we believe you can pull it off. So If you want to be on the safe side, keep it casual or smart casual.
How Do You Style A Man's Flannel Shirt?
Flannel shirts can be worn for casual and smart casual occasions. And if you want to crank it up even higher, dare to wear it for a business casual and, dare we say, formal event. Let's jump right in
For A Casual Look.
A flannel shirt is a great casual staple you can wear any day, anytime, and in whatever season.
It is versatile, super easy to style, and any guy can pull it off. Still, something so easy can still go perfectly wrong just by a slight fashion faux pas. Here's where we can help.
Tee shirts:
Pairing a flannel with a tee shirt is the definition of relaxed and casual. You can roll the sleeves to look even more relaxed and more laid back. And when you're feeling a bit hot, you can take off the shirt and tie it around your waist.
Since flannel shirts already feature bold patterns and colors, it's best to wear neutral-colored tees. So a white, black, grey, or even a dark navy tee should work great.
With your tee shirt on, you can leave your flannel shirt unbuttoned. It's a fresh and fabulous look for summer.
Hoodie
You can wear a hoodie underneath a flannel shirt. Wear a hoodie that fits underneath a slightly oversized flannel to nail this. This prevents you from looking bulky. Also, please make sure to match your hoodie with your shirt as much as possible.
For example, a grey hoodie will go well with a black, blue, or white checked flannel.
Jeans:
Flannel shirts go well with black jeans or any color, normal or distressed jeans. If you're wearing a red flannel shirt, go for a darker shade of red and pair with dark jeans. Then layer underneath with a black tee shirt. The result will be a rocky, edgy look.
Shoes:
Nothing complements a casual flannel look like a pair of lace-up boots, sneakers, or Chukka boots.
For A Smart Casual Look
You can spice up a flannel shirt for a dapper smart-casual ensemble. For this look, you'll need:
Dress pants
A nice way to dress up flannel shirts is with a pair of dress pants and loafers. For this look, you have to tuck in the shirt and use a belt.
You can even take it up a notch by layering it with a V-neck sweater. And if you think you're done, try adding a knit tie. This look is professional, dapper, and has this relaxed vibe to it. As a pro tip, make sure the colors of the tie, sweater, and shirt match.
A flannel shirt with navy blue colors, then paired with a navy blue sweater and tie, will look great.
Jacket
A denim jacket with a flannel shirt over a pair of grey/blue chinos is super cool. You can also pair your flannel shirt with a bomber jacket or a leather jacket. Leather jackets look super cool on flannels.
Shoes
Shoes like brogues, loafers, leather boots and chukkas add a nice smart casual look to your flannel shirt.
Jeans, Chinos, Cords
You can opt for jeans, chinos, or corduroys but stick with darker shades or tan. Tuck in your flannel shirt and use a belt.
It's hard to get it wrong with Chinos. They add smartness to your flannel yet retain a casual flair to your outfit. For example, you can pair a black plaid flannel with grey chinos. But don't stop there; throw on a grey beanie hat, grey low-top sneakers, and a grey hoodie for an effortlessly cool style.
For a chic look, pair a black pair of chinos with a black biker jacket. Of course, a black plaid flannel caught in this awesome mix and for your feet, a pair of white athletic shoes or canvas.
And if you want to look different in your flannel, go for a violet flannel shirt paired with white chinos. Then layer your shirt with a navy overcoat and add a navy wool hat for a dash of sophistication. Finish this look off with a pair of brown suede boots.
Turtle neck
Instead of a tee-shirt, you can pair your flannel shirt with a turtleneck. It's chic and smart casual.
Plain flannel
Wearing a plain flannel shirt is sharp and smart. You can even change things up a bit by pairing it with a pair of plaid pants and brown sneakers. You'll look really stylish and put together.
We've looked at a few ways to style a flannel shirt; now, let's look at the don'ts of styling a flannel shirt:
Don't wear it with sweatpants or gym pants, except you're going for a sloppy look.
Don't wear flannel in a formal setting. However, there are flannel dress shirts that just might work.
Flannel dress shirts are made the way flannels are made originally, but with a simple and classy design, so they look almost like regular dress shirts.
For a business casual look, go with earth tones when pairing your flannel shirt. For example, a blue flannel shirt (small checks) paired with pleated charcoal grey trousers and a dark brown suit.
For formal attire, you can opt for a plain flannel with your suit. But if you want to be more daring, try something with very small checks. You can pair a charcoal-colored checked shirt with a black suit. Then for your feet, suede loafers work nicely.
Don't match a checked flannel with a patterned or plaid pair of trousers. Keep your bottoms instead, simple and plain.
Is Flannel Still In Style?
Flannel shirts are timeless. They are versatile, super comfortable, and can be worn for all seasons.
Should A Flannel Shirt Be Tucked In?
Generally, flannels were not made to be tucked in since they have a slightly curved hem.
However, for a smart-casual get-up, it's better to tuck it in. And this doesn't violate the flannel shirt whatsoever. It's rather very nice. For ways to keep your shirts tucked in read this helpful article we have put together for you here
How Should A Flannel Shirt Fit?
How a flannel should fit depends on the look you're going for and what you plan to pair it with. If you're going for a smart-casual look that will likely involve a tucked-in flannel shirt, then go for a flawless fit. By flawless, it should fit like a regular dress shirt.
On the other hand, if you plan to go for a casual look, you can go for a more relaxed fit. Even more when you plan to wear it in the cold season and pair it with a hoodie underneath.
That said, whatever the look, on different parts of your body, this is how a flannel should fit:
The shoulder seam should sit at the point it connects to your arm. If it is below, then it's too big, and if it's above, then it's too small.
The space between your collar and neck should be able to fit in one finger and button easily.
The length of your shirt should be something around the middle of the fly of your pants. This is perfect for an untucked shirt look. But if you're going for a tucked look, then the shirt can hit the bottom of your pants fly and no more.
To test for the length, raise your hands and check if your belly shows. If it does, then it's too short.
Are Flannels Work Appropriate?
Flannel shirts can be work appropriate, but to achieve this, there are some things to look out for. Now, this isn't the buying guide for a regular flannel shirt. Instead, this is a buying guide if you want to look gentlemanly and classy in your flannel shirt:
Go for flannel shirts made from cotton or wool. This is because synthetic fibers do not have the softness of wool or cotton. And so the original idea of the "flannel" will be lost on you.
Since you'll be wearing your flannel tucked in, go for one long enough to be tucked in. And your flannel shirt should fit like a regular dress shirt.
For patterns, go for something with small to medium check or tartan patterns. Stripes or patchworks are not classy and so should be avoided. A solid color is also a clean suave style.
When it comes to colors, in this case, more is better. What we mean is it's better to go for a flannel shirt with three or more similar colors than one with two colors.
This is because two-colored flannel shirts usually feature high contrast like black and white or purple and green or navy blue and yellow. So go for mutual hues instead.
Avoid flannel shorts with details that are too casual, like flap pockets and snap buttons.
You can pair your flannel with a sports jacket or a knit sweater. For your bottoms, jeans for the more comfortable, slacks for the more conservative, and cords or chinos for the in-between.
For your feet, loafers, especially suede ones, Chukka boots, Chelsea boots, or leather boots.
Is Flannel Good For Winter?
Flannel shirts are a great base layer for winter wear. You can wear them underneath a fleece jacket or quilted vest.
Have you heard of the double flannel? This means you can wear two flannel shirts at the same time, and it's such a great look.
You can even wear the flannel shirt as an outer or mid-layer. Paired with a hoodie, it makes great outerwear. Then you can pair it with a tee-shirt underneath and a sherpa-lined Jacket over the flannel, making it warm middle wear. Check out the post here on the best men's denim sherpa-lined jackets. And that's just about it for styling flannel shirts. Now you can style your flannel in different ways to achieve different dashing looks.
For more style tips, check these out:
Carhartt Chore Coat – Is It Worth The Money?