10 Best Selling Jeans Brands For Men That Will Never Go Out of Style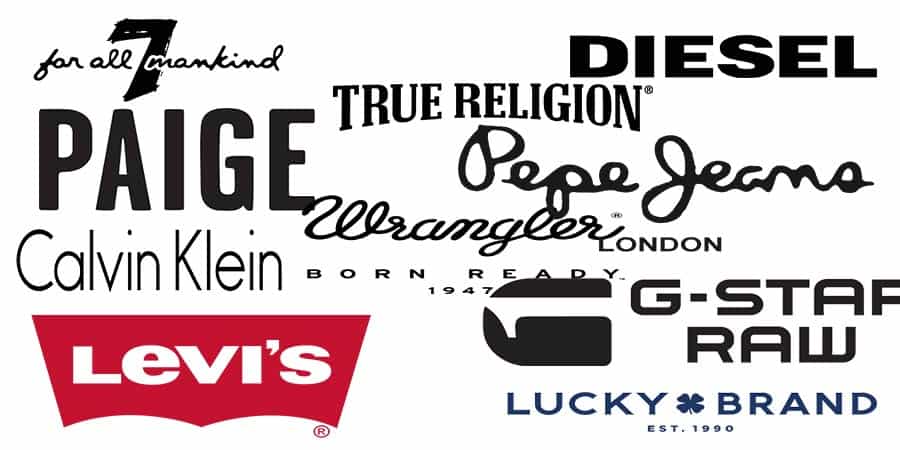 Want to know more about the best selling jeans brands?
Have you ever wondered what life would be like without a pair of trusty old jeans?
I'm doubly sure you don't want to think of such horror. Fortunately this list of best selling jeans brands for men will ensure you don't have to encounter such terrifying existence.
Want to know more about the best selling jeans brands?
Have you ever wondered what life would be like without a pair of trusty old jeans?
I'm doubly sure you don't want to think of such horror. Fortunately this list of best selling jeans brands for men will ensure you don't have to encounter such terrifying existence.
But before we dive in to the best men's jeans brands, allow me to point out some of the best jeans for men you can shop for right now. These jeans are not only stylish and hot right now, but they are all compliments to a foundational wardrobe.
Best Jeans For Men You'll Want to Wear on Repeat in 2020
Calvin Klein Men's Straight Fit Jeans
Calvin Klein is a global lifestyle brand and known for exceptionally well-made clothing. More generous than a skinny fit jean, this Straight Fit Jeans sits on the waist and gives you enough room to move freely. Built on the foundations of the classic denim, you just can't go wrong wearing one of these. Check Price on Amazon
ARIAT Men's Flame Resistant M3 Loose Fit Jean

Known for innovation performance footwear, Ariat is one of the best options out there for tough jeans. Thick and heavy for work, play or cold, the Ariat M3 Flame Resistant jeans is for the active guy who is always on the move. Its tailored with a loose fit design, boot cut leg opening and low-rise waist. Durable and tuff, these jeans meet the need of your every man's active lifestyle. What more could one ask for. Check Price on Amazon
LEE Men's Modern Series Extreme Motion Straight Fit Tapered Leg Jean
Straight fit and tapered just right for the modern man. Created with a blend of Cotton, 20% Polyester, 8% Rayon, 3% Spandex, Lee has made a jeans that naturally feels comfortable and look good on you wearing it. If you are not worried about this denims stretchy feel then this could be the best choice. Luck for you, it's available in a variety of washes and finishes. Check Price on Amazon
Calvin Klein Men's Athletic Taper Fit Jeans
One of the best jeans for men that not only needs comfort but also wants to look stylish. This Calvin Klein jeans is a representative of the athletic trend. Expect to get that relaxed shaping through the seat and thigh. If you don't need an athletic jeans to be sticking to you like glue, but still what to have that comfort and style. Then this here jean could be your best investment of the year. Check Price on Amazon
Lucky Brand Men's 110 Modern Skinny Jean
For those who like the Lucky Brand 121 but want something less stretchy this Lucky Brand 110 skinny jean is for you. Made with slim guys in mind, the cut of these pants fits close to the body for that lean look in any casual situation. Customers that bought these jeans said that "it fits and looks great" and it looks exactly like what they saw in the picture. Check Price on Amazon
Volcom Men's Vorta Slim Fit Stretch Denim Jean
Volcom has a long heritage of producing clothing for the young at heart since the 90s. This Vorta slim fit stretch denim pants is one of their most comfortable jeans to wear. Made for guys with slim legs it features a dual belt loop for small and large belts. Available in every color you can imagine. Check Price on Amazon
True Religion Men's Ricky Straight Leg Jean
True Religion distinguished itself from the pack by not only making perfectly cut jeans but also designing jeans to suit all ages. Whether it be workdays or weekends, these Ricky Straight Leg jeans are perfect for everyday use. If you need a quick and easy outfit to go out in, match this up with a casual shirt or jacket and you're well set for the occasion. Check Price on Amazon
Thanks to technology nowadays, jeans lovers are spoiled for choice. But I know if I ask you to give the different names of jean style, there is no way you can achieve that feat due to how numerous they are. But if you feel otherwise, let me know in the comment section.
Therefore, whether you want your jeans made with eco-friendly fabrics, or you want it to look worn and washed out, or maybe you just want a pair of jeans that provides a comfortable stretch, you are certain to find one that can totally suit your lifestyle.
With that background information, let's have a look at 11 of the best-selling men's jeans brands you should definitely keep on your radar.
Best Jean Brands for Men
1. Diesel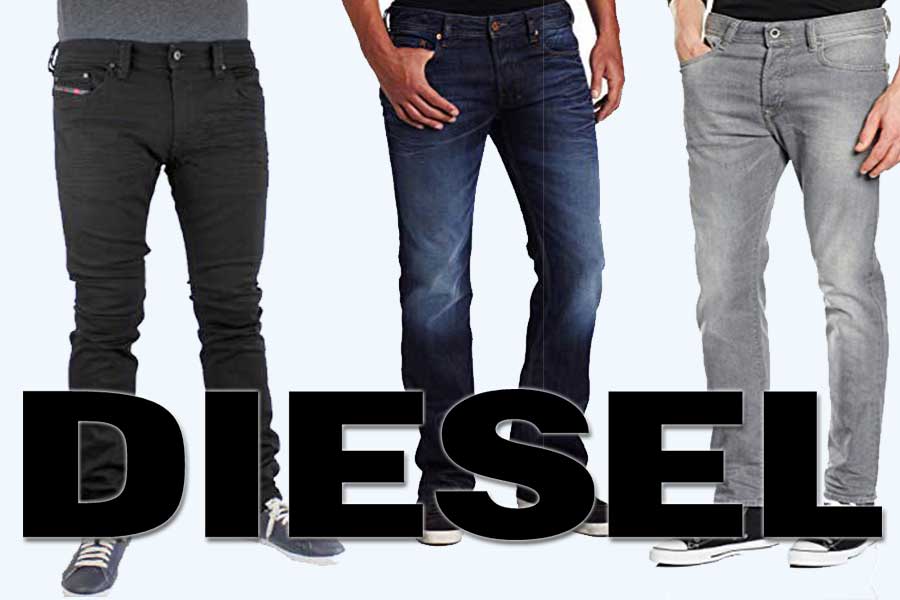 If you don't mind shelling money to get that best fitting jeans, then Diesel should obviously be your thing. Diesel stocks most of the trendiest jeans you can find today in the denim industry. As if that is not enough, the sturdiness and comfort of its jeans are some of the reasons why it is one of the most popular men's jeans and trend-setters.
You can easily find Diesel jeans retailing for about $150-$350. Sounds expensive right? Not really. When you mention luxury jeans brands, Diesel is probably one of the cheapest. But it only becomes expensive when it is compared to other regular jean brands.
But hey, don't let the price scare you away. Since jeans will always be in fashion, splurging on one of these bad boys means you have got an outfit that can last you a lifetime. Can someone say winning?
2. Levi's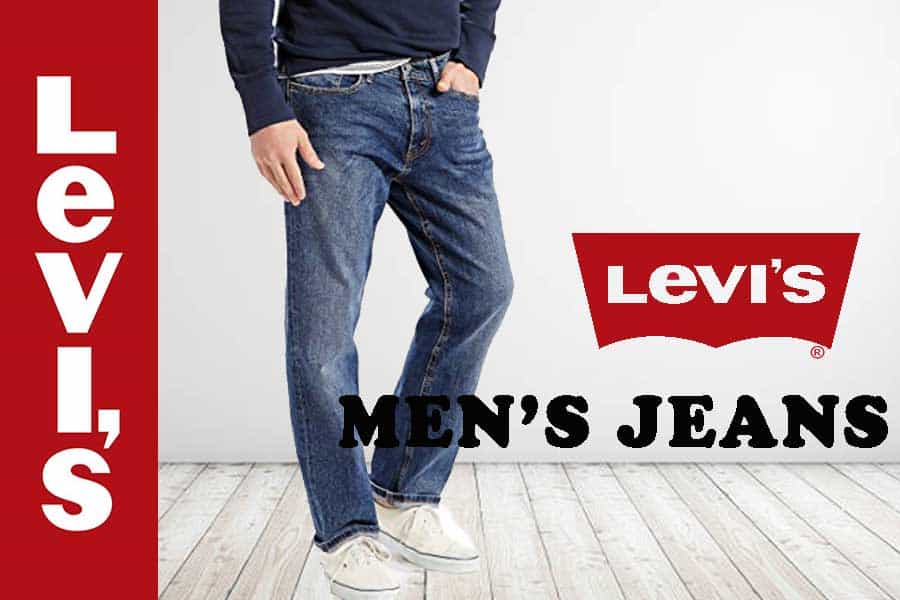 Any best quality jeans list you come across online that does not include Levi's is fake news. Period. I mean, Levi's jeans are the godfather of jeans. Every other best men's jeans in circulation right now, including the one you are presently wearing, are modeled after them. Talk about street cred!
Why is Levi's so beloved by almost everyone in the denim community? Well for one, most people go for Levi's jeans because of their timeless cuts and heritage status. In addition, certain of its jeans cuts like 511 and 501 have been immortalized as classics that will never go out of style.
One thing I love about the Levi's brand is that it has gone through both the best and worst of time, yet it is still waxing ever strong. And this is all thanks to the revival of the Levi's legacy by some Japanese denim manufacturers. If you are familiar with the Levi's Vintage clothing line, you should know it is one of the measures employed by Levi's to remain in the game.
Every true jeans connoisseur knows that Levi's jeans are not made for high fashion. Instead, its focus is on making premium denims that would thrive well in rustic and rugged environments. And from all indications, including customers' satisfaction, Levi's have not disappointed in that aspect.
So the next time you throw on your old pair of Levi's jeans to get your hands dirty, do take a picture. And if you are feeling up to it, post that picture on social media and hashtag it with #Levi's. You are certain to discover a tribe of rugged people just like you who swear solely by their Levi's.
3. Pepe Jeans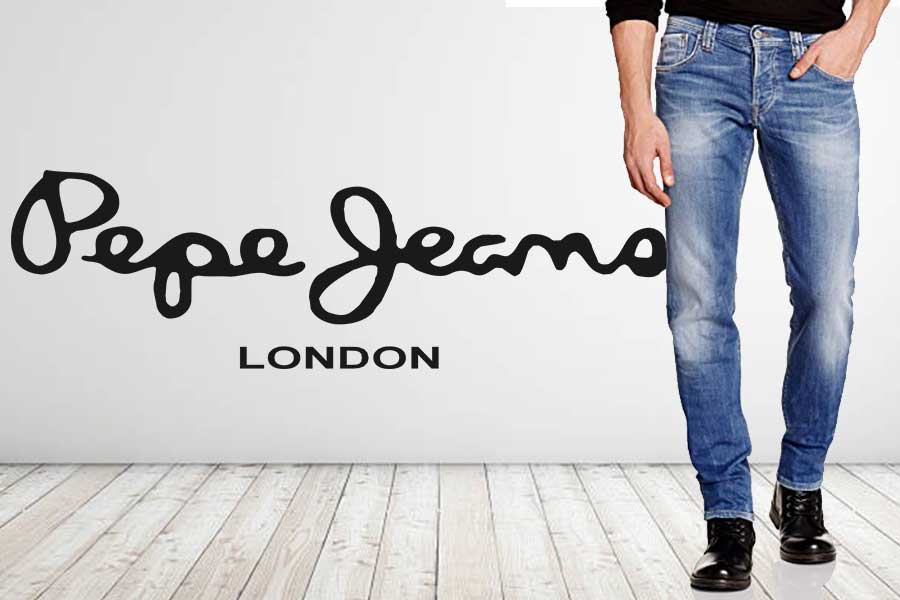 Before the internet gave us Pepe the frog, the jeans community had Pepe the casual denim jeans brand. Established in 1973, the Pepe jeans brand has grown from its humble beginnings in a tiny market stall on London's Portobello Road to a whooping US$500 million major European Jeans wear label that is available in more than 80 countries all over the world. Move over Drake, this is definitely the real started from the bottom now we here story.
All corny reference to pop culture aside, this success story is not a surprise for people familiar with Pepe jeans. The brand is known for using innovative cutting techniques as well as intricate hand finished details to give their product a sexy shape. Both the men and women's denim lines are dominated by these slim and straight cuts that most people find appealing.
All Pepe jeans come with specific washing techniques that ensure that your jeans never stretch out of shape. It also has amazing fitting and great quality denim which has resulted in the production of an array of styles and designs that makes them stand out from the crowd.
Thanks to the different tests Pepe jeans are subjected to during the process of manufacturing, lovers of the brand praise it for being snugly and fitting like a glove. So, judging from all these, is it any surprise then that Pepe jeans are worn by individuals from every age group? I don't think so.
Pepe Men's Jeans Styles
4. Paige Jeans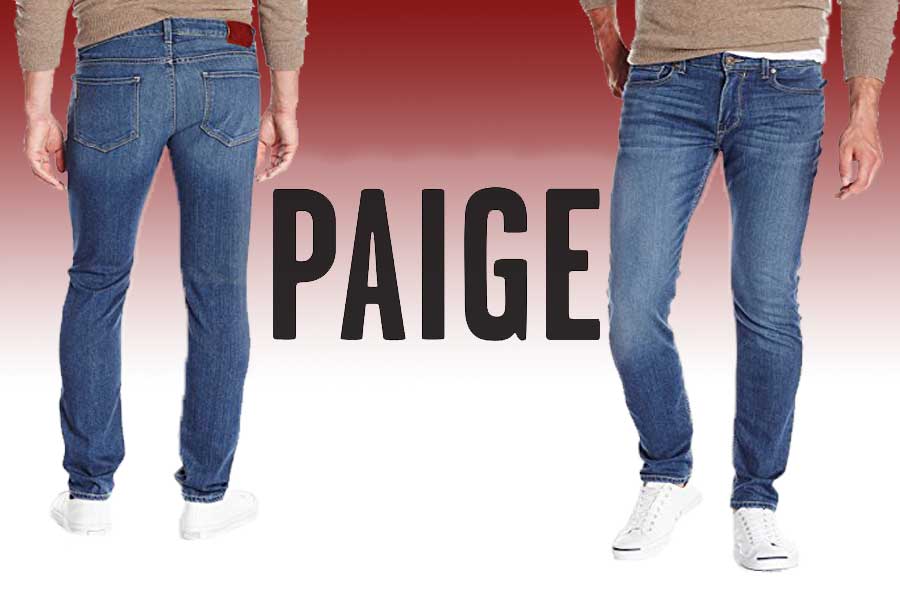 Next stop on our list of top jeans brands for men is Paige jeans founded by Paige Adams-Gellar, a former Miss California. With the introduction of Transcend, its fabric, Paige literally redefined the normal boring jeans standard of comfort, recovery, and luxury. How did that happen? Well, Transcend was the first fabric to combine technology and fashion to come up with the most comfortable jeans you'll get out there.
In other words, this fabric uses the latest performance fiber technology featuring a ground-breaking formula that provides luxurious and soft performance-centered denim that never stretches out. In simple English, without the nerd talk, what I mean is that when you get a pair of Paige jeans, you never have to worry about it losing its shape. In fact, it won't be out of place for me to say that Transcend has virtually no rival when it comes to innovation, comfort, and fit.
Furthermore, Transcend has a Pigment Dye collection that provides its luxurious denim in an assortment of rich vintage-washed colors. Its pigment dye process gives the color certain highs and lows thus giving its jeans that beloved lived-in-look that is all the rage in the fashion world right now. I must add here that this company is actually quite obsessed with coming up with live-in jeans that can be used from sun up to sun down.
From the descriptions above, you don't need a seer to tell you that Paige jeans are a hit with their audience. Their styles are perfect and it works like a charm for customers. With a Paige on your butt, you will definitely stand tall and confident in whatever you are wearing.
5. Wrangler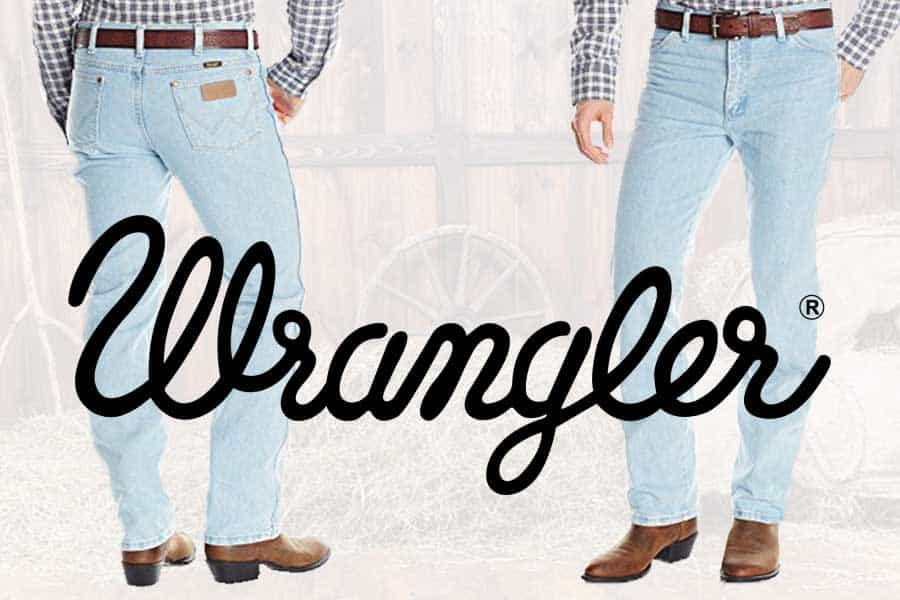 What comes to your mind when you hear the name Wrangler jeans? I bet you immediately thought of horses, saddles, and everything that has to do with the wild wild west. Well that is no coincidence because the Wrangler brand is truly an expression of western living. And this is to be expected because the jeans brand is made for people who adore western fashion but prefer it in a way that is a little more modern.
This denim manufacturer was founded by C. C. Hudson, a farm worker who wanted to start his own business, in the town of Greensboro which had a reputation for textiles as at that time. With a legacy of making authentic jeans that spans across more than 60 years, the Wrangler brand strives to incorporate high-end technology innovations to enhance performance, durability, and comfort.
Wrangler jeans which is renowned globally when it comes to casual apparel and Jeanswear, is comfortable, durable and all round impressive. Their heavyweight denim and amazing fit is one of the reasons why Wrangler has become a popular men's jeans brand. They're also very stylish whether in or out of the saddle. Customers of this denim manufacturer will tell you that there's nothing more amazing than being able to get comfortable and relax in an amazing pair of Wrangler jeans after the end of a grueling week.
You can also be singing the same tune if you want. Just get your own Wrangler, wear it whenever you want to unleash that inner cowboy of yours and giddy up.
6. True Religion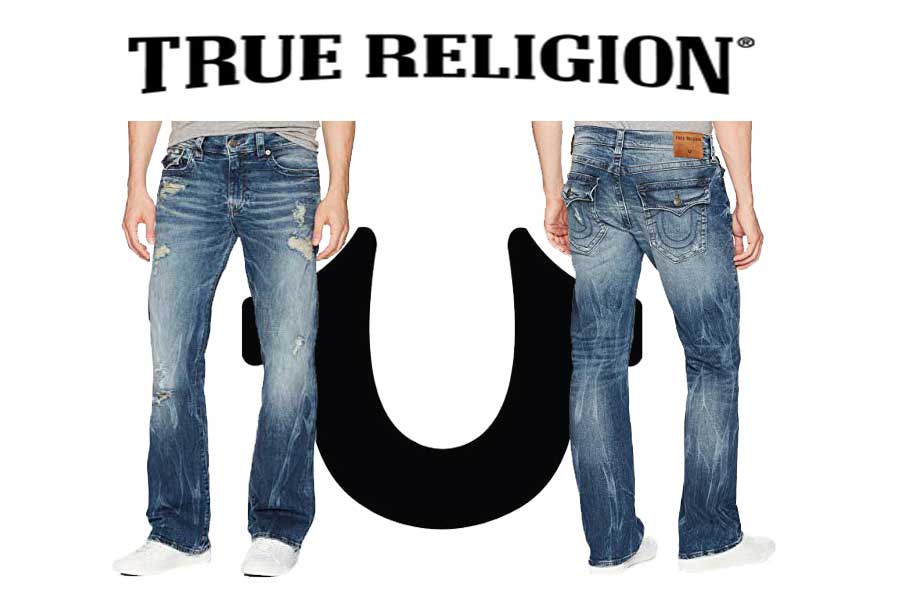 In 2002, the denim market was changed forever when True Religion introduced its Super T stitch, an amazing five-needle thread at its two-stitch-per-inch procedure, into the market. Fashionistas all over the world, including some of the biggest celebrities, wasted no time in forsaking all others and following this denim savior. The obsession with True Religion designs led to an increase in its demand. And from then on, efforts were made to make everything bigger, better and bolder than the rest.
And boy did they succeed! There is a reason why True Religion is the denim of choice for A-listers and people who love their luxury products. True Religion's original style jeans feature some of the most classic looks of the brand.
If you want casual attire, this premium denim has a relaxed fit that is right up your alley. How about attire for a formal shindig? True Religion also has you covered. Thanks to its slim fit and dark color, their dark originals such as the Zach Slim Jean can also be worn in a much more formal setting.
Whatever the occasion, True Religion's wide range of style have you covered. But don't simply take my word for it. Go get a pair for yourself and I guarantee that you will become a fanatical believer in no time.
7. Calvin Klein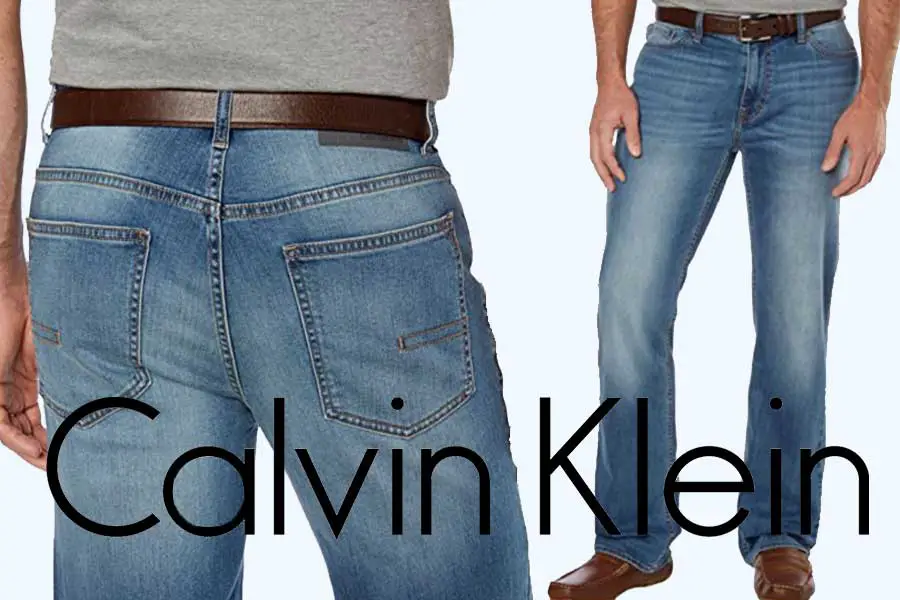 Founded by Calvin Klein and Barry Schwartz his business partner in 1968.
Do I really need to say anything more about this all-American jeans brand that you don't already know about? Anyway since this is a profile of the top jeans brands for men, let's assume you are just hearing about this brand for the first time. When it comes to iconic jeans, look no farther than Calvin Klein.
Ever since its debut in 1968, this global lifestyle brand has gone on to thrill its audience with its numerous jeans styles ranging from tapered jeans, to slim fit jeans, down to jean shorts, straight leg jeans and lots more. Of course, this is keeping in line with the brand's desire to inspire and thrill its audience while at the same time using provocative imagery and remarkable designs to ignite the senses. Whew! That is one vision I can surely get behind.
The Calvin Klein brand founded by Calvin Klein and Barry Schwartz portrays bold and productive ideals as well as a seductive look that is more aesthetic and minimal. With close to 50 years of experience under its belt, Calvin Klein has served as a cultural catalyst all around the world by sparking ideas, creating unforeseen realities, and embracing the tension.
Most fashionistas are also attracted to its fashion-forward washes and innovation. The brand which was started in Los Angeles, California, concentrated on making L.A. the west coast staple's fashion authority. Word on the street points to the fact that they indeed succeeded.
8. 7 For All Mankind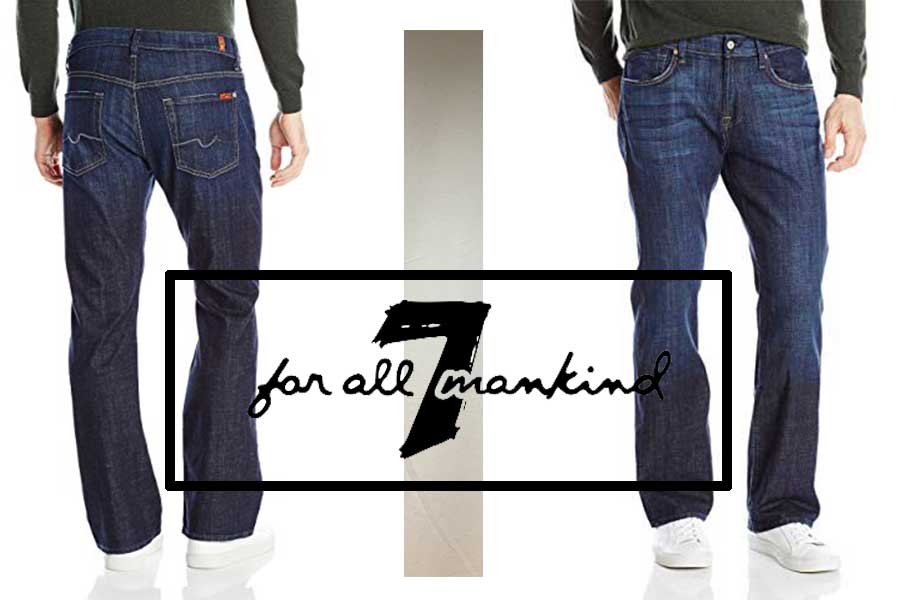 If you are on the hunt for the finest premium denim available in the clothing industry, then the 7 For All Mankind jeans brand is all you need. Founded in 2000 by Jerome Dahan, Peter Koral and Michael in Los Angeles, this denim manufacturer has successfully carved a niche for itself as a globally renowned luxury denim brand.
7 For All Mankind concentrates on innovation in fabric, design, fit, and finish which gives its consumers a sexy and sophisticated feeling. Little wonder it is a household name among celebrities of all shapes and sizes. Besides, its more than 100 retail locations across Europe, Asia, North America, and the Middle East shows that its everyday classic look sure appeals to many.
Can you blame its customers? Who wouldn't want their bum encased in the laps of luxury?
9. G-Star Raw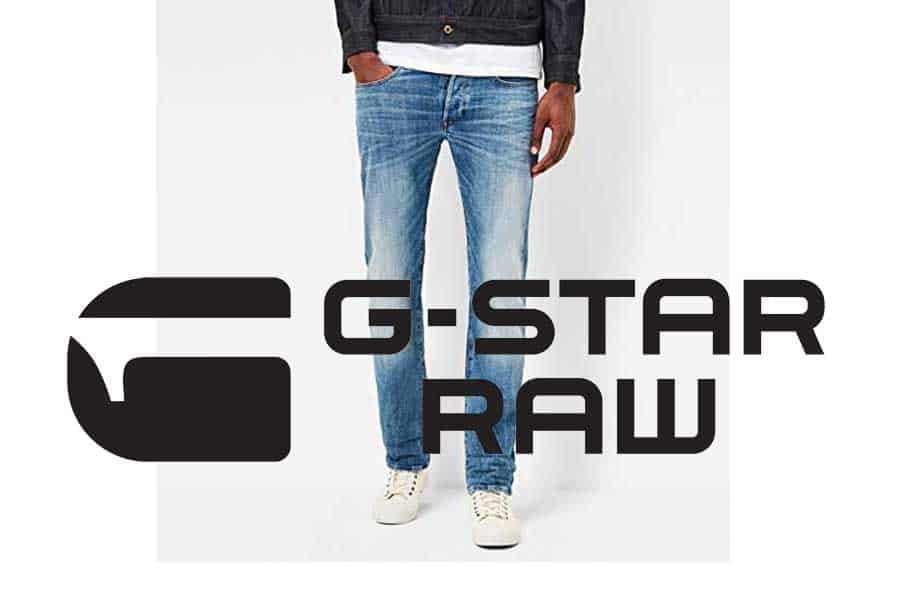 Looking to get the very best in denim technology without breaking the bank? Then you should not skip by this section. G-Star's philosophy right from its beginnings in 1989 has always been about the product. This particular single-minded approach has resulted in a lot of denim 'firsts' such as making raw and untreated denim a desirable and wearable material.
In addition, this brand was the first to introduce 'luxury denim for the streets,' using a combination of top-level craftsmanship and street-wise edge to produce a new sector of denim. The G-Star Raw jeans brand is amongst the industry's most esteemed fashion brand. Also, their unique and special method of jeans creation is one of the reasons why the G-Star Raw jeans are so popular.
Their jeans are created with a premium and experimental process very unlike anything else found in other fashion jeans brands. The creation procedure for the G-Raw jeans is all about the designs being untreated, over dyed, and unwashed so as to give room for the jeans to be molded into your own perfect shape and transformed into their unique color. Isn't that enough reason for you to go on a G-Star Raw shopping spree? You betcha!
10. Lucky Brand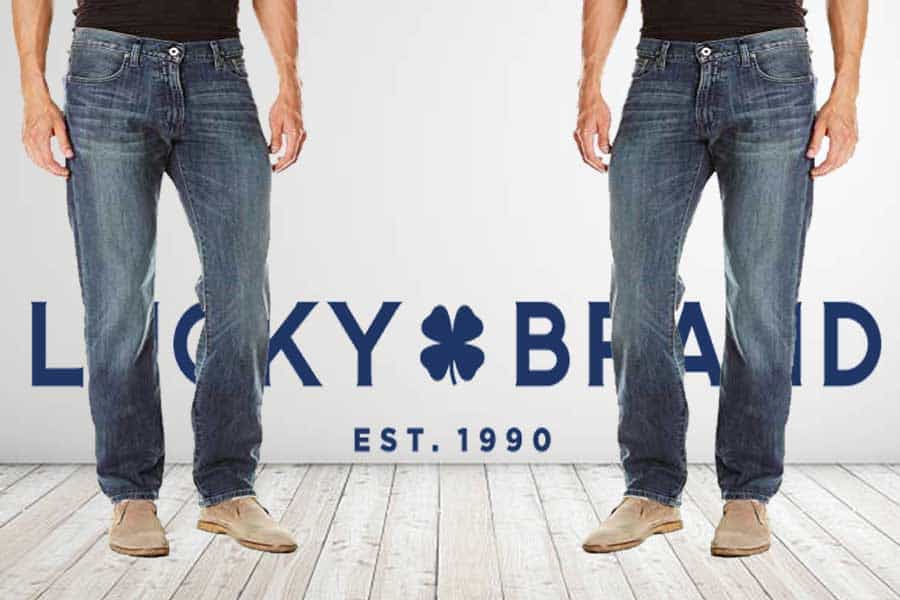 Lucky Brand Jeans is actually a denim company founded in 1990 in California by Barry Perlman and Gene Montesano.
Rounding up this illustrious list is this denim company founded by Barry Perelman and Gene Montesano in 1990. The Lucky Brand has acquired a reputation for itself as a pioneer and innovator in the modern denim world. And when you add in a wonderful sense of humor, you have definitely got yourself a winner.
This brand is a fusion of bohemian-chic and Rock & Roll which is inspired by its free spirited nature as well as the Southern California laid-back lifestyle. Lucky Brand Jeans proudly depicts the typical American spirit which is at the center of the brand's identity in the world of retail.
As a customer, you get a chance to explore your creative side and seek your own style. With the end result being a Lucky Brand Jeans design that is exclusive to only you. However, this should not come as a surprise since the brand's philosophy is that jeans are not just about grommets and blue denim.Sure sounds like a good deal, somebody sign me up.
Last words
This list of best-selling men's jeans is by no means conclusive. But it will be almost impossible to profile every denim manufacturer in the industry. Nevertheless, if you are in the market for a good pair of jeans, this compilation should serve as a guide. Did your brand make our list? If not, you can mention it right in the comment section.
RELATED POST