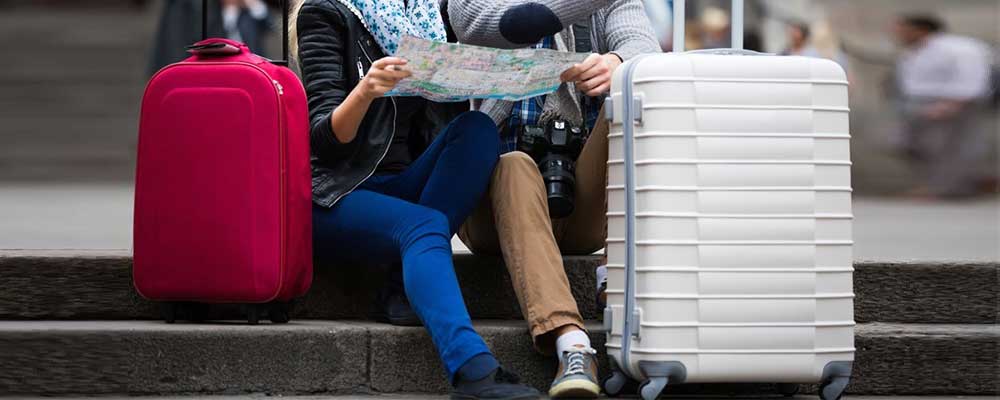 Getting the best lightweight luggage for checked bags has a way of putting your mind at ease while traveling. It's the easiest way to stay within airline weight limits and not pay that extra buck. Just the weight of the luggage can add an extra pound or two. Plus, you also won't have to lug heavy luggage with you.
However, it's common to question the durability of lightweight luggage. After all, it seems more likely to tear or get damaged during check-in or in transit. You may even worry that it won't be strong enough to take all your items. As such, should you rather go for regular old-fashioned heavy luggage?
Well, being heavyweight does not equal durability. And that's why we've put together this list of the best lightweight luggage for checked bags. These bags are solid, highly durable, and functional. And above all, you're sure to stand out using any of these
 Whenever you make a purchase through links on this page we make a small commission from our affiliate partners. Learn more
Lucas Designer Lightweight Luggage
Lucas Designer Softside luggage offers a first-class travel adventure with this ultra-lightweight luggage for checked bags.
You'll enjoy a stress-free experience and easy maneuvering with its 360° eight spinner wheels. Thanks to how widely spaced the wheels are, it is well balanced for an even easier movement.
Made from water-resistant 100% virgin PU material and strong zippers, this bag is as solid as it gets. It also has a fully lined interior with multi compartments, including mesh pockets. And let's not forget those compression straps that keep your clothes nice and snug even during transit.
This luggage has got a unique side handle that's more like a pocket for easy grip. And its telescopic handle adjusts up to three heights. Talk about great functionality.
With this expandable luggage, packing just got a whole lot easier and less concerning.
It expands up to 2 inches, increasing packing capacity by 20%.  And its ultra-lightweight feature helps so you still do not exceed airline weight requirements.
Considering how lightweight it is, it is easy to fear that it isn't durable. However, this is not the case. It is strong, flexible, and holds up beautifully.
It's also available in bright colors, which makes it easier to identify amongst other luggage.
Buy on Amazon
DELSEY Paris Comete 2.0 Luggage
The Comete 2.0 isn't just functional luggage; it's also a style statement providing easy handling.
This large 28 inches checked luggage by Delsey Paris is not just convenient, but it's also solidly constructed to withstand the hassles of checking in.
But don't let the fact that it is a piece of hard side luggage scare you. This bag is ultra-lightweight. It's made from a durable ABS/polycarbonate shell that's incredibly irrepressible with a nice scratch-resistant finish. So, you can rest easy knowing that your luggage won't break or crack.
You can also expand this bag up to 2 inches for more luggage space. The roomy interior features elastic tie-down straps to keep your clothes intact. And on its lid, there's a large zippered mesh pocket for keeping toiletries.
Its four spinner wheels provide easy maneuvering and a 360 multi-directional rolling. It also helps to reduce pressure on your hands and wrists.
So step up and travel in style with this practical and classic checked luggage. Suitable for family vacations and long business trips.
Buy on Amazon
Samsonite Ascella-X Softside Luggage
Over one hundred years of building confidence through innovative, durable luggage have made Samsonite a trusted brand. And the Ascella-X soft side luggage is proof of their expertise.
This luggage comes in a simple yet sleek design with a Samsonite tag, typical of all samsonite products.
It also has a spacious, fully lined interior and well-organized compartments. And with the mesh pocket and a zippered pocket at the lid, you can keep your toiletries and smaller items comfortably.
The main compartment also comes with buckle-down straps.
And with 25 inches plus 2 inches of expandable space, you don't have to leave anything behind when traveling.
So what makes the Ascella-X design different from other designs? Well, this design features upgraded spinner wheels. They move in any direction you want them to. Gliding smoothly on the airport floor with a strong aluminum handle steering them along.
You can get this bag in black, plum, or teal.
Buy on Amazon
Samsonite Omni PC Hardside Luggage
Another Stellar bag from Samsonite. This Omni PC hard side luggage is as hard as a rock but with a surprisingly lightweight feature.
Made from 100% polycarbonate, this luggage is resilient to hits and scratches. Each trip leaves your bag looking almost as good as new. And let's not forget its easy-to-clean bonus feature! This is one bag that comes through for you anywhere and anytime.
It's got a neat interior and compression straps that hold down your clothes after packing. Then there's a big zippered mesh pocket at the lid for keeping your well-ironed shirts.
The luggage sets nicely on four multi-directional wheels that glide smoothly on any terrain. And they are steered by an integrated aluminum pull handle which provides a comfortable grip. It also contributes to the lightness of the luggage, and you can retract or extend it to multi-stages.
This bag also features top and retractable side handles for easy lifting. And they stay protected throughout checking in.
You can get the Omni PC hardside luggage in a variety of beautiful and striking colors. So, step out in confidence knowing you've got a great piece of checked luggage with you.
Buy on Amazon
CO-Z Premium Vintage Luggage Sets
Let's go vintage, shall we? After all, we've got just the right luggage to do so. This luggage is stylish to the core and simply exudes luxury, beauty, and independence. It's the Co-Z Premium Vintage Luggage.
Even though this bag is designed to look vintage, it has a modern appeal with cool modern features like 360 degrees spinner wheels that move effortlessly and noiselessly. You also get a retractable handle and side-mounted security TSA-approved locks. Not one lock but two!
It features vintage leather handles sewn in with visible strong running seams. Just looking at this bag and you know you're looking at solid luggage with superior construction. The bag finishes off with the signature vintage decorative magnetic buckles.
And, most importantly, it's lightweight. Made from high-quality PU leather fabric and with reinforced leather corners to prevent abrasions. This classy bag can withstand extreme impact and rough handling. Beauty doesn't have to give for sturdiness.
With extra interior pockets and a roomy main compartment, you can organize your items in a neat and chic way.
Buy on Amazon
Briggs & Riley Baseline-Softside Checked Luggage
Innovation and creativity at their best, Briggs and Riley bring you this large checked luggage. Briggs & Riley certainly strives to meet the highest standard in luggage making.
This finely detailed piece of luggage is great for all kinds of travel. If you like luxury and beauty, this is definitely a keeper.
With an amazing CX compressor feature for up to 33% expansion, this luggage can take you on week-long travels. You can even stuff in all you need for a month or more.
It's made from ballistic nylon fabric that's wear-resistant. It's also resistant to moisture, abrasion, and dirt. This is very important for checked luggage as it prevents damage to your luggage while checking in.
Its large interior features two mesh pockets for undergarments at the door panel. You also get a zippered shoe pocket, scarf pocket, and a large zippered compartment. And that's just for the door panel.
The main compartment also has cinch-down mesh clothes panels. These ensure that your clothes do not shift during transit and they stay wrinkle-free.
Finally, you get a nice sturdy retractable handle for easy maneuvering of the luggage. And it moves on two strong wheels that can move on any terrain.
Buy on Amazon
Travelpro Crew Versapack-Softside Checked Luggage
Our list of the best lightweight luggage for checked bags wouldn't be complete without this Travelpro bag.
This 25 inches lightweight luggage for checked bags has plenty of room with nice interior compartments. And one cool bonus feature is the built-in fold-out suite. With it, you won't need an extra garment bag.
This checked bag also comes with a waterproof utility pocket for keeping damp things. Plus, since accidents can happen, it's also a safe place for gels and lotions. And the adjustable hold-down straps are there to help keep contents securely in place.
This bag expands up to 2 inches for more packing power and versatility.
The outer body is made from high-density ballistic nylon material. And it comes with a stain and abrasion-resistant dura guard coating.
For more inbuilt protection, this luggage also comes with practical features like corner armors, skid guards, and wheel encasements.
Its extendable handle gives you a contoured grip. Plus, self-aligning magnetic spinner wheels that move in any direction you want them to. Add in the cushioned touchpoints for effortless control, and you've got yourself one easily maneuverable bag.
All these and more make this luggage a great travel option built to last many trips. You know you can always trust Travelpro for top-quality luggage.
Buy on Amazon
[/vc_column_text]
Travel Select Amsterdam Checked Luggage
Travel Select remains one of the top travelers' choices, and it's easy to see why. This Amsterdam Checked Luggage is durable and reliable.
Made from superior polyester with PVC support, this checked luggage is ready for anything.
It features solid inline skating wheels you can always depend on to move your luggage. And a strong push-button retractable handle for pulling it along.
No matter how full the luggage is, it doesn't tip over. Even though it's two-wheeled, it's got a good balance that allows it to always stand upright.
This bag also expands up to 25% for more packing space. And its interior shoe pockets, a mesh pocket, and tie-down straps help you to stay organized on the go.
You also get two external pockets for keeping smaller easy to access items. Suitable for weekends and longer trips.
Buy on Amazon
What Is The Largest Size Suitcase You Can Check on a Plane?
The largest size of suitcase you can check in on a plane is an average of 27″ x 21″ x 14″. This is because the maximum airline weight limit for checked luggage is 50 pounds per checked bag. And then the most common maximum size luggage allowed is 62 total inches.
However, if your bag is overweight, it doesn't mean it will be turned back. Airline carriers will allow it but with additional cost. And this cost is no small cost; it's usually quite expensive. You can be charged as high as 150- 200 dollars!
Airlines are generally very strict at enforcing this. This is why you should know the details of your airline checked luggage limit to avoid extra charges. You should also consider using lightweight luggage. You can get away with a lot using lightweight luggage for a checked bag.
Don't forget that TSA regulations prohibit certain items from being carried in checked luggage. These include electronics, jewelry, medication, flammables, and so on.
How Do I Make Sure My Luggage Is Not Overweight?
The first and most important tip to ensure your luggage isn't overweight is to buy lightweight luggage. Your luggage uses up some of your weight quotas. So the heavier your luggage, the less you can pack.
That's why choosing one of the best lightweight luggage for checked bags is worth it. Thankfully, there are lots of lightweight bags, both hard and soft side bags, to choose from.
Another tip is to wear your heaviest piece of clothing during the trip. Especially winter wear and boots. This will save quite some space and weight. Since airplanes are fully air-conditioned, you won't get hot. And you can easily keep it away in the overhead cabin when you board.
Thirdly, you should also consider buying some items when you land. Do not pack unnecessaries or things you can easily get in your place of destination.
Also, it's good to check in early. So that if your luggage happens to be overweight, you can quickly reorganize or know which items you're sending back home.
And finally, put heavier items in your carry-on. There are even small items that can pack some weight. These should go in your carry-on.
And done and dusted. The best lightweight luggage for checked bags at your fingertips. Feel free to explore other articles for unlocking more travel guides:
6 Tips For Traveling With A Sling Backpack
Best Lightweight Luggage With TSA Lock For Travel
RELATED POST