Working day and night in the gym is no crime, but some of us get punished for it in the fashion department. 
Doesn't it feel depressing? the fact that muscular men don't go further than dress shirts and baggy jeans like it's the year 2000. All just to not look like the incredible hulk during the transformation process. 
But that shouldn't be the case as there is no harm in downsizing a bit. After all, the reason why you're working so hard in the gym is to build up those bad boys. It would be a shame if you didn't get to show them off from time to time. 
Or would you prefer to end up looking too bulky or overweight? Whereby, the only time people get to recognize your appeal is only when you go to the beach. 
In this post, we're going to discuss how to take advantage of your big arms to improve your appeal. And while at it we're recommending several styles of shirts that'll complement your big arms. Which are all from ASOS (a top-end clothing line for muscle men).
 Whenever you make a purchase through links on this page we make a small commission from our affiliate partners. Learn more
Best Muscle Fit Polo Shirt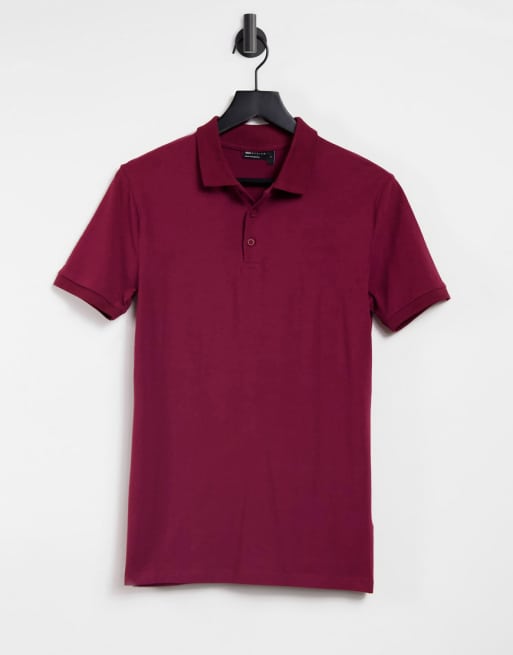 Asos Organic Muscle Fit Polo Shirt
Tired of tight polo shirts that leave stress marks on your muscles? Then get yourself our deluxe polo shirt that offers complete comfort and style. As the materials in which the shirt is made includes a combo of stretchy spandex and natural cotton.
Also, with such materials, you get to enjoy breathability. This means you don't have to worry about excess sweat stains as the shirt will allow ample air to flow. Thus ensuring the sweat dry-up immediately. 
Another great feature is the color shirt. Which is burgundy. The perfect wine hue to go with blue denim.
Note: the shirt is completely organic.
Best T-shirts for Muscular Build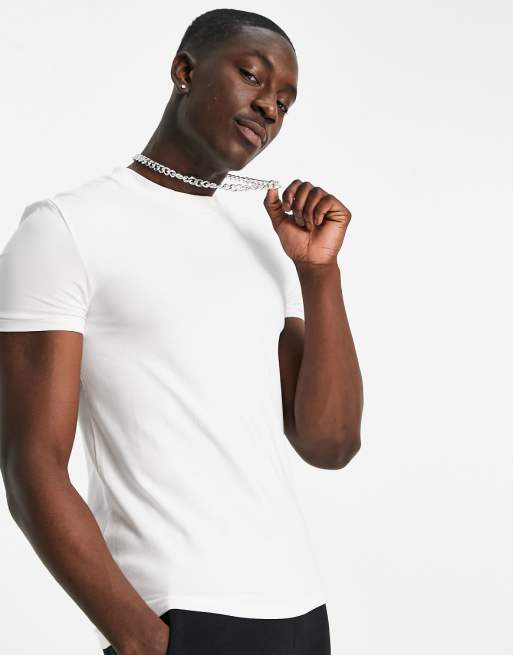 Sometimes the best way to pull off a great summer fit is with a tight white short sleeve. So you can take advantage of your assets. As the short sleeves hug around your muscles. Just the rest of the shirt which can as well hug your torso I'm such a way your shape pops up.
This shirt possesses a crew neck. This feature could do well with defining your shoulder. To make your upper body show a bit better.
Best Long Sleeve Fit Shirt for Muscular Men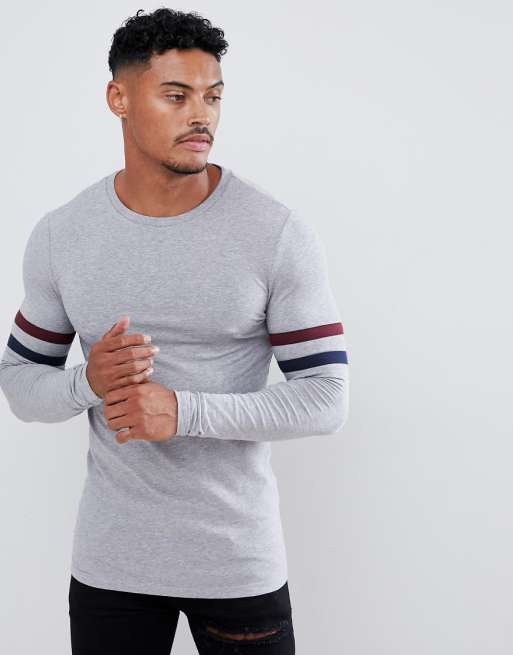 Instead of showing skin why not go for the long sleeve style as it can add more appeal to your muscles. Without the risk of exposing your arms to feeling cold. On top of that, the shirt is well made with its ultralight feel. Which will ensure less strain on your body, whilst improving your upper torso style. 
Also, the shirt is quite stretchy as the main and the trim is made up of spandex, viscose, organic cotton, and nylon. Thus making the shirt perfect for most fit users of different sizes. 
Best Muscle Fitted Shirts for Muscular Guys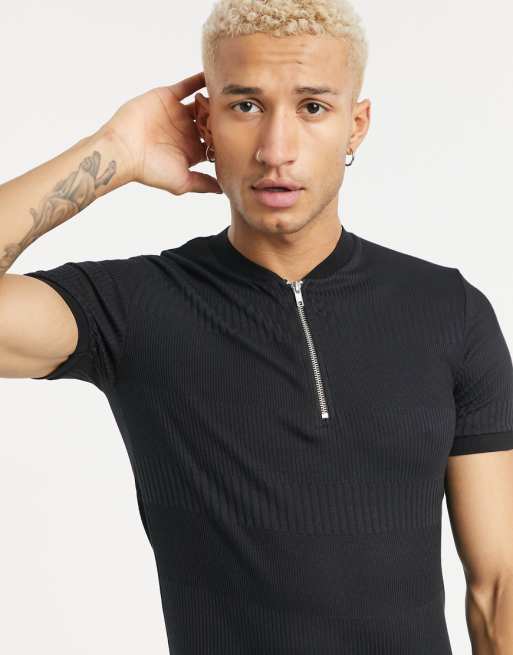 If the simple slim tee shirts don't do it enough for you in terms of style, then you should for this model. Which is a muscle fit rib t-shirt that has a partial zip closure for chest ventilation. Another great feature of this slim T is the material. Which is made of both polyester and elastane.
This combo makes the shirt feel jersey-like. So you can enjoy a stretchy fit. As well as ventilation to wick out the sweat.
Overall, this model of slim T offers good style, proper ventilation, and a good feel on the skin. It's the perfect shirt to show off your assets and keep you comfy.
  Best Muscle Fit Poplin Shirt
A big armed man shouldn't rely only on skin-fit short sleeve Tees to boost his appeal. There are various other styles such as this poplin shirt. As it's a mix of corporate and casual which would go well for most settings. Be it a simple get together, party, or even the workplace because the shirt's overall design accentuates a buffed physique.
Evidence is in the slim sleeves, that will hug your arms in such a way you can properly show off your gains. Without any strain on your wrist when you're in positions.
Muscle Guys Clothing to Consider 
Apart from tight shirts, other prices of clothing should take advantage of your fit body type. 
Here they are as follows:
Jacket 
Everybody wears jackets because of the V torso shape you can get out of it. Irrespective of your body size. This means even if you're skinny, fat, or extremely fit the jacket does tend to accentuate big arms and a round beefy chest.
You also need to know the material matters. For instance, if looking for something a little bit more breathable and comfy feel then you should consider wool-cotton blends. 
But if that's the style you're after then you should consider polyester-cotton blends. As they give you that cool biker appeal.
Relaxed jeans/chinos 
All that leg day strives and pain shouldn't go to waste. You deserve to show off your perfectly ripped calves, knees, and thighs as much as you want. So instead of strapping on baggy jeans like Rambo, you should consider slim and relaxed jeans or chinos. The one that fits your crotch region comfortably. And it mustn't be too tight on your thighs or your butt. 
Thin Sweaters
You're already bulky, there's no need to get a thicker sweater unless you're affected by the extremely low temperatures. So the perfect sweater to improve your appeal is the thinner one. And such sweaters should be made of high heat retention materials such as wool or cashmere. Make sure to avoid any form of polyester as you would end up feeling uncomfortable.
Fashion for Athletic Guys(Tips) 
It has to Fit
Some fit men believe their muscles are too big. This line of thought could cause them to consider a bigger fit. Which could be effective at covering up their build. The same goes for other fit men who aren't afraid of wearing tight clothes, so everyone can see what they've worked for day and night for.
What you need to know is both the baggy fit and an extra tight fit aren't the answer. What you need is the right fit. As it's the only way to be comfortable and still boost your fit appeal. 
Why? If you're in a baggy fit, then you're going to feel a level of strain. Due to the weight of your clothes. Thus disrupting your comfort. 
Another scenario to consider is wearing a tighter fit. One could end up experiencing suffocation and long term discomfort during & after use.
The right fit (actual fit) is the best option, as it ensures ultimate comfort and appeal. 
Note: when you get the right fit, there will be significant changes. Such as your walk being more confident. Which is much better than when you wear heavy or very tight clothes.
Your Fit Should Be Lightweight
The best way you can rock slim wear is if they're lightweight. Other than that, you're left to suffer by fighting with your clothes ' weight along with gravity. So instead of a slim jean shirt, you should go for a softer cotton one with a little bit of spandex and/or polyester for enough elasticity to fit.
Overall, a lightweight fit will make you feel a lot more aerodynamic!
Keep It Simple 
As a fit person, the best way to look good is to dress simple. You don't need to go couture because your body does need the excess design of the fabric to gain attention. The attention you're to get is from your fit body.
For instance, a simple well-made jacket, pair of denim, and good shoes should boost up your appeal.
Boost your style now…
With a body like yours, there's no need to try too hard. All that's required is a great fit that can accentuate your fit body. And now you can achieve this with the information we've provided on how to tackle the market for the best fit combo. We've also prepared several styles of shirts to consider. So you can get a clear picture of what you should seek after. 
More In Style and Fitness
Best Men's Running Hats To Keep You Going
Best Running Shoes for Wet Weather
Men's Running Shoes to Wear with Jeans
Best Men's Workout Pants with Pockets
RELATED POST