7 Best Men's Funnel Neck Hoodies to Wear Any Time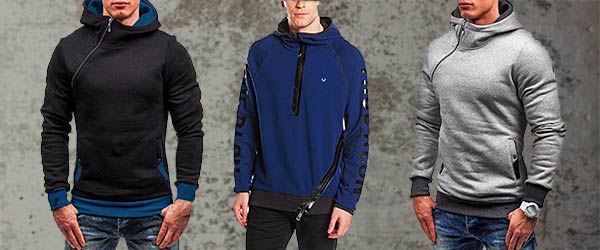 Winter is coming, how do you plan to keep the cold away from your body?
If you said funnel neck hoodies, then this article is for you. If you didn't say that, before you're done reading this article, you'll see why a funnel neck hoodie should be your choice.
We like the idea of a scoop neck sweatshirts because they keep you warm up to your neck without feeling 'chokey', which is the feeling you may get with turtle neck. Sometimes, I feel the person(s) who came up with the funnel neck concept wanted to make a turtle-necked dress that wasn't close fitting. So, they let the neck come up, but drape.
The funnel neck hoodie also affords you the opportunity to style it differently. Whether you use the hoodie to cover your head or you let it hang behind your neck, you'll still look cool. Most designs of funnel neck hoodies, however, have given up the hoodie but retain the drawstring feature usually associated with hoodies. So, you have a high-necked sweater with a draw string but no hoodie. They're still called hoodies anyway.
In this article, we're going to highlight the differences between funnel neck, cowl neck, and turtleneck before moving on to analyse things we need to consider before investing in a funnel neck hoodie. We highlight these differences because they are usually mistaken due to their similarities.
Men's Knitted Pullover Cowl Neck Pullover
Rave-up your wardrobe, or give it as a unique gift idea for any special guy, be it your husband on your anniversary, your son on his birthday, your dad on fathers day, your best friend for Christmas or your boyfriend just because. The Leif Nelson slim-fit knitwear pullover aligns with your bodies shape thanks to its perfect flexible and tapered form. Its a classic and timeless design that looks modern and stylish at the same time. Check Price on Amazon
Street Habit Men's Heavy Urban Chimney Neck

Hoodie
Heavy black cotton pullover hoodie for men with front print graphics, perfect for those chili evenings out in the urban lights. This Dios-H hooded sweatshirt features the hypnotic tribal animal in trance meditation. Unlike traditional methods of printing, the clothing Street Habit offers is individually printed in-house and never mass produced in some big factory. Check Price on Amazon
Aztec Heavy Zipped Men's Funnel Hoodie Sweatshirt
Thick hooded jacket features a high neck, double-lined hood and two side pockets to keep your chilly mitts away from the cold breeze. Fitted cut for an extra snug feel, ribbed cuffs and hem for a complete seal, perfect for the nights cooler temps.
Designed and produced by Plazmalab and exclusively provided by Street Habit. Created in house using silk screen printing, each piece of clothing is individually printed on to the fabric, resulting in the exceptionally soft feel while ensuring quality and durability, wash after wash. Check Price on Amazon
Nike Men's Therma Swoosh Training Hoodie
Nike Therma Men's Swoosh Training Hoodie is made with heat-managing fabric so you can stay warm when the temperature drops. Its 3-panel hood offers adjustable coverage from the elements, helping you stay focused during your workout routine.  Check Price on Amazon
HEQU Funnel Neck Square Pattern Quilted Hoodie
Stylish and fashion designed pattern quilted hoodie sweatshirt made of high quality polyester material without ever fading,cracking,peeling,pilling or flaking, durable enought for your daily wearing. Designed with a drawstring for adjustable. Check Price on Amazon
Leif Nelson Men's Knitted Pullover
The classic of urban men's fashion. Turtle neck pullover produced of light materials is a must-have for fashion-conscious men. This sweater is convenient to wear and with a stylish look.
Soft cotton blend fleece hoodie for warm, comfort, and cozy feel. These highly fashionable comfortable hoodie jackets are designed with high-quality durable fabric. Although not woolen but keeps you warm in winter.
It comes with 2 drawstrings to adjust sizing of the hood according to your needs. The hood sits perfectly on the head and can be adjusted to look even better. Front pockets to put hands in or store your essentials.These have stylish print on the full sleeves. Check Price on Amazon
Leif Nelson Men's Knitted Jacket Turtleneck Cardigan Winter Pullover
The stylish turtleneck cardigan is a must-have for a fashion-conscious man. Leif Nelson LN4195 will keep you warm and make sure your look is unique and irresistible.
A designer collar and wooden-looking toggles help to create an exceptional outfit no matter what you combine this cardigan with. This sweater is produced from high-quality acrylic fibers. This manmade fiber is lightweight, soft and warm. It also tends to last longer than a lot of other materials and can retain shape well, resist shrinkage and wrinkles. Stylish design, highest wearing comfort, and the ease of maintenance are going to make this cardigan your favorite piece of clothing. Check Price on Amazon
What's a Funnel Neck Hoodie?
It takes its name from the shape of a funnel, although it doesn't exactly look like one because it slacks at the top. Funnel neck is a high, wide neck on a garment. Funnel neck looks like a turtle neck, only that its loose-fitting
What's a Cowl neck Hoodie?
The cowl neck is a high loose-fitting turn over collar. Both the funnel neck and cowl neck are loose-fitting, but cowl necks are designed to drape below the collar bone, unlike the funnel neck which drape above the collar bone but below the jaw
What's turtleneck Hoodie?
Turtleneck is the American name for polo neck, but in England they are two different neck styles. Turtleneck is a high, close-fitting collar, turned back on itself and covering all or most of the neck. If you've ever watched a turtle's neck coming out of its shell, you'll understand why this name is befitting this neckline
How to Style Funnel Neck Hoodies
Most funnel neck hoodies come with a matching pair of trousers, so styling them is a no-brainer. But it would be boring matching your hoodie with only the pair of trousers it came with. That's why we wrote this section for you.
Below are more ways you could fashionable style your funnel neck hoodies.
Complementary articles of clothing you'll like to get are: a pair of track pants of similar texture, jean trousers, collarless shirt– preferably white, grey, black or any plain colour that'll match the colour of the hoodie, and sneakers.
When matching your funnel neck hoodie with track pants
Go for an undershirt that's long enough to come out a few inches beneath the hoodie. Your sneakers should be the same colour as the shirt to highlight your outfit.
When matching with jeans
This time tuck your shirt into the jean trousers. If the hoodie has a zip leave it half way open. You could also zip it down all the way or zip it up. Let your mirror decide for you. Remember to match the undershirt with your sneakers if it will show.
You could switch things up by not tucking in the shirt when styling the hoodie with a jean trouser and tucking in the shirt when styling with track pants.
Depending on how cold it is, you could wear a jacket over the hoodie, but the collar of the jacket shouldn't come up the neck too, if it must, go for a mock necked jacket.
Before you style a funnel neck hoodie, you should have one. So, let's discuss…
Factors To Consider Before Investing In A Funnel Neck Hoodie For Men
Hoodie Size
Hoodies do not have to fit tightly on the body. There's more swag when the hoodie is baggy. However, let it not be too loose-fitting that you look like you're swimming in it
Weaving
This is vital because it will determine how the hoodie should be maintained. It also determines the durability of the hoodie. A hand-knitted hoodie will be harder to maintain because once there's a tear on it, it's bound to keep shredding till it is patched by knitting. Not many people know how to knit
The Colour of Hoodie
Black and grey are the commonest hoodie colours because they match effortlessly against all skin hues. But you can always choose a colour that reflects your mood or personality.
If you'll be using the hoodie for formal occasions, you should go for a colour that's not too bright, like the previously mentioned colours
The Hoodies Fabric
You may find certain fabrics irritating against your skin. If you buy a hoodie made of such fabric, you'll feel more irritated considering it'll always be rubbing against your neck.
The fabric will determine how the hoodie should be maintained.
Your choice of fabric should also be influenced by the temperature/ season. Some fabrics are better insulators than others. So, if it's cold you should go for such. Wool is a good insulator because when woven together, it becomes thicker and doesn't allow much heat to escape.
If you're getting the hoodie when the weather is bearably cold, cotton would suffice.
Maintenance of the Hoodie
This will be determined by the fabric and weaving. Some fabrics require the use of warm water while washing, else they'll slack. Others are fine with whatever water they are washed with. Some tolerate heat, some tolerate only low heat, some do not tolerate heat at all. Some can be both machine washed and hand washed, others can only be hand washed. These are things you should know before purchasing your hoodie.
On weaving, the common hoodies are easier to maintain because if there's a tear, it won't shred, and it will be easy to stitch.
Funnel Neck Hoodies For Men
Men hoodies are not just typical gym wear. They are now considered as a daily wardrobe essential. There are actually mens funnel neck sweater that complement every occasion. They can range from abstract to floral prints and even to solid colors.
And today, men are not anymore scared to experiment. They also want to best express themselves through fashionable clothing. Designer chimney neck hoodies can simply be worn for layering. They can also serve as simple chinos or jeans during the casual days. If you want to feel comfortable without sacrificing your style, designer hoodies for men are truly the best option.
With hoodies, men can also be creative while layering their outfits. These can also be simply used to balance the casualness and smart edge. You can try wearing a grey hoodie with the "burgundy chinos" tan type of hiking boots. And, add them up with chunky grey socks for that best look. In addition, "cardigan hoodie" combo also works great.
This works well when worn right under the trench coat. Make sure not to use a "thick hoodie" under the trench coat. For your choice of hoodie color, this will still depend on your attire. With the use of a neutral colored hoodie, this balances a bright or bold color. On the other hand, a men's funnel neck hoodie complements well to simple t-shirts and faded jeans.
RELATED POST