Fashion Trends Men's Funnel Neck Hoodies 2018
A funnel neck hoodie or a cowl neck hoodie is among the best designers and coolest hoodies for men. And just as the winter season is coming, it is finally about time to purchase for warmer stuff to keep you protected. And thus, you can be feeling comfortable throughout the colder months. Actually, hooded scoop neck sweatshirts are no longer seen in poorly cut duffel sweater with dull prints.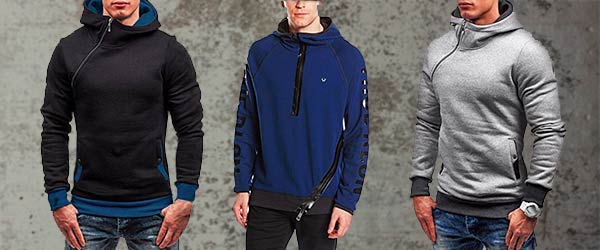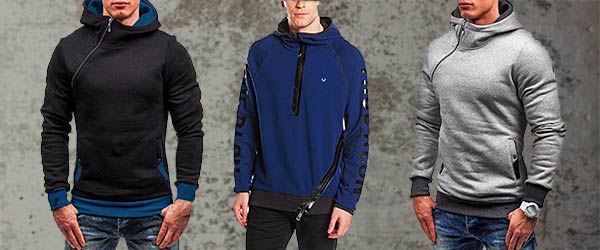 These are now pieces of clothing that are complemented well with fashionable style and design. These can simply keep your warm and these are mainly ideal for the purpose of layering. In addition, these proved to be very versatile. You can pair them up with jeans for that simply ragged look during the wet, cold days.

Street Habit Cave Man Drawstring Cowl Neck Pullover
Rave-up your wardrobe, or give it as a unique gift idea for any special guy, be it your husband on your anniversary, your son on his birthday, your dad on fathers day, your best friend for Christmas or your boyfriend just because. Explore streetwear for the thrill-seeking rebels, those daring to access the quirky, magical expressions of extraverted designs.

Street Habit Men's Heavy Urban Chimney Neck
Hoodie
Heavy black cotton pullover hoodie for men with front print graphics, perfect for those chili evenings out in the urban lights. This Dios-H hooded sweatshirt features the hypnotic tribal animal in trance meditation. Unlike traditional methods of printing, the clothing Street Habit offers is individually printed in-house and never mass produced in some big factory.

Aztec Heavy Zipped Men's Funnel Hoodie Sweatshirt
Thick hooded jacket features a high neck, double-lined hood and two side pockets to keep your chilly mitts away from the cold breeze. Fitted cut for an extra snug feel, ribbed cuffs and hem for a complete seal, perfect for the nights cooler temps.
Designed and produced by Plazmalab and exclusively provided by Street Habit. Created in house using silk screen printing, each piece of clothing is individually printed on to the fabric, resulting in the exceptionally soft feel while ensuring quality and durability, wash after wash

Something for Everyone Men's Fashion Funnel Hoodie
This new trendy cool fashion style is introduced by Something For Everyone.
Soft cotton blend fleece hoodie for warm, comfort, and cozy feel. These highly fashionable comfortable hoodie jackets are designed with high-quality durable fabric. Although not woolen but keeps you warm in winter.
It comes with 2 drawstrings to adjust sizing of the hood according to your needs. The hood sits perfectly on the head and can be adjusted to look even better. Front pockets to put hands in or store your essentials.These have stylish print on the full sleeves.

LOCALMODE Double Zipper Turtleneck Fleece Hoodie
Make your impression with the Localmode Men's Double Zipper Hooded Jacket Turtleneck Fleece Hoodie Coat! Graffiti hoodie design to reveal a youthful character, comfortable to wear is the best sports equipment. And the sweater combination of simple, sweatpants, jeans or a skirt, you can get a sense of relaxed fashion.
Funnel Neck Hoodies For Men
Men hoodies are not just typical gym wear. They are now considered as a daily wardrobe essential. There are actually mens funnel neck sweater that complement every occasion. They can range from abstract to floral prints and even to solid colors.
And today, men are not anymore scared to experiment. They also want to best express themselves through fashionable clothing. Designer chimney neck hoodies can simply be worn for layering. They can also serve as simple chinos or jeans during the casual days. If you want to feel comfortable without sacrificing your style, designer hoodies for men are truly the best option.
With hoodies, men can also be creative while layering their outfits. These can also be simply used to balance the casualness and smart edge. You can try wearing a grey hoodie with the "burgundy chinos" tan type of hiking boots. And, add them up with chunky grey socks for that best look. In addition, "cardigan hoodie" combo also works great.
This works well when worn right under the trench coat. Make sure not to use a "thick hoodie" under the trench coat. For your choice of hoodie color, this will still depend on your attire. With the use of a neutral colored hoodie, this balances a bright or bold color. On the other hand, a men's funnel neck hoodie complements well to simple t-shirts and faded jeans.