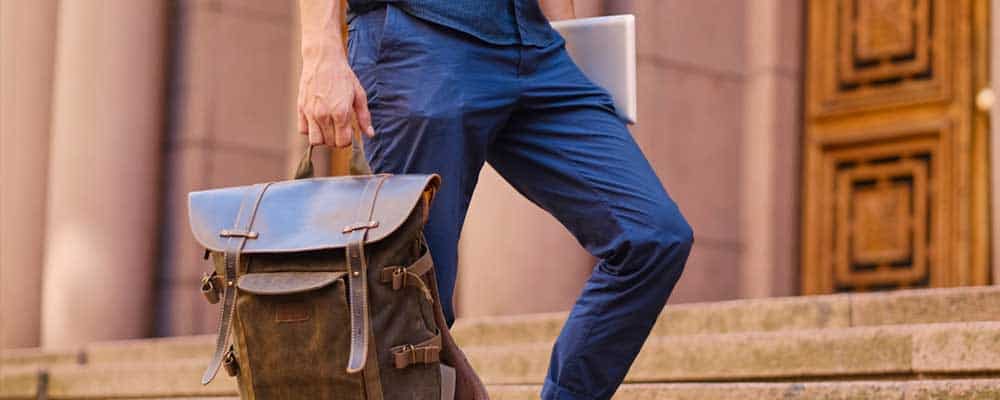 Leather backpacks for men would always be in the front row of fashion. Finding the best leather backpack which would match your style, and make you look unique can be quite challenging. It doesn't help that there are various styles over the internet to choose from. It can be a major turn off, because finding the perfect fit can be hard.
Anyway, that isn't enough reason for you to give up on looking sharp. In this post, we have 9 different leather backpacks which serve different purposes. Irrespective of what occasion you need to attend, and what look you are trying to achieve, there is something for you here.
Whenever you make a purchase through links on this page we make a small commission from our affiliate partners. Learn more
Cognac Leather Backpack by Fossil
This leather backpack is proof that professional leather backpacks can be stylish. If you are a fashion icon, and you want to keep that up even when going to the office, then you should consider this. The Cognac Leather Backpack is a vintage style leather backpack that will give you a professional look.
This backpack is deemed to be perfect for work because it can comfortably hold a 15inch laptop, plus other gadgets. With this backpack, you don't need to worry about comfort, because it was made for comfort as well. It even has a breathable mesh that alleviates sweat.
Main Features
100% original leather
Comfortable back straps
Breathable mesh against sweat buildups
Large fitting for a 15" laptop
Imported
Check Price on Amazon
Kenneth Cole Reaction Backstage Access Men's Backpack
You don't have to look weird when carrying a big backpack. It is the ideal definition of a leather travel backpack. With this, you don't need to bring big boxes when going on short trips. It comes with more than enough space to keep your documents, gadgets, and any essential you may need. The Kenneth Cole backpack also comes with a fully lined interior to protect your devices from scratches.
It is a perfect choice if you also want to achieve a very casual look. Although you should think twice before wearing it to a formal occasion, so you don't get unnecessary stares. This leather backpack is made of full-grain cowhide, and its durability is second to none. If you feel like throwing in the "carefree man" look, you can carry the backpack using its padded top handle.
Main Features
100% full-grain leather
Elegant design
Fitting for a 16" laptop
Extremely durable
Check Price on Amazon
BLUBOON Canvas Vintage Leather Backpack
Looking at the name, you already know what look you would achieve wearing this. Asides from giving off the rustic charm, this backpack is also the perfect school bag for men. It has so many exterior compartments to stash your stuff and documents.
You can never go wrong with this particular backpack. It is the perfect fit for carrying to school, cycling, camping, and so many other things you would like to do. It is a multi-tasker backpack that enhances your fashion style. It has a beautiful look and makes you stand out in a crowd. The BLUBOON backpack is made of genuine leather which is resistant to easy wear and tear. Its stitching is so perfect, and gives you an expensive aura which is cool!
Main Features
100% top quality soft canvas
Ample interior space, and can contain 15.6" inch laptop
Top-notch comfort
Long-lasting
Check Price on Amazon
SOLO Premium Men's Leather Backpack
As a businessman, you would most likely not want your backpack to be anything too attractive. At the same time, simplicity doesn't have to be boring. The SOLO backpack is one of the best men's business backpacks. Not only does it look simple, but it also looks elegant.
You won't want to walk around with a backpack that doesn't give you the feel of someone important, something to stroke your ego. It is made with a slightly rugged material that makes it look serious enough for you as a businessman. This backpack is made from premium Colombian leather, making it highly desirable, and extremely light.
Main Features
5-year warranty
Strong enough for everyday use
Extremely lightweight
It comes with a padded laptop compartment
Check Price on Amazon
KISSUN Leather Backpack
Going for an outing and you want to turn heads, you best check this out. The KISSUN backpack is a genuine leather laptop backpack which is as stylish as they come. Now, you don't have to bother about not having enough space for your laptop. This leather backpack for men takes your dressing from simple to classy in a jiffy.
It also comes with a USB/earpiece compartment, so you can comfortably listen to your music when on the move. Additionally, it comes with a theft-proof pocket at the back, where you can keep your gadgets and essential items. This would give pocket-pickers a reason to stay far away.
Main Features
Made with high-quality waterproof leather
Appropriate for a casual and formal look
Comes with earpiece/USB port
Very comfortable
Enough space for 17" laptop
Check Price on Amazon
 Sharkborough Supreme Anton Men's Backpack
This is the right backpack for business professionals. You can always take your style up a notch with this backpack. It has a casual yet classic look, so you don't have to bother if it would fit in. Its exterior is designed with a rear pocket, a front pocket and side pockets, which comes in handy when you have a lot of little stuff to take with you.
t comes with a top handle, which you can use instead of the shoulder straps when tired. When wearing this backpack, you should brace yourself up for the compliments.  If you love looking sophisticated, then you best get this, so you can look like the Boss you are.
Main Features
Made of full-grain leather
Fitting for 15" laptop
Comes with adjustable straps
Maximum comfort
Check Price on Amazon
S-ZONE Vintage Leather Executive's Backpack
Let's go the retro look way a little. It is a bit out of the professional setting. The S-ZONE backpack should be your go-to backpack because it can serve many purposes. When going camping or for any outdoor activity, you would need a backpack like this for your essentials.
It is suitable for even business trips as well. It comes with multiple pockets which can fit into your documents, accessories, and even gadgets.  It can also serve your laptop bag, as it can hold a laptop of up to 17″. One exciting feature about this backpack is its leather. With time the leather darkens, giving it a more elegant and attractive look. Also, from afar off, you can see a different color on the backpack when at different angles.
Main Features
Made with Crazy Horse Genuine Leather
Fitting for 17' laptop
Adjustable shoulder strap and top handle
Check Price on Amazon
Bopai Men's Business Backpack
The list would be incomplete without this. Like we mentioned earlier, there is something for everyone. The Bopai backpack is a professional leather backpack suitable for official meetings. Carrying your files and laptop in your hands to a meeting can be quite embarrassing. Now, we wouldn't want you to feel less of a fashion icon, would we? No.
So this executive's backpack is the solution to the problem. Your office look would be spiced up with this leather backpack. It comes with hidden zip pockets to keep your phones safe when on the move. Plus, you can walk with this under the rain without worrying about your backpack only your outfit. Also, it has a breathable back, which helps to reduce sweat.
Main Features
USB charging port
Enough interior room
Top-quality water-resistant leather
Check Price on Amazon
Vintage PU Leather Backpack for Men
It's understandable if you don't want to go with the crowd because that's me as well. This backpack is a whole lot different from the others listed above. It comes with a cross-body sling strap, which would make you look carefree. This would be perfect when going for a hangout with friends, or when going about your daily business.
If you are looking to achieve a professional or serious look, then don't go for this, because you definitely won't look it. It also comes with a USB charge port, so you don't need to carry your power bank in your hand while walking.
Main Features
Made with quality PU leather
Its ergonomic design helps reduce back pain
Well compartmentalized interior
Enough space for your laptop, gadgets, and other accessories.
Check Price on Amazon
Things to Consider before Investing in a Men's Leather Backpack
To select a leather backpack seems like a rather easy task, but when the convenience, style, physique, efficiency, and effectiveness of the backpack are put into consideration, you got your work cut out for you. Just as every man has his preference, you should select a leather backpack that suits your taste and needs.
The Color
It is well known that the color of a backpack shows its true nature and beauty. Well, it is no different when it comes to backpacks. Leather backpacks for men are commonly associated with black, light brown, dark brown and tan color. For a professional business person, a leather backpack with colors dark brown or black would suit your taste, and working environment.
It goes with all shades of suits. While if you like to keep it classy and casual, you are sure to love leather bags with light brown or tan colors as it gives a formal but not too serious look. A piece of advice when selecting a professional leather backpack, bags with two different colors should be avoided and discarded because you would appear too flashy which would totally suck in a formal setting.
Purpose and Statement
When selecting a leather backpack, you must have in mind the reason for getting one. If you always carry a laptop to work or any place of your choice getting a genuine leather laptop backpack is a must! Not only does it protect your laptop, but also adds a whole new spicy look to your outfit.
The kind of message you wish to portray with your bag should be considered; the style should be appropriate with your line of work. The right choice of your leather backpack for whatever occasion it is bought can instantly skyrocket your looks.
Durability and Handwork
Everyone wishes to buy backpacks that would last them for a very long time. You should get bags with durable and strong leather to experience excellent performance during usage. As much as the type of leather used for the backpack is a significant determinant for its durability, you should also put into consideration the type of stitching used. A backpack with bent, noticeable, and loose threads should be avoided; you should check the inner and outer part of the backpack for this inconsistency.
If you want to buy a leather school backpack, a backpack with full-grain leather is necessary as it makes the most durable bags. Make sure its handles are neatly and well stitched or are attached to the body through metal fixtures. Also, avoid handles that are glued to the bag because they are likely to fall off with time.
Hardware
Men's leather backpack comes with various parts known as the hardware, before buying a backpack; you are to examine these multiple parts to test their quality. Some of these parts include:
It is an essential feature, and must be reviewed prior to buying a backpack. The buckle of a backpack is opened and closed over thousands of times during its lifetime, so obtaining a backpack with strong and durable buckles is necessary. It helps in elongating the usage of the backpack.
The shoulder strap of any leather backpacks for men should be easily adjustable for convenience. So that you wouldn't have to experience shoulder pain or fatigue while using your backpack
Locks
Metallic rings
Handles
Zippers[metal zippers are recommended or your effective use of tan plastic zippers]
If you want to get leather backpacks from any retail stores online, inspect the picture well for individual parts. Don't forget to ask for photos that show the backpack can be zippered up and down without any difficulty.
More Featured Recommendations
Still haven't found what you're looking for? check out our favorite list of business backpacks, Men's Carry-On Garment Bag, motorcycle backpack, and fashionable backpacks that right for every budget.
RELATED POST