Gone are those days when denim shirts were only prevalent with music stars. Today, they've become essential in men's fashion. With an incredible level of versatility, denim shirts remain fashionable all year round. We recommend blue washed and other light-colored denim shirts because they combine well with different colors for casual and smart-casual styling.
What should a man wear with a denim shirt? Owing to the versatility, styling with a denim shirt is so easy. You can wear them with denim pants, chinos pants and shorts, and even joggers. While they are significantly informal, they can combine with jackets and blazers for semi-formal appeal.
How do you get a decent men's light denim shirt in a market saturated by millions and millions of denim shirts from different jean brands? Today, we've selected -for your benefit- some of the best light denim short sleeve and long sleeve shirts available.

 Whenever you make a purchase through links on this page we make a small commission from our affiliate partners. Learn more
Abercrombie & Fitch Denim Shirt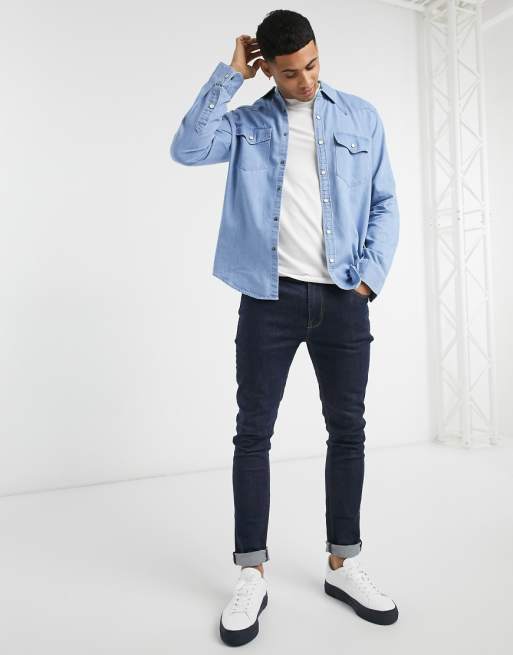 Abercrombie & Fitch is the perfect embodiment of the true all-American style, and this denim shirt is one of their best contemporary offerings. It can be worn as a shirt or over an undershirt as a jacket. Either way, the elegance is not so hard to notice.
With 67 percent cotton and 37 percent lyocell, the material is lighter than most denim materials, but it's similarly durable. It has a regular fit and is true to size. What more could you need in a denim shirt? The spread collar design further improves the casual and contemporary appeal.
Additionally, it's packed with details like chest pockets, button placket, and button cuffs. This would be a nice addition to your wardrobe.

ASOS DESIGN Plus Organic Denim Shacket
While it has a premium look and feel, the ASOS DESIGN Plus Organic Denim Shacket is surprisingly affordable. The amazing transition of the faded blue into a somewhat deeper shade is captivating, and it comes with all the right features for casual and smart-casual styling.
It is quite unrelated to our review, but we must comment on the environmental friendliness, as it's made from organic cotton material. The curved hem and spread collar are all staples of the contemporary casual style.
Another unique thing is the location of the pockets. The dual pockets are located on either side, closer to the bottom hem. This is in contradiction to the usual chest pocket design, but it's refreshing to see.
Tommy Hilfiger Iconic Reissue Denim Shirt
This is a great option for those who need an oversized light color denim shirt. It does seem like slim men are able to get away with rocking oversized denim shirts. Nonetheless, it's great to have an option for large men.
The Tommy Hilfiger Iconic Reissue Denim Shirt comes with a classic old school design that incorporates a button-down collar and curved hem for some contemporary appeal. It has the typical dual front pocket design with branded embroidery just below the left pocket.
You won't have to worry about durability. You can always rest assured in Tommy Hilfiger's quality. Besides, the material is 100 percent cotton.

Paige Men's Bedford Denim Shirt
One of the most versatile denim shirts you can get today, the Paige Men's Bedford Denim Shirt comes in the polar ice and willow blue color options. The material is a unique combination of 76 percent cotton and 24 percent polyester, which is responsible for the high level of crispness.
It has a button-down closure, like your typical oxford shirts. It's a very easy shirt to style, as it goes with virtually any type of pants. Quite interestingly, the versatility will be appreciated in any weather, all year long. Also, you get limited storage space in the single left chest pocket incorporated into the design.
The Paige Men's Bedford Denim Shirt is durable, but the polyester combination tempers the toughness to make for the buttery-soft feel. If you're looking to add a light color denim shirt to your wardrobe today, this light blue Paige shirt is one of the best options available.
Buy on Amazon
Airbone Leathers Quilted Lined Denim Shirt Jacket
To a large extent, this Airborne leather shirt jacket is influenced by designs from the 90s. With all its interesting features, what we love the most is the relaxed fit. You get a quilted cotton padding for extra warmth. But surprisingly, the shirt remains breathable.

The long sleeve denim shirt is available in four different versions of blue, but the light blue option is arguably the most versatile. A unique combination of cotton, polyester, and spandex, the material is highly durable.
For additional aesthetics, you get a special design embroidery on the back of the jacket. Owing to its thickness, you can also choose to wear it over undershirts, like a jacket. The double front chest pockets provide ample storage.
Buy on Amazon
Levi's Barstow Stonewash Denim Western Shirt
We can't exclude Levi in any conversation about denim apparel, as they make some of the best men's denim pants and shirts. The Standard Barstow stonewash denim western snap-up shirt has a classic long sleeve button-up design with dual chest pockets. The material is 100 percent cotton.
We would also love to comment on the shirt's fit. It has a slimmer fit than most, and it is the perfect option for slim men trying to avoid baggy denim shirts. The curved shirttail hem considerably improves the appearance.
Snap buttons are favored in place of the typical buttonhole design on the front pockets and cuffs. The authenticity is reiterated by the red Levi's tab label beside the chest pocket.
Buy on Amazon
Goodthreads Men's Slim-Fit Jeans Denim Shirt
If you need a short sleeve shirt for casual and other less formal styles, check this out. No denim shirt screams casual like the Goodthreads Men's Slim-Fit Short-Sleeve Denim Shirt. The shirt has a slim fit, with a tighter-fitting chest and slight tapering through the waist for a tailored appearance.
It features Goodthreads unique tumbled cotton material that has a soft feel but is durable as can be. Like all the other denim shirts, it has a button-down closure and is safe for machine wash.
Furthermore, it features a button-down collar, a single patch chest pocket, and a box-pleated back yoke. While it's also available in several other color options, the light blue option is stellar.
Buy on Amazon
What Color Pants To Wear With Light Jeans Shirt?
The best way to rock your light denim shirt is with a pant in a different shade. This is particularly important when you plan to wear a denim shirt over denim pants. Contrast is the most important rule when combining denim shirts and pants. So, if you have a light blue denim shirt, choose white or black jeans to go with.

Contrast is likewise important when styling with a denim shirt and other pants. Grey and brown are also perfect pant colors to wear with denim shirts.
What to Wear With Denim Shirt
Denim shirts are unbelievably easy to style. There are so many stylish ways to wear a denim shirt, thanks to the versatility.
Double Denim
Denim shirts look great with pants of similar material, but you need to be particular about the color. If you're wearing a denim shirt over jeans, both colors should contrast and balance each other. Light denim shirts with a white T-shirt under, over black jeans pants, white, or grey denim pants is one ideal way to style with your denim shirt.
While there's no rule against wearing the same denim shirt and pant color, it's really a boring style, and the uniformity of it all is not, in any way, attractive.
Suit Up
They are not the go-to shirt for formal styles, but if you're bold enough in your sense of fashion, you can certainly pull it off. Stick with slim-fit denim shirts so that the suit doesn't look puffed. Don't try this combination for exceptionally formal occasions., 
Light Blue Denim Shirt With Shorts
For a gentleman's casual summer style, try a short sleeve denim shirt with some chino shorts. Long sleeve denim shirts also look good, but they'll require an undershirt or vest. To complete your look, you'll need some good looking shoes to go with: loafers, trainers, and boat shoes all fit into this simple yet profound style.
Light Denim Shirt With Chinos
Quite similar to the double denim styling, contrast is important when pairing a denim shirt with chinos. However, the captivative effect of this simple combination cannot be overstated. You can opt for dark-colored or light-colored chinos ( as long as it contrasts the denim shirt color), but you'll never go wrong with a light blue denim shirt.
Trending Men's Light Denim Shirt Outfit Ideas
Denim shirts have been styled differently over time. While some of those classic styles have endured till today, some have faded out over the years. Let's take a look at some of the currently trending styles.
Streetwear and Denim Shirt Mix
Short and long sleeve denim shirts are both perfect for streetwear collaboration. As casual styles are becoming increasingly popular, you can put a twist on your typical streetwear fashion by throwing a denim shirt into the mix. 
Raw Denim Jacket
One of the many exciting things about denim shorts is that they can also be worn in a jacket style. It's truly a wonder how they transform so smoothly from normal-looking shirts into relaxed jacket wear accented by a light undershirt.
Semi-Formal
The appreciation of denim shirts as workwear is not so deep these days. However, there is a growing acceptance of denim shirts in semi-formal styles. We don't recommend that you wear one to an interview or a friend's wedding, but you can tuck in a light blue denim shirt into some chinos pants for a more formal appeal.
RELATED POST