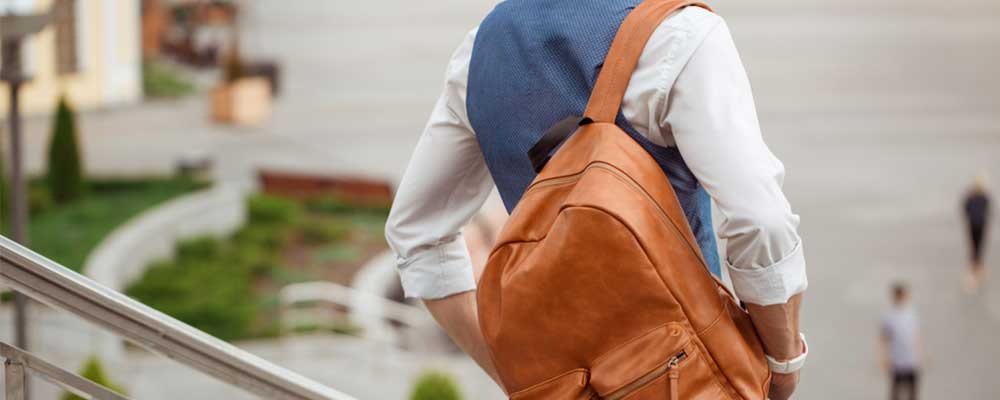 Do you commute to work every day by train, bus, cycle or even walk? I bet you have many essentials that you need to take to work with you each day. Most people prefer to carry their essentials in a backpack because it is easy to carry and provides comfort, but as there are so many options for a men's business backpacks on the market it can often be difficult to choose the right one.
There are many questions that you need to ask yourself whilst purchasing the correct backpack for yourself, you must consider whether the functionality of this backpack suits your requirements, is the style according to your needs? Will your essentials remain organized and safe?
Looking for a new backpack for your professional needs? Here is a guide that can help you buy A top rated business backpack.
Whenever you make a purchase through links on this page we make a small commission from our affiliate partners. Learn more
Best Backpacks for Executives – NOMATIC Water Resistant
The coolest business backpack around for men, need to carry extra essentials? No problem the backpack can be expanded 20L to 34L, the bag can be converted into a laptop bag in order to make it look more professional, the strap can be put away.
The backpack has a zipper that can be locked in order to ensure safety during your commute, there is also an RFID blocking pocket that makes access to the main pocket impossible by bystanders. Manufactured using fine material and reflective printed ink to make you visible on the road by car drivers at night time.
This top-rated business backpack is made using waterproof fabric so all your belongings can be protected during the rain, Kodra 500D Tarpaulin is top rated is water-resistant fabric. Even the exterior zips are water-resistant.
Ultimately one of the best backpacks for executives, this bag for men is durable and considering the fine material used to manufacture it, it is likely to last a lifetime. The functionalities include: access to water bottle externally that can be shut with a magnetic snap to maintain the elegance of the backpack.
Main Features
Water-resistant
Night visibility
Lockable backpack
RFID Protected
Anit-theft laptop bag
Check Price on Amazon
eBags Professional Slim Laptop Backpack for Travel
The Men's briefcase backpack eBag was considered the top men's business backpack of 2017 and is still pretty much in demand due to its durability and easy access and organized compartments. The bag comes with a separate compartment for placement of your laptop and also has a crush proof adaptor garage to protect your electronics from possible screen damage.
This executive backpack for men is just perfect, it also has a separate compartment to place your water bottle so all your belongings remain organized and in order. The backpack is also comfortable and easy to carry as it has top and side straps and is manufactured using breathable mesh and padded straps to provide comfort to your shoulders.
With that said, this eBag is a top-rated business backpack due to its features it can be carried horizontally or vertically and can be attached to your luggage bag, making it an easy travel bag for longer trips.
Main Features
Compartments for easy storage of electronics and
Can be attached to luggage
Breathable mesh and padded straps
Crush proof garage
Check Price on Amazon
The North Face Borealis Men's Backpack
A tough backpack for your daily commute, the coolest business backpack
is super durable and can be carried to work on a daily basis and is also suitable for anyone who needs to travel longer distances regularly particularly by walk.
This is just the right backpacks for business professionals who need a bag with multiple compartments or pockets to ensure all your belongings are stored in an organized manner and can be accessed with ease when needed.
Furthermore, it has padded straps to ensure that you do not feel on your shoulders whilst traveling and your commute is comfortable, the bag is also suitable for cyclists.
Main Features
Made from Mesh, polyester and Nylon.
Breathable Mesh and PE foam padded straps.
Compartments for easy storage of documents and electronics.
Easy access water bottle pockets
Check Price on Amazon
Carhartt Legacy Standard Work Backpack
The Carhartt is a water-repellant backpack, this large men's business backpack is suitable for men who need to commute to work by walking, cycling and train and also for those that have a job description of outdoor activity such as visiting sites etc.
The backpack has dedicated compartments to store your belongings safely, there is a laptop compartment that can hold a 15" laptop and the zippered front pockets are suitable for your power bank and mobile phone, there is also a side pocket to keep your water bottle or wallet.
Comes with soft compartment is suitable for your glasses or other gear that needs added protection, the bag has padded shoulder straps for added comfort and lowers the risk of shoulder pain.
Looking for a multiple purpose backpack, reasonably priced? This is the bag for you!
Main Features
Zippered exterior
Padded shoulders
100% polyester
Water repellent
Durable and comfortable
Check Price on Amazon
Timbuk2 The Authority Pack
A Supremely, Large business backpack, is not a stylish and fancy backpack, but it is comfortable and practical and the most appealing factor is that it is available at a reasonable price and can be afforded by everyone.
The Timbuk2 has plenty of compartments to store important documents, electronics, keys and other important belongings. The backpack distributes the weight so the bag is comfortable to carry and doesn't cause discomfort or pain to the shoulders.
Timbuk2 has handles so you can carry the bag when you no longer wish to carry it on your back, perfect for those who need to carry many items to work and don't want their bags to be stuffy and unorganized and if you're forgetful and tend to lose your keys often, the bag comes with a key keeper so you never have to worry about losing your keys again.
Key Features
Padded shoulders
Key Keeper
Reasonably priced
Check Price on Amazon
SwissGear 1900 Scansmart TSA Men's Business Backpack
When considering business backpack reviews the SwissGear outdoes them all, a bestseller backpack is a favorite amongst those who need to be out and about on the roads and require a safe and secure backpack that can securely hold all your office essentials.
The designated mesh pockets ensure that all your belongings are securely placed in organized sections and are protected from damage. There are also sections to secure your mobile phone and other large essentials.
A heavy-duty handle is also placed so you can lift your bag, the ergonomic straps also provide added comfort to the shoulders. The bag is also weather-resistant, which means your belongings will be protected while you are on the go and even if it rains.
Main Features
Hassle-free laptop compartment
Easy access pockets
Water bottle pocket
Comfortable padded shoulder straps
Check Price on Amazon
Samsonite Xenon 3.0 Men's Business Backpack
An executive backpack for Men manufactured with fine polyester for added durability, the design is a low profile design and allows you to securely keep all your important belongings such as sunglasses and personal electronics without worrying about scratches or damage.
The top carry handle makes the bag easy to carry it, as it is has a top injected neoprane padded grip handle. The air mesh and padded shoulder straps allow comfort and the breathable material is designed to keep you bag odor-free.
Main Features
Made from polyester
Pockets to keep belongings organized
Padded handle
Check Price on Amazon
Kah&Kee Compact Multipurpose Work Backpack
A top rated men's business backpack that has multiple purposes can be used as a gym bag, travel bag or even as a formal office bag as it has a smart look and multiple compartments, it is practical and keeps your essentials well organized.
The front-load compartment is designed to store an extra outfit if you wish to visit the gym after work, it also has a separate compartment for shoes so you do not have to worry about your dirty shoes mixing with your gym wear.
Main Features
Dual purpose for gym and office
Multiple compartments
Carry gym clothes and gym shoes separately
Keep office essentials in the same bag
Check Price on Amazon
High Sierra Unisex Autry Backpack
A cool business backpack particularly designed for the younger generation who have just embarked their professional journey. A lightweight option which can adjust a laptop of 15.5" and a few documents.
Designed to provide comfort and is easy to carry as it is designed for younger boys the ergonomically designed shoulder pads distribute the weight of the bag so pain and discomfort is not caused due to the weight of the bag.
Although the bag is designed for the younger lot there are still compartments for secure and organized storage.
Main Features
Medium-sized bag for young boys
Multiple compartments
Chain loops for keys
Mesh padded straps
Check Price on Amazon
Things to Consider When Investing in a Men's Business Backpacks
Laptop compartment
Your laptop is one of the most important office essentials and your top priority must be the safety of your laptop, laptop can often be damaged during travel this is why you must ensure that your backpack has a separate laptop compartment which not only keeps all your belongings organized but also keeps them safe and scratch-free.
During long commutes you may bump into objects or lean against a wall often forgetting that a laptop is in your bag, a suitable backpack will keep your laptop separate and ideally in a padded pocket.
Easily accessible
A great office backpack should be easily accessible, you should not have to spend hours rummaging through your belongings trying to pick out your headphones, everything must be able to be placed in it's own designated place and must be accessed easily.
Stylish
While an office backpack must be organized and practical internally it is also important that the bag is stylish and sleek you must be able to carry it to the office without being embarrassed by an ugly looking bag, a great men's business backpack must be everything especially sleek. The external look is just as important as what the bag has on the inside.
Weatherproof
It is inevitable that you will be carrying the backpack during the rain and if you want your items to remain protected during wet weather conditions, it is advisable that you purchase a water resistant, weatherproof backpack. Unless you are ok with finding shade under a tree when it rains heavily.
Great storage space
What good is a backpack if you are unable to fit all your important essentials in one bag, a good office backpack must hold your documents, laptop and other belongings such as a powerbank, mobile phone and a few more items.
Comfort
Padded shoulders and mesh shoulder straps provide extra comfort and ensure that carrying a backpack on a day to day basis to work is pain free, commuting to work often means walking a lot and standing stationary on a train, this can often be cause for discomfort in the shoulders and the back, it is essential that you purchase a bag that is comfortable when carrying so there is no cause for harm.
Still haven't found what you're looking for? check out our favorite list of Motorcycle Backpack, Leather Backpacks, and Fashionable Backpacks for every budget. Or go for a Comfortable Sling Backpack to maneuver easily through crowds and Men's Garment Travel Bag For Carrying A Suit
RELATED POST