Tired of wearing the same old clichéd jeans-T-shirt combo?
Maybe it's time you made a fresh statement by pairing your cool blazer with your simple everyday pair of jeans?
You have got to try it to believe how trendy this look is.
Read on, and understand how a blazer can be paired with denim.
How to Pull Off the Look
The blazer-jeans look may seem simple, but if you don't follow some overarching rules, it could go so wrong so fast.
Here are a few principles to remember:
Get the Blazer Right
This is where you have to proceed with caution. If you get the blazer right, you can wear it with almost anything.
A blazer that fits right should have a slightly tapered fit at the mid-section while the alignment of the shoulders should be in line with yours.  Moreover, the length should just cover the seat of your trousers.
Simply put, your blazer should skim rather than cling.
Other simple rules when it comes to choosing the perfect blazer include:
Go for a soft-shouldered blazer since it will give you a natural un-padded shape
A single-breasted blazer is less formal compared to a double-breasted one
Choose two buttoned over three as the former is more casual and won't flap when unbuttoned
Whenever you make a purchase through links on this page we make a small commission from our affiliate partners. Learn more
Pair Your Blazer with Your Dressiest Jeans
Again fit is everything here. Jeans that are too skinny or too baggy will look weird. Further, they will clearly show the contrast with your perfect-fitting jacket.
Go for normal or straight cut jeans. While it all comes down to your taste, we wouldn't recommend wearing skinny, ripped, or distressed jeans.
If you want to play safe, wear your dark jeans (think-dark indigo, midnight blue, or chocolate brown) with your blazer.
In warm weather, you can match your white or colored jeans with a dark blazer.
Experiment with Your Jacket
Branch out from the common navy blue blazer and experiment with different colors, materials, and patterns. This style will look less formal and better with your jeans.
Some other recommended blazer features include:
Notched lapels are better than the more formal peak lapels
Choose patch pockets rather than flat or jetted pockets
Experiment with micro checks or houndstooth patterns
Stand out with tan, maroon, green, vibrant blue or brown colored blazers
Check out this DAVID.ANN Slim Fit One Button Blazer Jacket on Amazon
Contrast The Look
Blazers aren't supposed to match your pants. In fact, don't match the shade of the two or we'll be back in suit territory.
A dark washed pair of jeans with a dark grey blazer isn't enough contrast. The contrast needs to be sharp.
Notably, you should definitely avoid a white winter blazer as it gives a very strong contrast when paired with denim.

Get this Pishon Slim Fit Solid Blazer Jacket here on Amazon
Don't Forget The Accessories
The accessories you pair with your blazer and jeans can make or break the look. The aim here is to dress down the jacket rather than dressing up your jeans.
Here are some ground rules when it comes to accessories:
Shirt – An open collar buttoned down off-white shirt will bridge the gap formalities.  Stripped or checked shirts also give you a sharp look.
If you have to wear a solid shirt, go for a two-toned oxford shirt. Don't forget to tuck in your shirt for a sharp look.
And please, don't wear a t-shirt under your blazer. It is the ultimate clash of formalities.
Shoes – The best pair of shoe for this look is a brown or gray pair of oxblood or burgundy. Loafers and a derby shoe will also look good.
Cowboy boots are a classic with jeans while work boots or chukkas will bring out the casual look.
The texture of the shoe should be leather or suede since these two will look less serious.
Shoes to avoid include boat shoes or formal black shoes. Tones of brown, burgundy, tan, or green for shoe color are preferable.
Skip The Tie – A tie or a bow tie is a too formal addition for your casual look.
A pocket square or a boutonniere is a better alternative. Either of the two is bound to create a more polished, casual look than a tie.
Rock the Blazer-Jeans Look
Now to the fun part!
If you want to try this look during the weekend, we've got your back.
Here are some ways to rock the blazer-jeans combo.
1.      The Casual Smart Look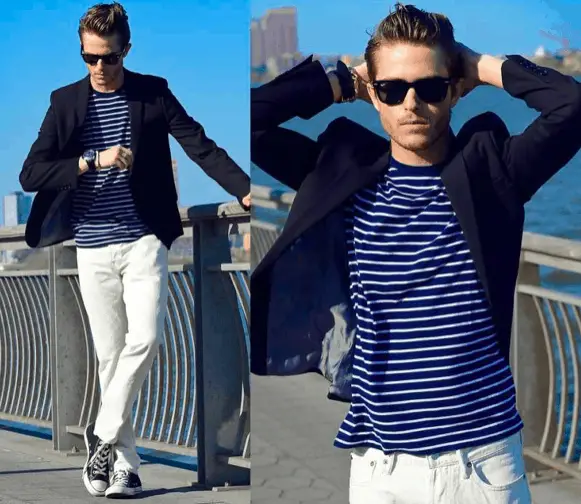 This is a look for millennials who want to look sharp in a comfortable outfit. It is also your all-time to go-to-look for those social meetings.
A less structured blazer is preferred for this look. Get one with a slightly printed design and pair it with your blue jeans.
Don't forget to accessorize the look with a scarf and a pair of sneakers.
2.      The All-Time Favorite
Whether you are a fashion enthusiast or just an ordinary guy, you can't wrong with a blue blazer- jeans combination. You also have a couple of blue shades to choose from.
Here are a few options:
A dark blue blazer is a safe bet. Add more oomph by pairing it with white, traditional brown or wine-red denim
The decent looking light blue blazer brings a pantsuit illusion in bright light. Pair it with dark-colored denim for all those informal occasions.
The safe navy blue blazer can be matched with a darker shade of jeans to keep your look grounded and subtle.
3.      The Autumn Look
You can wear your tweed or wool blazer over knitwear during those cold autumn evenings.  Pair it with dark, understated pair of jeans and ankle boots in brown or dark suede.
Remember to add a woolen scarf to add some versatility to the look.
4.      Cotton Work Wear
The simple, unstructured and unlined work wear blazer is in style.  This is a jacket that will flatter your body shape.
Pair it with a faded green or blue jean for a weekend look. Roll back the sleeves, and finish the look with muscular work boots.
5.      The Retro Look
If you want to pull off a vintage look, go for classic light wash jeans and pair them with a single-breasted blazer.
Even better, choose a checked blazer that has brown tones for a more seventies feel. Complete this look with Nike air force ones.
Final Thoughts
Pairing a blazer with a pair of jeans gives you a stylish, more relaxed look. Rock this look when going on a first date, need to attend a dinner with friends, or when traveling.
Remember to add a one-toned hat or a pair of sunglasses for more style.
Do you wear the blazer-jeans combo? How do you wear it?
RELATED POST